< Go Back
This deal expired
.
Is it back on?
Validate
it now to help shoppers & earn points!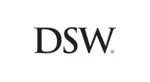 This coupon was last used
and is currently rated
Not Likely
to work.
Expired .
Last validated .
Used 3 times.

THIAGO LOPEZ
In-stores: Show this offer to the cashier at checkout. Online: Log in with your DSW Rewards membership and enter offer code AECT17SW3R3HQ at online checkout.