< Go Back
This deal expired
.
Is it back on?
Validate
it now to help shoppers & earn points!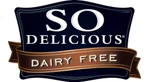 This coupon was last used
and is currently rated
Not Likely
to work.
Expired .
Last validated .
Used 1 time.

Liliana Gonzalez
$1,00 Off Any So Delicious Product. Limit One coupon per specified product. Void if copied, sold, exchanged or transfered. Customer must pay any sales tax. Whitewave foods will reimburse you for the face value of this coupon plus 8 cents handling provided you and the customer have complied with the terms of this offer. Invoices proving purchases of sufficient stock to cover presented coupons must be shown on request. Any other application may constitute fraud. Coupon void where prohibited, taxed or restricted. Cash value .001¢. Reproduction of this coupon is expressly prohibited. Mail to: So Delicious daily free, Inmar Dept #44473, One Fawcett Drive, Del Rio, Tx 78840.