< Go Back
This deal expired
.
Is it back on?
Validate
it now to help shoppers & earn points!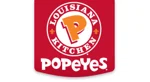 This coupon was last used
and is currently rated
Not Likely
to work.
Expired .
Last validated .
Used 4 times.

Kaye Baroody
Deal worked at lunch today with no problem. I showed the coupon to the cashier from my phone. She scanned it and I got the deal.

Hana Sim
Deal is still working. Present coupon at checkout for discount.
A shopper

Tayler Smith
No Code Needed. Discount Apply Automatic in the Cart. not be combined with other offers.

Aurioli Chirinos
Valid till 9 Oct 2017. Not valid for any other promotional offers/discounts. Not valid for Popeyes Delivery.