< Go Back
This deal expired
.
Is it back on?
Validate
it now to help shoppers & earn points!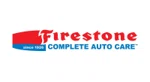 This coupon was last used
and is currently rated
Not Likely
to work.
Expired .
Last validated .
Used 1 time.

Clara Vera
Expires: 02/28/18 Details: Get $50 off A set of 4 Bridgestone Dueler H/L 422 Ecopia or Ecopia EP422 plus tires. Valid at participating locations. Exclusions: Not to be used to reduce outstanding debt.