< Go Back
This deal expired
.
Is it back on?
Validate
it now to help shoppers & earn points!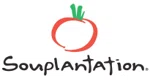 This coupon was last used
and is currently rated
Not Likely
to work.
Expired .
Last validated .
Used 111 times.

A shopper

@puppylove
I am validating that you can receive $5 off an adult meal at Souplantation. Print out coupon to receive the discount.
A shopper

Liliana Gonzalez
Adult Meal $5 Off at Souplantation. New menu, new choices. Including unlimited soups, salads and bakery. Expires 9/26/17. Coupon valid for ONE adult meal, beverage not included. Valid for one transaction only. Not valid on alcohol. Valid for dine in or to-go combo #2. Cannot be combined with other offers. Offers exclusive to Club Veg members only, void if posted online, altered.