< Go Back
This deal expired
.
Is it back on?
Validate
it now to help shoppers & earn points!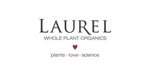 This coupon was last used
and is currently rated
Not Likely
to work.
Expired .
Last validated .
Used 6 times.

Mercy Hopkins
Add Laurel Whole Plant Organic items to cart totaling to $90 or more. At checkout, apply code "CITRUS" or "LAVENDER" to receive free lip treatment.