< Go Back
This deal expired
.
Is it back on?
Validate
it now to help shoppers & earn points!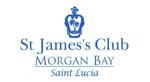 This coupon was last used
and is currently rated
Not Likely
to work.
Expired .
Last validated .
Used 2 times.

Allen Miller
Save $550 Off St. James's Club Morgan Bay at Cheap Caribbean. Tested this promo code and verified that it works as described. Use promotional code 550MORGAN. 5 night minimum stay. Minimum double occupancy.