20 Useful Mobile Apps for Senior Citizens
About the Author

Dealspotr is the world's largest and most reliable database of promo codes and deals online. We're the leading shopping social network serving brands, influencers, and consumers.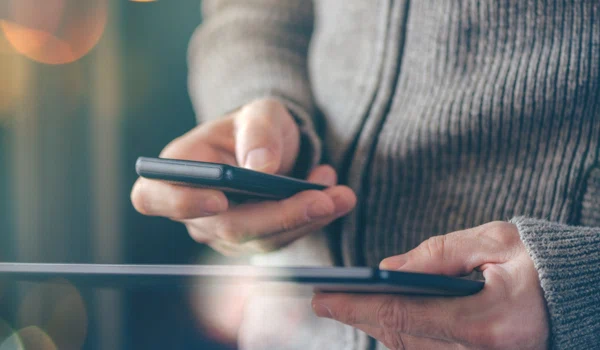 Most of us consider technology the territory of the young, while senior citizens aren't thought of as tech-savvy (to say the least). Therefore, it comes as no surprise that elderly people are not the primary targets for high-tech products and mobile apps.
However, older people only needed a little more time to adjust, and today many are using smartphones, tablets, and computers. Senior citizens have found that having the right mobile apps can promote major lifestyle improvements. Using mobile apps, seniors can:
Keep their minds engaged and active
Help communicate with family and friends
Set reminders to take medicines and go to doctor's appointments
Get medical information
Listen to music and read news
Write notes
Pay the bills online
In other words, mobile apps for senior citizens open up a completely new world of communication, entertainment, and education. To save you a lot of time sorting through, installing, and testing apps to find the ones that suit your needs, we've created a list of the most useful mobile apps for senior citizens that deserve a spot on your smartphone's home screen. 
20 Useful Mobile Apps for Senior Citizens
Life would be so much easier if there was just one app that could do everything for elderly people. Unfortunately, that's not the case, so you need the right collection of mobile apps that will turn your smartphone into a small and useful machine. After extensive research, we managed to find 20 mobile apps that can help seniors live a better life. Apart from that, we even divided them into 4 categories (health, communication, entertainment, convenience) to simplify everything for you. So let's dig in.
Health Mobile Apps for Senior Citizens
MedWatcher
MedWatcher is a handy mobile app that helps schedule medications and exercises, and gives you access to drug descriptions, known side effects, and medical uses. It also enables you to create a list of vaccines, drugs, and medical devices that you or your loved ones use and also get notified about the latest developments.
MedWatcher is a mobile app for the general public and healthcare professionals that has been created in collaboration with the FDA (Food and Drug Administration). It is the only app that allows users to report side effects directly to the FDA to make medicine safer for everyone. Anyone can submit a report to the FDA using an easy-to-navigate form.
MedWatcher is available for Android and iOS.
Medisafe
Despite their best efforts, even seniors without memory problems can sometimes forget to take their medicine. When you have more than a few pills to take at a specific time, it's crucial to have some kind of an alarm that will remind you to take your medicine.
In the past, people had to write down their treatment plan and use alarms to make sure they stick to it. However, that's not the case anymore. Today, there is a simple solution for your medicine problem – Medisafe.
Medisafe is a useful mobile app for senior citizens that helps manage medications and sets reminders. Simply put, it allows you to keep tabs on your medication by receiving reminders when you need to take the pill and checking off your list once you have taken the pill. It's also a great app for younger people who want to take care of their elderly family members.
Medisafe is available for Android and iOS.
Pillboxie & My PillBox
Pillboxie is an amazing app available for iPhone and iPad users for $1.99. My PillBox is basically the same app, but designed for Android users and free of charge.
Both apps offer an easy way to remember to take your medications at their scheduled times. They are convenient medication management systems that help "visually" manage your medication. You can customize your meds by colors and drag them into the sectioned pillbox graphic. By organizing your prescription schedule you will never forget to take your daily medications. 
Apart from senior citizens, both apps are useful to caregivers as well, and they can help manage their clients' medication. Most of their patients take a number of meds at specific times during the day and that's why we recommend using one of these apps to help streamline the process.
Blood Pressure Monitor
Some medical conditions require senior citizens to track their blood pressure. You can do it the old-school way by writing down your blood pressure on paper, or you can use a simple and useful app that will keep your blood pressure records neatly organized.
Blood Pressure Monitor turns your smartphone device into a personal blood pressure and weight health monitor that comes with lifetime data visualization, periodic health reminders, medication correlation, statistics reporting, and email import/export. In other words, it is a tool that helps seniors oversee their health regimen and stay in shape.
Blood Pressure Monitor is available for Android and iOS.
Instant Heart Rate
Instant Heart Rate is truly a revolutionary app that works like a personal pulse oximeter and allows you to measure heart rate. You just have to place the tip of your index finger on the camera lens of the device and you'll get accurate heart rate reading within a few seconds. The app detects a color change in the fingertip every time your heart beats and applies a complicated algorithm to detect your heart rate.
Having more than 35 million users and appearing in the New York Times, The Guardian, CNN and Chicago Tribune, it's safe to say that Instant Heart Rate is definitely a trustworthy and useful mobile app for senior citizens and even young people who want to monitor their pulse due to a medical condition or a fitness goal.
In fact, it is rated as the world's best mobile heart rate measurement app and is even used by Stanford's leading cardiologist during clinical trials.
Even though the app is free to use, you can opt for a Premium subscription ($9.99 per month or $29.99 per year) that offers unlimited access to Playpen Freeplay workouts, Premium Programs, motivational and dynamic audio, priority support, tips on healthy living and more.
Instant Heart Rate is available for Android and iOS.
My Medical
My Medical is a comprehensive record-keeping app for storing your medical information. With this app, senior citizens can store and track their medical records, test results and doctor's appointments.
Therefore, My Medical is the perfect replacement for paper records that can get lost easily and you can even store medical histories of your loved ones and send them to the doctor by tapping a button. In addition, you can store doctor's contact information, health insurance, emergency contacts and other vital parts of your health records. Moreover, My Medical works with a calendar as well and automatically put prescription due dates and doctor's appointments on the calendar app.
The only downside of this app is its price – it costs $4.99. My Medical is available for Android and iOS.
Red Panic Button
Red Panic Button is definitely a must have app for senior citizens who live alone or spend a lot of time by themselves. Once you download and install the app, you have to set a list of medical contacts that will receive your emergency message.
In case of an emergency, you just have to tap on a big red button and an email alert or a text message with your address and location will automatically be sent to a pre-selected list of contacts.
The Red Panic Button app has a free and paid version ($4.99) and it's up to you to decide what's up to your liking.
Free Features:
Send Panic SMS or email
Share Panic on Twitter
Use One Touch Panic Widget
Paid features:
Emergency call and fast SMS response
Panic voice, video and photo message
Unlimited Panic numbers
We recommend downloading Red Panic Button app only if you tend to use the paid version as sending a panic SMS or email is simply not enough. In other words, without the full version, this app is almost useless. In addition, Red Panic Button can be also beneficial in case of a domestic violence, assault or robbery as your exact location will be displayed to your selected contacts.
Red Panic Button is available for Android and iOS.
WebMD
WebMD is a one-stop destination for trusted health tips and health-related information. And even though it can never replace a physician, it is the go-to website whenever we want to learn more about a certain condition or medication.
The mobile app is easy to navigate and allows you to enter your symptoms and find possible causes and common treatments for the diagnoses. You can even ask the app questions and you'll receive a response in form of highly relevant articles written by professional physicians who specialize in that particular field.
WebMD is constantly updating information and keeping in touch with everyday changes. It even allows you to get information about how current weather condition can impact your health.
Overall, WebMD is a great resource for maintaining a nutritious lifestyle and living a healthy life. However, we always suggest visiting your physician whenever you have any health-related problem.
WebMD is available for Android and iOS.
Lumosity
Various studies have shown that seniors who keep their brains active and their minds challenged lower the risk of dementia and Alzheimer's disease. Therefore, it's important to keep your mind sharp and exercise your brain on a daily basis.
Luckily for us, there is an amazing app that offers a comprehensive brain training program with more than 25 brain games per day that challenge 5 core cognitive abilities (attention, processing speed, memory, problem-solving and flexibility).
Used by more than 85 million people, Lumosity is a clever memory-improvement app designed by neuroscientists that contains hundreds of puzzles and games which improve information retention and memory recall.
With that being said, Lumosity is a useful mobile app for senior citizens and is constantly being updated with new brain games and puzzles.
Lumosity is available for Android and iOS.
Communication Apps for Senior Citizens
Skype
Staying in touch with family members can cost you a small fortune, especially if they do not live in the same country. Making international or long-distance calls used to cost a lot of money, but today, you can communicate with your family members for free as long as you have a stable internet connection.
Skype revolutionized the world of video conferencing and seniors can use it to talk "face to face" with their family members or friends no matter where they are.
The first step is to download Skype, open it and create a new account. Next, you can upload your picture (if you want to) and start adding your family members and friends who also use Skype. To do that, click on the search box and write down their name and hit enter. If you are unable to find them, simply ask for their Skype ID and enter it into the search box instead. When you locate the person you are looking for, click "add to contacts" and they will receive your friend request. Once they accept your request, you'll be able to video chat, send video/voice messages or simply send text messages.
Today, everyone uses Skype for communication and this is definitely one of the most important mobile apps for senior citizens and for everyone else as well.
Skype is available for Android and iOS.
Facebook
Apart from Skype, Facebook is another way to keep in touch with distant and close relatives and old acquaintances. As of recently, there is a Facebook version designed with an older generation in mind – Easy Facebook for Seniors. It is a less-cluttered and cleaner version of the classic Facebook that enables easier navigation and hassle-free experience. Elderly people will be able to browse effortlessly through the app and chat or video-chat with their Facebook friends.
The first step is to download the app and create a new account. Next, you can edit your profile by filling out your personal information such as date of birth, occupation, education, etc., and uploading pictures. Once you are completely satisfied with your profile, it's time to add friends. This process is easy as well, and you just have to enter their name in the search box and send them a friend request. Facebook also allows you to write anything you want on your or your friend's profile, share a music video, join groups or pages, follow famous people to stay up-to-date with their activity or even play games.
Facebook is available for Android and iOS.
WhatsApp & Viber
WhatsApp (Android and iOS) and Viber (Android and iOS) are similar apps that allow smartphone users to communicate with their loved ones using only their internet connection. These apps have completely replaced text messages and everyone uses them to text or even make long-distance voice and/or video calls with their friends and family members.
In addition, both apps have the option to create groups and chat with many people at the same time. This is great for planning events or staying in touch with the people you care about the most. You can also send and receive pictures and video clips, so you can always have the newest pictures of your grandchildren and stay up to date with their progress.
Mobile Entertainment Apps for Senior Citizens
YouTube
We can all agree that YouTube isn't an essential app for senior citizens, but it can definitely add value to their smartphone device. It's packed with entertainment, including TV shows, movies, documentaries, music, funny videos, etc. In addition, YouTube is a great resource for learning anything and you'll find countless tutorials on everything from technology to exercising.
In addition, YouTube allows billions of people to watch and share originally-created videos. Therefore, you can create your own channel and upload your original videos. Some people even make a living by posting interesting videos that attract a huge audience.
Apart from the free version (that most of us use), there is also YouTube Red – a paid monthly subscription service that comes with many perks, including ads-free experience, offline viewing (you don't need internet connection), listening to videos with the screen off and watching original shows.
However, we believe that the free version will satisfy all your needs and will help you spend your free time watching videos of your liking. To do that you just have to download YouTube and you are ready to go. Creating a channel is only necessary if you would like to post your own videos, follow certain people and create your own playlist. Apart from watching YouTube videos, you are also allowed to comment and interact with other people.
YouTube is available for Android and iOS.
Kindle
Senior citizens usually have plenty of spare time to enjoy reading their favorite books, and while some still prefer old-fashion paper books, most elderly people started using Kindle tablets due to its convenience, access to thousands of Books and cheap price.
However, Kindle went one step further and created an amazing Kindle app that turns mobile phones into a convenient e-reader, enhancing them with Kindle functionality like the possibility to enlarge the text, adjust the brightness of the screen, set the night mode (white text on a black background), bookmark pages, add notes and highlight certain parts.
With Kindle app you'll have access to large selection of new books with an in-built dictionary, so if any of the words is not familiar to you, simply click on it and the app will pull up its dictionary entry. 
With this being said, if you enjoy reading books, then you'll definitely love the Kindle app.
Kindle is available for Android and iOS.
Goodreads
Goodreads is an amazing app that complements your Kindle app and allows you to discover amazing books. Recommended by 35 million members, this app allows users to rate books and give their review. You can even see other users' reading history to check their favorite genre, how often they read and whether you share mutual interests. 
Simply put, with Goodreads you'll never judge a book by its cover. With more than 1 billion book reviews, you'll definitely be able to find something you like based on other's feedback.
Goodreads is available for Android and iOS.
LibriVox
If reading books has become more challenging task but you still want to experience the excitement of enjoying a new book, then LibriVox is the perfect app for you.
LibriVox provides access to more than 24.000 free audiobooks read by volunteers. All audiobooks can be streamed over the internet or downloaded for later use. New books are uploaded on a daily basis and the catalog contains best-sellers and timeless classics from all genres in more than 30 languages. This includes short stories, novels, poetry, biography, history and more in both non-fiction and fiction genre.
The app is also easy to navigate and you can browse by author, title, keyword, genre and date. In addition, LibriVox will remember the exact "position", so you can return to the book whenever you feel like it.
And the best part – LibriVox audiobooks are free thanks to hundreds of volunteers who wanted to do something nice for others.
LibriVox is available for Android and iOS.
TuneIn Radio
If you love listening to radio, then TuneIn Radio will become your favorite app. It contains more than 100.000 live radio stations and more than two million podcasts, shows, news, sports or music concerts to stream from the internet directly to your smartphone device.
Apart from the free version, there is also a Pro version ($9.99 per month) that gives you access to more than 40.000 audiobooks, live NBA, NFL, MLB and NHL games and the ability to record what you're listening to.
TuneIn Radio is available for Android and iOS.
Convenient Mobile Apps for Senior Citizens
Evernote
Even the best of us tend to forget something from time to time and rely on old notebooks and scraps of paper to find valuable information that we simply forget. However, the old-school way is becoming a thing of the past thanks to one of the most useful apps for senior citizens called Evernote. It is an ultimate replacement for all shreds of paper lying everywhere in our home.
Evernote is a versatile app that unifies your notes into one system and allows you to create electronic files such as text files, photos, voice or audio videos and gives you access to them through a wide range of interfaces. So for example, you can type a shopping list on your laptop and read it on your phone when you come to the store.
Evernote can be used for storing grocery lists, recipes, all kinds of reminders and basically anything that crosses through your mind that you do not want to forget.
Evernote is available for Android and iOS.
Magnifying Glass with Flashlight
As we age our eyesight decreases and it becomes harder to read and see in general. However, with the help of Magnifying Glass with Flashlight, you can zoom in on tiny text and illuminate dark pages or places. Therefore, this app will come in handy when reading books, prescription bottles and newspapers or when you need more light.
Magnifying Glass with Flashlight has an easy-to-navigate digital zoom that comes with additional lighting. Pretty much everything is controlled by sliding your fingers across the screen, which is ideal for our senior citizens. You can simply slide your finger left and right to change the brightness of the screen or slide up and down to zoom in and out.
It's important to note that there are many digital magnifier apps out there, but we feel that this is the most convenient app for older people due to its amazing features and easy navigation.
Magnifying Glass with Flashlight is available for Android and iOS.
Epicurious
Seniors who love spending time in the kitchen will absolutely love Epicurious – the app that contains more than 35.000 tested recipes from publishers like HarperCollins, Gourmet and Bon Appétit, plus recipe reviews, ratings, tips and pictures shared by other users.
Epicurious enables you to find the world's best recipes, watch amazing food videos and prepare delicious meals. The app allows you to sync your shopping list for easier and hassle-free retrieval at the store and save your favorite recipes.
Epicurious is available for Android and iOS.
Takeaway Notes
Technology has become an integral part of our lives and older people have seen the advantages that it has to offer. And even though they needed more time to adjust, seniors are now using smartphones and mobile apps that can improve their lifestyle.
Today, there are literally thousands of apps aimed towards senior citizens, but most of them are not that useful. However, there are more than a few gems that elderly people should definitely use on a daily basis.
The above-mentioned mobile apps for senior citizens are all available for both Android and iOS users and are completely free (except My Medical and Pillboxie apps). However, some apps have paid versions as well, so it's up to you to decide whether it pays off to spend money on the PRO version or not.
To make this article simple, we divided all mobile apps for senior citizens into four categories, and for your easier reference we'll just mention them here as well:  
Health Apps: MedWatcher, Medisafe, Pillboxie & My PillBox, Blood Pressure Monitor, Instant Heart Rate, My Medical, Red Panic Button, WebMD and Lumosity
Communication Apps: Skype, Facebook, WhatsUpp and Viber
Entertainment Apps: YouTube, Kindle, Goodreads, LibriVox and TuneIn Radio
Convenient Apps: Evernote, Magnifying Glass with Flashlight and Epicurious
Get each week's best deals from Dealspotr in your inbox
This guide was published on March 8, 2017
, and last modified on March 8, 2017
.