7 Signs That You've Become an Obsessive Couponer (And It's Time to Take a Break!)
About the Author

The best community for finding and sharing deals.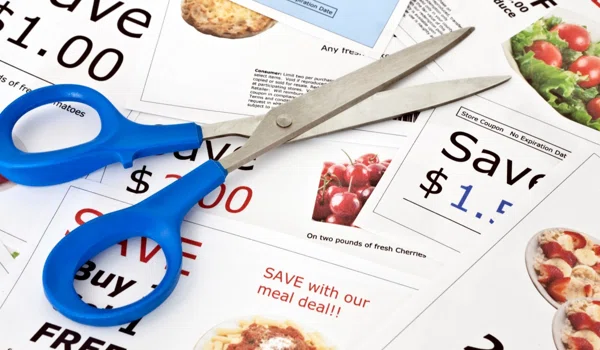 I've been using coupons for years. I really stepped up my coupon using game though when my first daughter was born and I resigned from my teaching job to be home with her. I made it a goal (and even a competitive game at times) to see how much money I could save each week from using coupons. That's great! Well, it's great until it becomes out of control and then it's not worth it for you or your family. See if you can resonate with any of these below - and if so, maybe it's time to take a break from using coupons for a bit.
1. Using coupons becomes a form of obsessive entertainment more than a necessity
Clipping coupons and getting your "deal high" can become addictive. Sure, using coupons and finding the best deal is fun (and for many budgets, a mandatory activity) but it can turn into an unhealthy habit.
If you see yourself skipping out on dates with friends, voluntary kids activities, or even canceling out on a prior commitment just so you can run to Target and use your coupons before they expire, then it may be time to take a break.
2. You get dirt cheap or free stuff that has no purpose
I'll admit that I bring home all sorts of item for dirt cheap or free that my family will not use. But, in order for me to go out of my way to purchase extra coupons and pick up these dirt cheap or free items, they still need to have some purpose and not just collect dust on my shelves. There is a team of people at my church that visit an orphanage in Guatemala each summer. This time of year, they mail out a long list of items that the orphanage is requesting. Many of the freebies I bring home like deodorant, toothpaste, or school supplies are on that list. I love bundling up my freebie bag and handing it over to the missions team to give it to those who really need it.
3. You are spending more in gas getting to a store for a great deal, than the money you are saving by shopping at that store
I live on a dirt road in the country, and it takes me a good half hour to drive to my closest Target. I used to try and go to Target 2-3 times a month to get the best deals. But then I found myself being guilty of #2 (see above) and have decided that not every deal is worth the gas it takes to bring it home. I am much more selective now on the deals I am traveling more than 10 miles away to get.
4. You bring home an item because it was a "good deal." But the better deal would have been not spending any money at all!
This is the one I am probably the most guilty of doing. I'll get something, especially a food item with a coupon, and hope someone in my family will eat it or pack it in their lunches. Then I find out that my daughter and husband hate the product, and then it turns into a big waste. Or I bring home that super unhealthy cereal just because it was $0.30. It would be better if I'd just not bring home the junk food or spend the money, not matter how small it seems at the time. Us coupon users know that a little bit of money adds up. Same is true for the money we spend on good deals that we didn't need to buy anyway.
5. You get some "free deals" at drug stores because of the rewards (RR's, ECB's or + Up Rewards depending on the store) but fail to return to the store to use your rewards before they expire
If you are loyal to a particular drug store, like Rite Aid, CVS, or Walgreens, then you know that sometimes a "free" deal means that you get reward money to buy something. This works out great if you have the time in your schedule to keep up with the deals and return to the store on a weekly basis to use your reward dollars. I know that I've gotten great deals on personal care items and came home with $9 in rewards cash. But then the following week I couldn't make it back to the drug store and totally forgot that the rewards cash expired - so now my awesome deal wasn't so awesome.
6. Your day is ruined and your mood turns sour if you didn't come home with your perfect deal
I know the feeling - you have your perfect deal list ready to go, with matching coupons and the grand total of savings all calculated even before you head out the door. Then you head to the store and the product isn't in stock, or the price is different than you saw someone else get it for online, or you didn't realize a coupon you wanted to use were expired. Guess what? All of the above scenarios happen to all coupon users. It's just part of the game. Don't let it ruin your day! :)
7. You turn into a rude customer when its time to checkout
This one is probably the most important one in my opinion. Coupon users build up a reputation. Some stores or cashiers think we are brilliant shoppers and want to learn all of our skills. And some stores and cashiers get a big eye roll and sigh loudly when the see our pile of coupons at check-out. It only takes about an extra 5 minutes, if that, to check out when using a large stack of coupons. If you are saving say $10 dollars in that transaction - that's a heck of an hourly rate we are earning back for our families. Be patient. If a cashier questions a deal, let them and smile. If they think you are violating the coupon policy, then let them double check. If you are right, then its no biggie, just keep a smile on your face and be polite and hopefully they will read the policy to see you are not violating it. If you have a stubborn cashier that still won't let you do a deal and you leave the store disappointed, then try again a different day with a different cashier. Or just let it go. Coupon users who deliberately try to break the rules and get away with it, or just have a plain bad attitude ruin it for the rest of us. So let's vow together to be ethical coupon users with good attitudes!
Maura White is a Frugal Lifestyle blogger over at Happy Deal - Happy Day!
Get each week's best deals from Dealspotr in your inbox
This guide was published on April 7, 2016
, and last modified on April 7, 2016
.