The Top 20 Pet & Animal Micro-Influencers Groomed for Social Media Success
Written by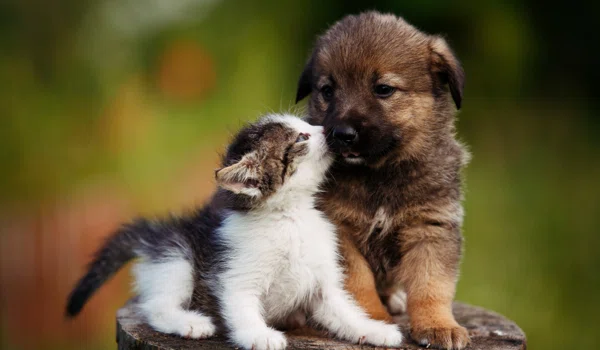 Pets are family. We eat together, walk together, and sometimes even sleep in the same bed. It only makes sense that our obsession with pets and animals in general trickles over to the internet.
The internet doesn't agree on much, except for one thing: animals are cute. Some love them so much, they decide to devote their life (and their livelihood) to the furry creatures.
We've rounded up a list of such people here. In this list, you'll find all types of pet and animal micro-influencers. From general pet lover YouTubers, to more animal-specific bloggers and social media stars, these awesome micro-influencers know a thing or two about our furry friends.
Dustin Wunderlich: Dustin's Fish Tanks
There is an indisputable art to fish tanks.
Don't believe us? Check out Dustin Wunderlich, the influencer behind Dustin's Fishtanks. Wunderlich is a Youtube star who creates videos on all things fish, including how to fix tank leaks and ways to aquascape (landscaping, for your fish tank). Learn everything you need to know about fishtanks by following Wunderlich on YouTube.
Website   |   YouTube   |   Instagram   |   Twitter   |   Google+   |   LinkedIn
Victoria Raechel: Small Pet Channel
Want to see something cute? Victoria Raechel runs a Youtube channel dedicated to her unbelievably adorable small pets. On her channel she features hamsters, rabbits, and geckos, and her cat and dog occasionally make guest appearances.
Raechel discusses her morning pet routine, basic hamster care, and shares educational videos on how to care for small animals. With Raechel, you can find out how to take the best care of your small pet!
YouTube   |   Second YouTube   |   Instagram   |   Twitter   |   YouNow
April Campbell: AprilsAnimals
AprilsAnimals is a fun destination for people who love watching cute animal videos. April Campbell often features her own pets on her popular YouTube channel, but it's mostly clickable links to adorable animals doing wonderfully silly things.
Though she started with her own personal pets, she now often posts videos that feature random (and awesome) animal videos. Her Instagram page is where you can find her own pets:  Dumptruck, Porkchop, and Taco Taco.
YouTube   |   Instagram   |   Twitter   |   BoredPanda   |   LinkedIn
Stephen Pelletier: SlimDoggy
Canine obesity can be a tough thing to fix. Stephen Pelletier is here to help.
Pelletier wants to inspire readers to fight canine obesity in the best way possible. He offers healthy tips on how dogs can stay active and maintain a healthy diet.
Along with information on dog obesity, he features articles on topics like off-leashing and dog dreams. It's interesting stuff and each social media channel offers different ways of guiding owners to a happy dog life.
Website   |   YouTube   |   Twitter   |   Pinterest   |   LinkedIn
Abby: Skinny Pigs 1
If you love guinea pigs, Skinny Pigs 1 is the micro-influencer you definitely need to see. Abby takes care of her guinea pigs on camera, and lets the world know how to do it right.
Abby will teach you how to find the right cage liner, how to clip nails properly, and how to cleaning the living area of your own guinea pig.
YouTube   |   Instagram   |   Twitter   |   Etsy   |   Google+
Abby: Stormy Rabbits
Abby loves her rabbits. She loves them so much, she wants to teach the world all about how to properly take care of them.
Her YouTube channel is filled with videos like 15 Fun Facts About Rabbits, How to Litter Train a Rabbit, and Good vs. Bad Rabbit Cages.
You'll also just get really cute videos of rabbits doing adorable things, so what's not to love?
YouTube   |   Instagram   |   Twitter   |   Etsy
Erin Rachel: Erin's Animals
Erin Rachel's whole life is hamsters. It sounds crazy, but it's true! In her Twitter bio, Rachel says, "I make videos about hamsters. No, seriously… That's my job."
It's safe to say she is your go-to girl for hamster information. Learn DIY tricks, tips on caring for hamsters, and educate yourself on illnesses that could happen to your little critter. Everything a potential hamster owner needs to know before committing is readily available on Erin's Animals.
Website   |   Instagram   |   Twitter   |   Tumblr   |   Pinterest
Pickles12807
A popular Youtube channel all about pets, Pickles12807 uses her influence to talk about everything from pet stores to sea monkeys.
She gives tours of cages, event coverage of pet store grand openings like PetSmart, and a story about the time when she found a lost dog. Her bubbly videos gain thousands of views and are super fun to watch.
YouTube   |   Instagram   |   Twitter   |   Facebook   |   YouNow   |   Google+
Debbie the Pet Lady (or, the Farm Lady)
This popular animal influencer is best known for her appearances on the Howard Stern Show. Debbie still loves animals and posts often on YouTube and her other social media pages.
Currently, she runs a rescue farm and is working to change her reputation from "pet lady" to "farm lady." She is extremely entertaining and often eccentric but one thing is for sure: when it comes to animals, she knows her stuff!
Website   |   Twitter   |   YouTube   |   IMDB   |   Google+   |   Ustream
Pug Pibble Hedgie
Tori is a popular micro-influencer who dedicates her time to hedgehogs. She loves hedgehogs and answers questions that potential or current hedgehog owners may have like, "Do they work well with other animals?"
YouTube is a fantastic place to find information on almost everything, and that includes specifics about raising hedgehogs. There's a lot to know and it's not as easy as it appears.
Hedgehogs are such unique little animals, so who can blame Tori for her devotion to the spiky yet sweet creatures?
YouTube   |   Instagram   |   Twitter   |   YouNow   |   Facebook
Tamar Arslanian: I Have a Cat
It sounds simple, Tamar Arslanian has a cat.
Not so fast. Arslanian is actually a witty cat micro-influencer who posts about her own cats as well as cats in cinema, bodegas, and much more. Plus, she just published her first book called Shop Cats of New York.
What's great about this blogger is that she'll help you avoid making your home look like a stereotypical "cat" home. She shows you how to buy items that look nice in your space, but that are also essential for cats (scratching posts, litter boxes, etc.).
Website   |   Instagram   |   Twitter   |   Facebook   |   Pinterest   |   Google+   | Amazon   |   LinkedIn
Alice Chau-Ginguene: The Purrfect Job
One more cat influencer for good measure. Alice Chau-Ginguene has the perfect job - cat sitting!
This feline-focused blogger takes care of cats when their owners are out of town. She's also a professional cat behaviorist and is the founder of non-profits like Maow Care where you can donate food to cats in need.
Her blog offers tips on how to get your cat used to your new home, how to integrate a cat and baby together, and product reviews.
Website   |   Instagram   |   Facebook   |   Twitter   |   LinkedIn
Maggie Marton: Oh My Dog!
Maggie Marton is a dog lover, pitbull advocate, and blogger. She writes reviews on products, gives advice on DIY projects, training tips, and everything else that involves life with a dog.
Marton is also a freelance writer and says her blog is dedicated to dogs. Her content varies but she sticks to her main principles: compassion, service, passion, community, and eco-consciousness.
Website   |   Twitter   |   Instagram   |   Facebook   |   Pinterest   |   Google+
Jeanne Melanson: Animal Bliss
This blog has it all. From wild animals to domesticated pets, Jeanne Melanson loves animals from all walks of life.
She's had 13 alpine goats, 40 chickens, 3 Vietnamese pot bellied pigs, cats, dogs, and many other pets. Melanson's blog discusses everything from animal rights to funny animal videos. Basically, this is a blog for someone that loves all animals just as much as she does.
Website   |   Instagram   |   Twitter   |   Facebook   |   LinkedIn   |   Google+  |  Pinterest   |   StumbleUpon
Dexter and Carol B.: Fidose of Reality
This micro-influencer couple focuses on the health of pups everywhere. Dexter and Carol B. have created a brand that helps people find the best health and wellness tips for their dogs with a little humor in between.
They also offer news on their Twitter page of new findings in science, as it relates to canines. Their Instagram page is mainly for photos of their cute pups. All around, Fidose of Reality is a comprehensive source for real canine information (and fun!).
Website   |   Instagram   |   Twitter   |   Facebook   |   Google+   |   Pinterest
Mary-Alice Pomputius: Dog Jaunt
Seattle-based small dog owner Mary-Alice Pomputius knows the struggles of traveling with a dog. This is what inspired her to write a blog for people who have questions about where, when, and how they can take their dog with them when they travel.
It can be overwhelming reading all of the information available on different websites when it comes to the subject of when and where you can bring Fido. Different airlines have confusing rules, some countries require certain certifications, the list goes on.
Pomputius gives you the scoop on how she does it successfully. Plus, you'll get to know Chloe, her Cavalier King Charles Spaniel.  
Website   |   Instagram   |   Twitter   |   Facebook   |   Google+
Sharon Stiteler: The Bird Chick
This lady is for the birds. No, really. She loves birds!
Sharon Stiteler is passionate about wild birds and bird photography. She actually gets paid to go birding, which is her dream job. She travels the world and leads field trips, consults on birding, speaks at keynotes, and more. There are lots of bird enthusiasts on the internet, but nothing compares to what Stiteler offers.
She even has a web series on YouTube about her birding adventures.
Website   | Instagram   |   Twitter   |   Facebook   |   Google+   |   YouTube   | Flickr
Friendly Ferret
Ferrets get a bad rap. They don't have the greatest reputation as pets (and are actually illegal in some states!), but the Friendly Ferret is here to change all that.
A passionate ferret advocate and civil engineering student named Anja produces this blog and updates it often. On the Facebook page, it's listed as an "education website," citing the Friendly Ferret's aim to educate people on what these cute critters are all about. In the About section of the website, it's written that "the goal is to become the number one ferret brand."
They're on their way!
Website   |   Instagram   |   Twitter   |   Facebook   |   YouTube
Raquel Lynn: Horses and Heels
Raquel Lynn loves horses. Her Instagram page has gained quite the following as she posts beautiful photos of horses and her daily life. The colors are bright and her brand style is modern, so it's no wonder this micro-influencer keeps growing and growing.
See her life out on the ranch or find out what products she's currently using. She's a lifestyle blogger as well, so she integrates fashion, food, and fun into her love for equestrian life.
Website   |   Instagram   |   Twitter   |   Facebook   |   Google+
Mary Hunter: Stale Cheerios
When it comes to animal training, Mary Hunter believes it should be all positive.
Stale Cheerios is a blog all about positive animal training. Hunter has her Master's Degree in Behavior Analysis and she trains dogs, horses, and even rats.
She utilizes clicker training and other strategies to harbor a safe and positive environment for all animals. She emphasizes researching more humane ways of interacting with animals.
Website   |   Twitter   |   Facebook   |   Pinterest   |   YouTube
Animals Rule
After reading this awesome list of animal and pet micro-influencers, you should no longer feel bad about the 347 photos of your cat you have on your phone. Take that next photo opportunity and post it to your Instagram proudly!
Get each week's best deals from Dealspotr in your inbox
This guide was published on December 20, 2017
, and last modified on December 20, 2017
.