12 Stylish Women's Travel Backpacks with Anti-Theft Features
About the Author
Dealspotr Marketing Coordinator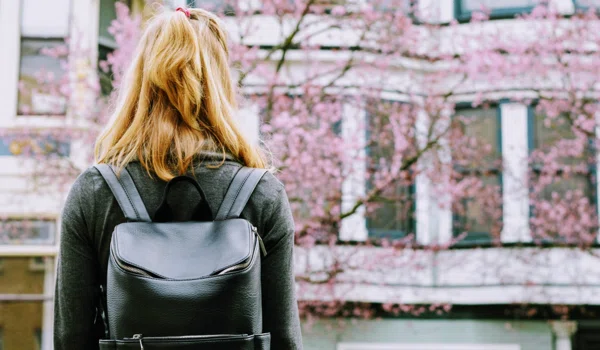 Theft is a constant concern for travelers, and travel backpacks with anti-theft features have become very popular in recent years. However, many of these anti-theft backpacks have left a lot to be desired in terms of style and looks. And, if you're a woman like me, you'd find that a majority of the anti-theft backpacks on the market are designed for men.
Recently, more brands have been selling anti-theft backpacks designed for women that have great anti-theft features built in. We decided to do some research and find the latest backpack models that look great while protecting you from theft.
As a quick primer, here are some of the most common and essential features offered by these anti-theft backpacks:
Slash-proof material: One of the most common ways your bag or items can be stolen is by slashing the bottom of the bag or cutting the straps of your bag. By having this material, your items are secure in the back.
Hidden zippers: Hidden zippers make it harder for pickpockets to open your bag and take out important or valuable items.
RFID-blockers: A lot of theft has become digital, so an RFID-blocker will protect your cards and other documents from being stolen electronically.
We've picked NN of the latest anti-theft backpacks for women which we think look great, and summarized them in more detail for you.
Pacsafe Citysafe CX 17L Anti-Theft Backpack
Pacsafe is one of the top anti-theft bag brands on the market today, so it's no surprise that they made it on this list. We're starting off with the Citysafe design because of how stylish it looks, while still being extremely functional. This 17L pack can fit a 13 inch MacBook and has multiple internal pockets to keep your items organized.
Pacsafe bags have many notable features, including slash-proof materials and RFID blocking pockets. The quality and numerous features of this bag will ensure that it will last you through years of travel.
Quick facts:
The Hustle Backpack by Solgaard Design Co
This backpack was born on Kickstarter and raised over $440,000 in just 40 days. It's the sister of the Lifepack Original – an anti-theft backpack with a USB plug charged via the solar bank. The solar bank lives on in this stylish design, as does the patented retractable lock and anti-shock protection. The bag can also hold up to a 15.6-inch laptop.
The three benefits the Hustle Backpack focuses on are the locking cables, solar power bank, and interior organization. A final plus: the locking mechanism for the lid of the bag doubles as a bottle opener.
Quick facts:
Bobby Compact by XD-Design
The Bobby backpack is one of the most popular designs in the travel backpack industry because of a very successful campaign on Kickstarter. Over 10,000 people raised over £640,000 for the Bobby Original, so XD Design created a more compact version intended for urban use.
The Bobby Compact has a lot of important anti-theft features, like hidden zippers and pockets, cut-proof fabric, and an integrated USB charging port. The pack also comes with an integrated rain cover at the bottom of the bag, along with a shopping tote. XD Design is also working to make all of their products 100% sustainable by 2020.
Quick facts:
Travelon Anti-Theft LTD Backpack
This chic little backpack is from one of the largest anti-theft bag designers: Travelon. Many of their designs are intended to not look like travel bags, while still being extremely functional. All Travelon packs are slash-resistant, have locking compartments, and have RFID-blocking slots and pockets.
In addition, the device compartments are fleece lined and padded to keep your devices safe. Part of the interior organization includes RFID-blocking card and passport slots. Since Travelon's beginnings over 30 years ago making luggage carts, the brand created over 400 products designed to make travel easier and safer.
Quick facts:
Pacsafe Citysafe CX Anti-Theft Convertible Backpack
If you were looking for a bag that could do it all, the Citysafe Convertible backpack may be perfect for you. The stylish pack can be converted into a crossbody bag that you can use when going out to dinner or shopping.
The Citysafe Convertible Backpack has very similar features to the Citysafe 17L pack. It also has the TurnNLock security hooks, eXomesh® slashguard, Carrysafe® slashguard strap, RFIDsafe™ blocking material, and locking zippers.
The main differences between these Citysafe packs are the size difference and convertibility. The Convertible pack holds about half the amount of the Citysafe 17L. Other than those two things, your choice would depend on style preference.
Quick facts:
Travelon Anti-Theft Signature Slim Backpack
This smaller pack is ideal for the minimalist packer who only needs the essentials during the day. While the pack can't fit a laptop, it fits a tablet easily with all other necessities.
The key features of the Signature Slim pack are very similar to the LTD pack. It features RFID-blocking card and passport slots, slash-resistant body panels and straps, and locking compartments. Additionally, the front zippered pocket locks for added security.
Quick facts:
The Speed Backpack by The Frenchie Co
The Frenchie Co began their journey on Indiegogo with the Speed Wallet and this led to the creation of the Speed Backpack. The pack has very innovative features designed for convenience, like self-adjusting straps, anti-theft magnetic closure, and body temperature regulation channels made from astronaut suits.

The bag is made in either nylon or Italian leather, so you have the option based on your style. Additionally, the bag can expand from 20 liters to 35 liters, so it can take you from day travel to backpacking. The Frenchie Co is currently in production stages and the products will begin shipping out in September 2018.
Quick facts:
Size: 20L to 35L
Price: $249-$279 (originally $300-$500) – check out Dealspotr deals here.
Where to buy: Indiegogo
Pacsafe Stylesafe Anti-Theft Sling Backpack
The fleet of Pacsafe backpacks continues with the Stylesafe Sling Backpack. This is a convertible pack where the straps have a zipper that allows the bag to convert from backpack to sling. The pack fits a 10-inch tablet and allows you to seamlessly change your look depending on your needs.
Like the other Pacsafe bags, the Stylesafe Sling pack comes with the standard anti-theft features: the TurnNLock security hooks, eXomesh® slashguard, Carrysafe® slashguard strap, RFIDsafe™ blocking material, and locking zippers. The versatility of the bag would also make it an ideal choice for the minimalist packer.
Quick facts:
Travelon Anti-Theft Tailored Backpack
The Tailored Collection is one of the stylish collections from Travelon that is designed to take you from urban life to your travel destinations. This pack fits a tablet, and like the other Travelon packs, has RFID protected passport and card slots.
Something unique to the Travelon bags is the contrasting interior color that adds something special to your bag. For instance, the bag in the color Sable has a bright cranberry interior to contrast the exterior of the bag. The Tailored Backpack also has the same safety features as other bags, like slash-proof materials and locking compartments.
Quick facts:
KOPACK Anti-Theft Travel Backpack
The Kopack backpack is one of the most affordable designs on the market with a lot of key features that'll rival some of the best anti-theft packs. Features like hidden zippers, 10+ interior pockets, bubble foam padding, and anti-slash fabric all make this bag a great deal for the money.
The bag opens up to 180 degrees to ensure efficient packing. The bag is one of the larger options, as it fits up to a 15.6-inch laptop. It's also Amazon's Choice for anti-theft backpacks, so you know that it will deliver safety alongside its minimalist style.
Quick facts:
Size: 12.2" x 6.7" x 2.4"
Price: $37.99
Where to buy: Amazon
Black Razzle Dazzle Anti-Theft Backpack by HighSpiritStore on Etsy
This sparkly pack is one of the numerous anti-theft packs offered on Etsy, but I chose this one for its sparkle and leather design. All of the access to whats in the pack is on the back of the bag, so you don't have to worry about anyone unzipping your pack.
The pack fits up to a 15-inch laptop and contains multiple smaller interior compartments to fit your phone or keys. The pack also features a velvet lining to protect valuables and a fully padded interior for shock absorption.
Quick facts:
Pincnel Anti-Theft Rucksack
This stylish anti-theft pack is currently Amazon's #1 Bestseller in Women's Fashion Backpacks and for good reason: it brings anti-theft to a very accessible place. The durable leather and nylon fabric make this pack waterproof. Additionally, all access into the pack is on the back, so there is no risk of theft while you're walking around with the bag.
The pack has multiple interior pockets and offers two strap options: the normal backpack straps and a detachable single-shoulder strap. This bag easily fits a tablet along with all other daily necessities.
Quick facts:
Size: 12.99" x 5.9" x 13.3"
Price: $25.99 & Free Shipping
Where to buy: Amazon
Get each week's best deals from Dealspotr in your inbox
This guide was published on July 10, 2018
, and last modified on July 10, 2018
.