B8ta is the Brick and Mortar Version of Kickstarter and Indiegogo
About the Author

Partner Marketing @ Dealspotr. Bargain shopper extraordinaire. Sloth enthusiast.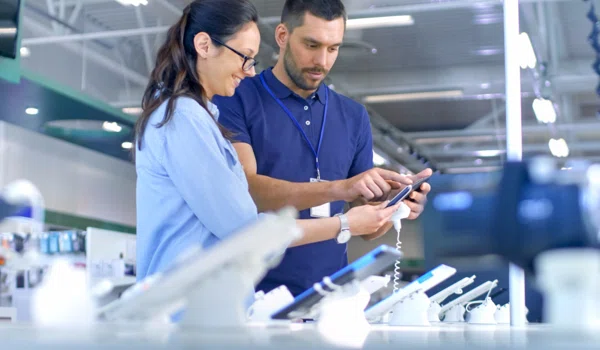 In a world where new gadgets and toys are popping up everyday, it's easy to get lost in the mix. What if there was a store where you could discover and play with the newest tech products?
Meet b8ta, your local shop that's evolving the retail experience through discovery and learning. Since opening its first location in San Francisco in 2015, b8ta has been exhibiting and selling the latest in consumer technology in convenient retail locations across the United States.
Think of b8ta as a cross between RadioShack and Best Buy. While they started originally focusing on smart home products, they now carry a wide range of goods that both early adopters and tech-focused shoppers can enjoy.
Here's a sample of products you might find at your local b8ta:
B&O Beoplay H4 Wireless Headphones Flybrix Do-It-Yourself Drone Kit
Lifepack Solar Powered Backpack Husqvarna Robot Lawn Mower
Changing the retail experience
With traditional retail on the decline, consumers are seeking, and finding, new shopping experiences. Online retailer Alibaba recently smashed their previous Single's Day record by selling over $25B in gross merchandise volume in 24 hours while retail institutions like Macy's and J.C. Penny are continuing to close stores.
b8ta is bringing their retail-as-a-service approach to brick and mortar retail with the backing of $19.5M in funding and financing.The company allows smaller brands to easily sell in their retail locations, getting exposure to 25,000 store visitors every month. The brands keep 100% of the sale and only pay b8ta to rent space in the retail store.
In addition to their own 8 locations, they recently announced a partnership with Lowe's, powering a "Smart Home powered by b8ta" experience in 70 Lowe's locations. The store-within-a-store experience brings a curated selection of smart home products and "trained experts known as 'b8ta testers'" which help shoppers understand the often overwhelming smart home ecosystem.
ABOUT THE DEALSPOTR MARKETPLACE
If you would like to stay connected with b8ta, you can follow them online at Dealspotr, Facebook, Instagram, and Twitter.
The Dealspotr Marketplace is a new platform that better connects merchants with influencers and shoppers. Are you a retailer? Claim your page on Dealspotr to start promoting exclusive deals and collaborate with influencers.
If you would like more information on claiming your merchant page, or to how to become featured in one of our running blog series, please feel free to reach me at jimmy@zipfworks.com.
Get each week's best deals from Dealspotr in your inbox
This guide was published on November 14, 2017
, and last modified on November 14, 2017
.
Stores related to this article:
b8ta