The Best Air Fryers for Under $100
Written by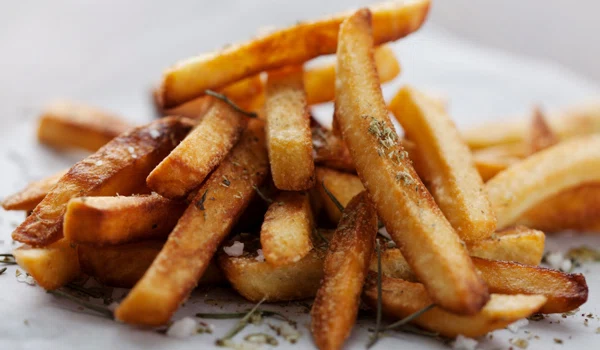 Air fryers are the hottest new kitchen appliance. You can fry up your favorite fried food using only a tablespoon of oil, so you can snack with less guilt.
In an air fryer, you can cook fish, fries, chicken, vegetables, and every other food that tastes better fried (so, basically everything).
There are so many air fryers to choose from, and some are seriously expensive. The glorious As Seen on TV Power Air Fryer for $159.96 is great and all, but we're looking for something a little bit more budget-friendly.
Well, we've done the research and the results are in. Here are the 7 best air fryers for under $100.
Gourmia Hot Air Fryer: $49.99
This one is so adorable! The Gourmia Hot Air Fryer looks like a little Star Wars robot.
This thing makes healthier versions of your naughty fried stuff in 4.5 quart portions. You can also bake or roast with the Gourmia. This wonderful little gadget is available at Best Buy.
You know when you microwave something and the outside is flaming hot and the inside is frozen? You won't have to deal with that anymore thanks to the Gourmia!
Gourmia uses RadiVection 360 technology, which in technical terms, we believe means you'll bite into your food saying "whoaaa."
On the review page, FavAunt gave five stars and said, "This was purchased as a Christmas gift for my 17 year old son. This was along with a George Forman grill. He said they were the strangest gifts he's ever received. HOWEVER, after the first use he loved it! He is using it at least once a day."
That's amazing!
Bella Air Fryer: $69.99
The Bella Air Fryer found at Macy's is so sophisticated, it adds a unique accent to any home. No one has to know it was only $69.99!
You can use very little oil (or none at all!) with this guy. There's even an option to bake a cake! Make dinner AND dessert with this useful little machine.
Take a look inside!
It has a 1500 watt heating system that uses circular heat technology to make sure every piece cooks perfectly.
It's easy from beginning to end because not only is the preheating time fast, it's not a mess to clean up. Using little oil really helps cut down on greasiness (who knew?). Plus, you can throw the basket you see in the photo in the dishwasher.
Promising review from Teia: "I got this for my mother in law and she is very happy with it. I can't wait to buy me one as well. You can't go wrong with eating with less grease."
Dash Compact Air Fryer: $59.99
Wait. A. Minute.
Is this real? This air fryer is a thing of dreams. Look how MARVELOUS it is!
The Dash Compact Air Fryer is sold at Bed Bath & Beyond for only $75.99.
You could have the cutest 50's inspired kitchen with this thing. Drool.
It doesn't stop there. You can get it in a classic red. Would you call that candy apple red? Maybe it's more of a scarlet red. Oh, who cares, it's stunning!
You can also find it in black or white if you're not as color-crazy as we are.
Ok, so we know it's cute. But does it work well? It looks like it!
It uses a 1000 watt heating system and fits 1.2 liters. The Dash uses AirCrisp technology (yes, that's a thing) to ensure optimum crispiness. Yum!
It's also extremely safe, because after 30 minutes it automatically shuts off. This is helpful when you're running out the door to meet your date and forget to turn it off. Everyone's been there, right?
A review from GearStyle Magazine says this product is "excellent for reheating fried foods and leftovers from the restaurant." No more microwaving!
Philips Viva Air Fryer: $79.95
You can get a beautiful name brand air fryer for under $100 by going with the Philips Viva Air Fryer.
Seattle Coffee Gear (where this appliance is sold) offers a video review right there on the page where the Viva is sold. In the video, a good point is brought up - "You don't have to heat up the whole oven!"
This sounds like a small detail but it's not! When it's a sweltering summer day and you still want fried/baked food without heating up the already hot house with a big oven, the Viva is there!
Best Choice Air Fryer: $62.00
The Best Choice Air Fryer from Amazon is a great option for people who prefer specificity when it comes to cooking.
It has a LED screen that pinpoints what you're cooking and lets you know exactly what temperature you're using.
Make chips, chicken, steak, and more by clicking on these buttons. It's so easy and you can even make cake! There's also a warm up option if you want to warm up food that got cold.
Honestly, how much easier could it get? This thing rules!
C. Phillips says, "love love love it! I do almost everything in it. Since getting it, I use it at the least once a day, usually more. What a great invention!"
GoWISE Air Fryer: $64.95
Ok, we'd be lying if we said it wasn't the cool purple that made us click on this air fryer. But inside that beautiful exterior is some A+ technology!
The GoWISE Air Fryer takes advantage of rapid air technology that is sweeping the nation with these air fryer products. "Satisfry" your grease tooth without the calories. See what we did there? You can pick this one up at Amazon, too.
Whitney Monique gives a super positive review: "Look, I love fries. Curly, steak, shoestring, criss-cross, all of them! I spent $79 on this thing just to make fries & I am NOT disappointed!"
We love fries, too, Whitney. We love fries, too.
Chefman Air Fryer: $79.99
The Chefman Air Fryer is a high tech machine that's ready to let you indulge in your worst cravings.
Get that same crunch you would without all the oil you're used to. It still tastes great! Plus you'll find this little guy at Target, which means you're guaranteed to love it. It's Target, people!
Here's some proof. A reviewer named Joe says, "If you love fried food but want to start being healthy then try this out... We made cutlets and it came out great. No one could tell the difference."
Air fryers for the win.
Is it air fryer or Air Fryer? We'll never know. What we do know is that everyone is digging these impressive little cookers. Now that we've given you the scoop, scoop up a handful of whatever you want to fry and start cookin'!
Get each week's best deals from Dealspotr in your inbox
This guide was published on January 18, 2018
, and last modified on January 18, 2018
.