10 Christmas Stockings Cool Enough for Even Millennials
About the Author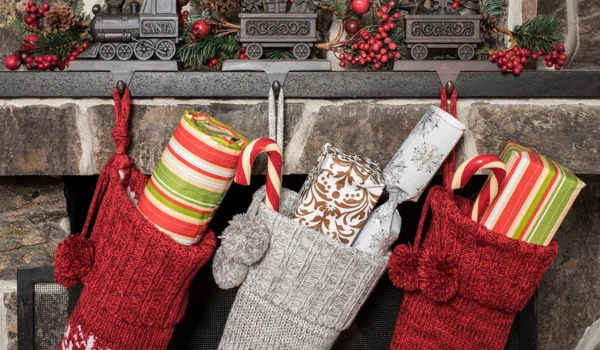 While you're making your list and checking it twice, don't miss out on the opportunity to flex your personality with your Christmas stocking.
Instead of regular cutesy Christmas stockings above the fireplace this year, opt for something with a little more personality. After all, millennials know how to innovate anything!
Whatever you decide, we've come up with a list of the 10 best Christmas stockings that millennials (and the rest of the family) will love.
Tactical Holiday Stocking
Kicking off the list, we have a truly unique stocking to hang. For that young soldier, airman, marine, or sailor in your life, they'll love the Tactical Holiday Stocking.
Perhaps the most efficient Christmas stockings we've ever seen, this tactical stocking is a hilarious approach to stocking stuffers.
Attach all sorts of things to this crazy stocking that comes with actual MOLLE straps and hooks. The stocking is available now at ThinkGeek.
Merry Christmas, soldier!
Party Flasks Santa Stocking
Make Christmas a little more wild this year and choose the Party Flasks Stocking. This stocking will not only be festive, but it'll get you tipsy!
Christmas with family can be difficult, so why not make it a little easier and offer up some stocking wine to the relatives. They'll thank you for it!
Look how much fun they're having! You don't have to wait long for this boozy stocking, it's on Amazon.
It doesn't just have to be wine. Fill your stocking with any mixed drink, cocktail mix, or even beer!
After all, isn't Christmas about eating, drinking, and being merry?
Star Wars Christmas Stocking
It's not news that millennials love Star Wars. This is why a Star Wars Christmas Stocking is a must for many!
Show off your love for the greatest franchise ever by hanging a Star Wars themed Christmas stocking in your home. Your guests will love it!
The festive stocking is perfect because it's Star Wars based but it also has that undeniable Christmas feel to it with the snowflakes and knitted design.
It's perfect for all ages, but Star Wars has a special place in the millennial heart. You can find this one at Target, which is perfect because you're there all the time anyway!
Mermaid Stocking
Mermaids are kind of in style, as weird as that sounds. Women are growing their hair out and dying it all sorts of pretty purples and blues. There are mermaid quotes found on Instagram and on hangable tablets found in stores.
The aesthetic that comes with mermaids is pretty dazzling. So, if you're one of the millennials that loves the whole mermaid craze, these are the stockings for you!
Sold at Pier 1, you know you're going to get quality along with the novelty. We must admit, the glittery blue is enchanting! Don't forget to check the Pier 1 page on Dealspotr for some discounts before buying.
Red Panda Stocking
While this may be qualified for the "weird" category of Christmas stockings, a stocking with a red panda is actually awesome.
There's two sets of people: those who have seen red panda videos on Youtube and those who have not. If you have, you understand that the love for red pandas goes deep enough to have a Christmas stocking feature one.
This animal gained national attention when videos went viral all over Facebook. Ask any millennial about them, and they'll know what you're talking about.
They might be the cutest animal in the world. Get your hands on one of these adorable stockings at Zazzle.
Vegan Christmas Stocking
Veganism is a popular lifestyle that many millennials are choosing. If you or a family member is one of them, choose the vegan stocking!
Christmas can be a time to celebrate being vegan. There are fun challenges to creating vegan Christmas dishes and buying gifts made with veganism in mind.
Merry Vegan Christmas!
Rugrats Christmas Stocking
Millennials are all about remembering the 90's. The childhood nostalgia for the 90's kids generation is strong.
Dive into memory lane when your guests come over and see the handmade Rugrats Christmas Stocking hanging from your mantel with Tommy Pickles, Chuckie Finster, Angelica Pickles, and the twins. Not to mention: Reptar!
It's a true crowd pleaser. After your guests notice it, suddenly you'll all be reminiscing about butterfly clips and pogs. You'll find this perfect '90s stocking at Etsy.
Christmas is a time for cherishing memories, right?
Cat Christmas Stocking
For cat lovers, there is no such thing as too many cat things. Add this Cat Christmas Stocking to the collection.
You can customize this stocking by requesting your own cat's name be written on the collar. Yet another perk of purchasing items from Etsy. Whether the stocking is for you or your feline friend, it's an adorable addition to a kitty household.
Stuff it with wet food, dried crunchy snacks, or fun catnip toys. The paw-ssibilites are endless!
Dog Christmas Stocking
Now hold on, there's a stocking for dog lovers, too. This Dog Christmas Stocking is handmade and adds a classic look to Christmas decorations.
An ode to Fido. Adorable! Spoil your four-legged friend by stuffing this cute stocking with tons of tail-wagging treats. This darling stocking is a steal right now at Walmart.
Hunting Christmas Stocking
This customizable stocking is great for the person who loves hunting. Represent the hobby you love by choosing a Hunting Christmas Stocking with a deer on it.
For the young millennial hunter, this stocking is ideal for the person who loves talking about their last big game achievement. Check out Zazzle for this unique stocking.
Celebrate like a Millennial
Millennials love a good twist on a regular item and they love expressing their individuality. Celebrate Christmas the millennial way and stand out from the crowd!
While Christmas is a time for fun and vacation, millennials also know better than anyone what it's like to celebrate the holidays on a budget. Enjoy your holiday season shopping while still saving money by always checking online coupon websites! Thank us later.
Happy Holidays!
Get each week's best deals from Dealspotr in your inbox
This guide was published on December 15, 2017
, and last modified on December 15, 2017
.