Best Cyber Monday Toy Deals of 2014 and Predictions for 2015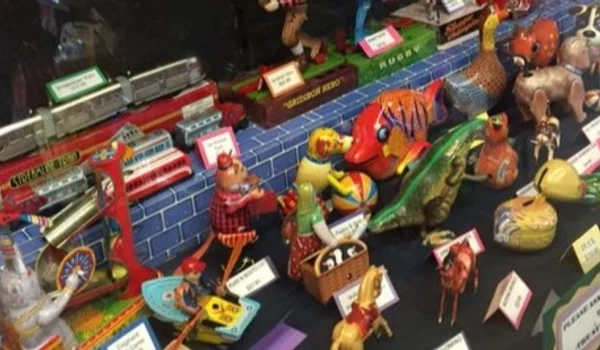 @dealspotr posted this article
Toys "R" Us
Last year, Toys "R" Us kicked off Cyber Monday on Sunday night – offering hundreds of slashed prices on some of the year's hottest toys. Some of the hottest deals included the following items for $5 each: Shimmer 'n Sparkle Cra-Z-Loom Bracelet Maker and the Metallic Loom and Hook Set; $20 off the Teenage Mutant Ninja Turtles Battroborg Electronic Battle Game (originally $79.99); $15 off Disney Frozen Princess and Me 18" dolls; Skylanders Spyro's Adventure Packs for $7.99; 40% off Playskool Sit 'n Spin; and 20% off all NERF Blasters. Similar to last year, it's likely that Toys "R" Us will hold Cyber Week, not just Cyber Monday – however, you're likely to have a larger selection if you sign on when the sale begins on Sunday night.
Toys "R" Us' predicted 2015's hottest toys will be dinosaur, pet, and cooking toys. This report expects hit movies like Jurassic World will boost the desire for dinosaur-themed toys, and life-like pet toys will also be trending. The report also predicts cooking toys will see increased popularity due to parents wanting to teach children areas of science, technology, engineering, and the arts. Toys "R" Us 2015 toy predictions give us some insight into which toys will be featured for both Black Friday and Cyber Monday. There's a good chance that these three categories will be included this year.
Walmart
Walmart's Cyber Week last year offered 500 online deals (double the number of deals it offered in 2013). Some of its hottest features in terms of toys included: the PlayStation 4 Lego Batman and Little Big Planet Console Bundle with the choice of an extra game and controller for $449 ($189 savings), and the 2014 Holiday Barbie for $25 ($9.97 off), and the Fisher Price Little People Musical Preschool for $22 ($7.97 off). In addition, Walmart offered free shipping during Cyber Week.
Inside Tip
Walmart recently started its Pay with Cash Program – which allows shoppers to order online during Cyber Week, and then pay for the order with cash in their local store without any banking service, credit, debit, or prepaid card. This means that customers who either don't have a bank account or aren't comfortable sharing their banking info online can still reap the benefits of Cyber Week when shopping at Walmart.
Target
Last year Target offered its shoppers the opportunity to knock 50% off of a toy when you buy two toys of the same brand. Another feature Target offered during Cyber Week was the LEGO Friends Jungle Tree Sanctuary Set for $29.99 and free shipping. Previous years have consistently featured LEGO toy sets, so it's likely that Target will feature at least one this year, as well. Similar trends include Star Wars, Monster High, and Nerf toys during its cyber sales.
Target has also offered more expensive toys during Cyber Week, including an Xbox One for $379.99 ($20 off the original price) with a $50 Target gift card with purchase. In addition, Target also offered a $10 gift card on select purchases of $75 or more last year – and many of the featured Cyber Monday toys qualified for the free gift card. There's a good chance that Target will follow tradition by listing LEGO toys and at least one game console during Cyber Monday.
Inside Tip
Use your RedCard for an additional 5% off your purchase and free shipping. This is a great option, because the RedCard simply links to your debit card, which means you don't pay interest on your purchases.
Kmart
Last year's Kmart Cyber Monday included a wide array of toys. Some of the most popular deals included: the HASBRO FurReal Friends Daisy Plays-With-Me-Kitty for $24.99 (regularly $49.99), the Vtech Disney Doc McStuffins Write and Learn Doctor's Bag for $14.99 (regularly $29.99), the Monster High School ($29.99), and the LeapFrog LeapPad2 Explorer Disney Princess Bundle for $89.99 (regularly $119.99). Perhaps the biggest part of Kmart's Cyber Monday sale was 50% off select toys. It's likely that Kmart will offer a wide variety of toys this year, as well, including pet toys – especially if the lifelike pets will be trending (as Toys "R" Us predicts).
Inside Tip
Sign up for text and email updates and coupons, because Kmart will send you updates about its Cyber Week and additional promotional offers that will allow you to save additional money during your holiday shopping.
Amazon
Amazon's 2014 Cyber Monday actually offered deals throughout the entire week, however, certain deals had to be snagged on Monday. In addition, Amazon offered its customers free shipping on all orders over $35. Some of Amazon's best deals were on gaming consoles and gaming accessories. For example, they offered the Logitech G930 Gaming Headset for $69 (normally $159), and Dragon Age: Inquisition for $45 (normally $59). Additionally deals included 50% off select LeapFrog products, and Blue Orange games (including "Gobblet" and "Spot It" buy one, get one half off. Previous Cyber Monday (and Cyber Week) deals typically focus on electronic toys and video games, so it's likely this year will be no different. Amazon is the place to go for game consoles and interactive learning toys.
Inside Tip
If you're planning on making purchases from Amazon during Cyber Week, be sure to sign up for your free trial of Amazon Prime. You'll also get free 2-day shipping on select items, and even early access to many of the Cyber Week deals.
eBay
Similar to Amazon, eBay had some great deals last year on console bundles. One of its best deals was "The Last of Us" PlayStation 4 bundle for $379.99, and 38% off both the Nintendo Wii U "Skylander" bundle and the "Super Smash Bros." Wii U. Be sure to check the Deal of the Day page on Cyber Monday. Be sure to also check the Home Deals section for a selection of trending toys – including learning games, board games, puzzles, and play sets. While eBay will likely have a wide array of games for children of all ages, previous years have seen the most savings on more expensive items like the game consoles. eBay is one site that may require some digging for more traditional toys – but the prices may be worth it.
Inside Tip
When comparing eBay toys with Amazon toys this year, be sure to factor in the shipping cost. For example, if the toy you wish to purchase is on both sites, but qualifies for Amazon Prime shipping, you're likely to save money just by using this option.