The 7 Best Luxury Bedding Startups Compared: Brooklinen vs. Parachute and Others
About the Author

Digital Marketing Manager here at Dealspotr! Email me with your questions: emily@dealspotr.com :)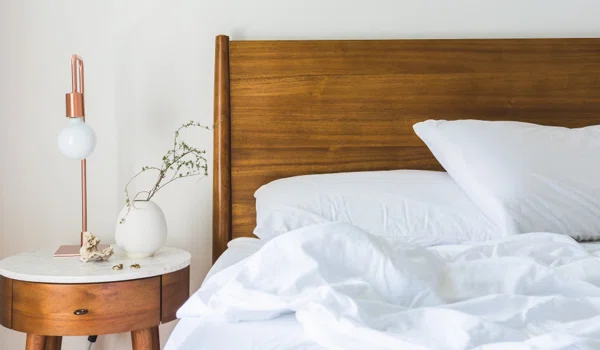 If you're ready to lie down in the lap of luxury, you're gonna need some new bedding. But where to find the best kinds? Don't worry. Once again, we've got you covered — in percale, sateen, down, down alternative, and eucalyptus tree pulp, to be precise. Come on in to find out what that means, and peruse our top fave brands to discover your next luxury bedding purchase!
The top 7 luxury bedding startups, compared
Brooklinen
Offering the full gamut of sheets, towels, comforters, blankets, pillows, candles, and even fabric care, Brooklinen makes modern products in simple designs to fit any home decor. Sheets come in four distinct collections: Classic, Luxe, Twill, and Linen.
Their percale and sateen sheet fabrics are both 100% cotton, with distinctive weave patterns making one matte with a cool feel to it (percale), and the other softer and warmer (sateen). Their twill is woven with 100% long-staple cotton in a unique diagonal weave for a "super soft fuzzy feeling", while their linen is made and stone-washed in Portugal and features optimal moisture wicking properties.
Their comforters contain a high loft fill power of 600 (Lightweight Comforter) and 700 (All-Season Comforter), ethically sourced from the Hutterite farms of Canada, while their pillows contain clusters of the same down.
Price: Range from $45 pillowcase sets to $819 Cali King move-in bundle. Classic sheet sets start at $99; Luxe sets start at $129. Set of two bath towels is $69 and comforters start at $179.
Unique materials/fabrics or other specifics? Unique to Brooklinen are their super-absorbent and plush 'bath sheets', cut larger than bath towels at 40" x 70", each created with 820 grams per square meter (gsm) of Turkish cotton. A set of two is $89 USD.
Deals/special packages: Check their Best Sellers section for great pricing like their "Best Deal." They also offer a Move-In Bundle. Plus, Brooklinen offers promo codes for free shipping plus up to $20 off your order.
Thread count(s): Luxe sheets are 480 TC, Classics are 270. See their explanation on thread counts here.
Machine washable? Yes, but line dry or tumble dry low; see their care guide here.
Design/style: Simple solids, subdued colors, and understated prints.
In-home trial offered: No.
Return policy: Returns are accepted until 60 days after purchase. See details here.
Financing offered: Yes, if you are approved.
Cool extras: Get $25 when you refer a friend and they make a $25 purchase. Are you a design professional in hospitality, architecture, interior design, or another industry? You may qualify for special pricing and other perks here. Both e-gift cards and boxed gift cards are also available here.
Pros:
Buyers love the softness and great fit of sheets, pillows, and comforters.
Towels are plush and bath sheets are thick.
The scented candles are high quality.
Fabric care products leave a lovely fresh scent, and all items are delivered fast in clever packaging with extras.
Cons:
Expensive.
Some thought the towels were overpriced and less absorbent than they'd like, bath mats were too small, and pillows "too full" to sleep on. Others didn't care for the thinness of the sheets they ordered and found them to be easily frayed after washing.
Bottom Line: Most reviews were stellar, so if you're in the market for luxury bedding, go ahead and give these a try. You can return washed/used products up to 60 days after purchase with a $9.99 processing fee (unopened/unused get the full refund with no processing fee).
Parachute
Parachute makes every possible type of bedding including sheet sets, quilts, coverlets, duvet covers, shams, bed skirts, and more. They also have baby bedding for the little one's crib, a variety of table linens, laundry care products, bed frames, mattresses, robes, slippers, decorative throw pillows, scented candles, and absolutely everything for your bathroom — even shower curtains and bath salts.
Like Brooklinen, Parachute uses sateen, percale, linen, down, and down alternative in most of their bedding, with matelasse coverlets and shams, cashmere baby blankets, and fringe alpaca throws mixed in.
Price: Sheet sets start at $109, quilts at $229, classic towel sets at $114, linen tablecloths at $129, travel kits at $169.
Unique materials/fabrics or other specifics? They use only 100% Egyptian long-staple cotton in their sheets, Turkish cotton in their towels, and fine European flax in their linen. Their fabrics are never artificially softened and are Oeko-Tex Standard 100 certified free of harmful chemicals and synthetics. More info on this certification here.
Deals/special packages: Bedding set bundles bring buyer favorites together for efficient pricing. You can also find Parachute discount codes here.
Thread count(s): They don't list specific thread counts, calling it a "marketing gimmick" with an explanatory blog post here.
Machine washable? Yes, with special instructions here.
Design/style: Parachute describes their design as "thoughtful" and "unfussy," created with a natural color palette.
In-home trial offered: Yes, 60 days.
Return policy: Full refunds (besides shipping and handling fees) are provided when returns are postmarked within 60 days of delivery receipt. See details here.
Financing offered: No.
Cool extras: Customize your bedding set with mix and match colors and fabrics. While primarily an online store, they also have physical locations you can visit in NYC, Venice Beach, and Portland.
Designers may qualify for hospitality or trade partner pricing with details here and here, and you can get ideas and find your favorite styles in the Instagram Shop.
For every unit sold, Parachute donates one malaria-preventing bed net to the U.N.'s Nothing but Nets campaign. Additionally, any returned items are donated to Habitat for Humanity.
Pros:
Large selection.
High quality fabrics.
Very little pilling or shrinkage.
Colors that don't bleed or fade.
Cons:
Wrinkly sheets unless placed onto the bed straight out of the dryer
Bottom Line: If you don't mind spending a bit more on bedding and wrinkly sheets don't ruin your day, these could work for you. Try them out for a 60-day trial, and if you send them back, a recipient of Habitat for Humanity gets to enjoy them. There's really no downside here.
Boll & Branch
Named after parts of the cotton plant — the boll and the branch, if you're curious — Boll & Branch brings you a complete assortment of bedding (blankets, quilts, duvets, sheets, baby bedding, robes, towels, and throws) made with chemical-free organic cotton and dyed with Global Organic Textile Standard (GOTS)-certified dyes.
Shop by size or fabric on their website, or browse their new arrivals, summer collection, goop's favorite picks (think Gwyneth Paltrow), and exquisitely packaged gifts.
With a traceable, fair trade certified supply chain, Boll & Branch guarantees you the purest quality fabrics made ethically and responsibly.
Price: Sheet sets start at $200, pillows start at $80, blankets and throws start at $95, baby gift sets start at $90.
Unique materials/fabrics or other specifics? Organic cotton is used in their percale and signature soft weaves, while European flax comprises their linen.
To ensure organic quality, marigolds are planted alongside the cotton plants in soil kept nutrient-rich via crop rotation (rather than nutrient-depleting monoculture). The marigolds attract birds that eat insects likely to infest the cotton, keeping it free of pesticides as the birds maintain pest-control.
Later, the pesticide-free cotton harvested is spun by factory workers paid a fair trade rate 3 times higher than the industry standard, resulting in an ethical, heirloom-quality product. See details here.
Deals/special packages: Browse their Best Sellers for deals, and use this promo code for $50 off your purchase.
Thread count(s): Their signature soft weave is 300 TC while their percale is 360. Their blog explains these in detail and includes discussion of the "high thread count myth" other brands have touched on.
Machine washable? Yes, in cold water with other special care instructions here.
Design/style: Solids and classic prints in chic designs and gentle, subdued colors.
In-home trial offered: No.
Return policy: Returns are accepted within 30 days of delivery. Details here.
Financing offered: No.
Cool extras: Gifts purchased from Boll & Branch are packaged beautifully year-round. Send a digital gift card immediately when you don't have time for the mail. Boll & Branch also sponsors Not for Sale, a campaign to end human trafficking, child exploitation, and forced labor.
Pros:
Durable fabric.
Very resistant to ripping.
Organic quality products are made affordable through direct sales.
Cons:
Too expensive for anyone who doesn't really care about buying organic or fair trade certified products
Wrinkly unless you put them on the bed immediately after the dryer stops.
Bottom Line: Go ahead and get it if you don't mind the price. Most reviews give the highest possible praises to Boll and Branch, and they accept returns within a month of delivery (with some restrictions, see return policy above) if you decide you don't like it.
Nest Bedding
Established in 2011, Nest Bedding is one of the top-rated mattress providers online and carries organic and non-toxic memory foam mattresses, cotton sheet sets, pillows, kids' beds, baby beds, pet beds, bedroom furniture, and more.
They have several showrooms across the nation including San Francisco, Los Angeles, Phoenix, Chicago, Minneapolis, Seattle, Denver, NYC, and more, which offer delivery with most purchases.
Price: Mattresses range from $299 to $1899, sheet sets range from $39 to $219, comforter bed sets range from $799 to $919, foundations range from $129 to $1149, organic crib sheets are $39 and mattresses are $299, and pet beds range from $79 to $149.
Unique materials/fabrics or other specifics? Their luxury bamboo sheets have anti-microbial properties for the sensitive-skinned, Tencel sheets are made with eucalyptus tree fiber and wick moisture 50% more effectively than cotton, organic cotton sheets are made from GOTS and fair trade certified cotton, and brushed microfiber sheets are extremely soft and cozy.
Organic merino wool comforters are tested to be free of carcinogens and VOCs, as well as naturally hypoallergenic and hand-filled with USDA & Woolmark certified organic superfine merino wool fiber.
Deals/special packages: You get free sheets with the purchase of most mattresses on their website. Get $100 off your order with this coupon code.
Thread count(s): Bamboo sheets have 300 thread count rayon from bamboo, organic cotton sheets have 300 TC from cotton, organic merino wool comforters are 400 TC.
Machine washable? Yes, most of their products are, with special instructions included on the website for each.
Design/style: Stylish, classic design in colors like slate, sandstone, natural, smoke pinstripe, pastels, and chenille herringbone brown.
In-home trial offered: Yes, 100 nights.
Return policy: 90 days on pillows and blankets, 4 months on memory foam beds from Bed-in-a-Box, and 6 months comfort guarantee on latex beds.
Financing offered: Yes, there are two options.
Cool extras: Nest's fun 24 color Crayola kids' sheets are super soft and come in brilliant colors to match every kid's room. They also sell the first kids' mattresses available in the online market with two varieties. You can get comfy unisex bamboo pj's, chamomile calming masks, and other sleep apparel accessories.
Pros:
Nest Bedding products are made in the USA with lifetime warranties.
White glove delivery available.
Some hemmed and pleated styles are offered.
Bedding is available in all standard mattress sizes.
Cons:
Some items are a bit pricey.
Watch for shrinkage and shedding of fibers upon first wash; should be minimal, company addresses this issue by making some products slightly larger
Bottom Line: They have many more positive customer reviews than negative, and it sounds like they stand by a solid refund policy (even though some have had to be assertive and persistent about it). If worse comes to worst, it looks like you can get the owner's attention on Yelp fairly easily.
Buffy
When you head to their website, Buffy begins with the question:
Didn't think you could save the world by choosing the right comforter? Think again :)
From there, they go on to explain their priorities of sustainability and creating cruelty-free products, including a comforter stuffed with recycled plastic bottle filling, a rejuvenated microfiber lighter and softer than down, and and an outer layer of eucalyptus fibers instead of cotton.
The choice for eucalyptus came about since it requires 10 times less water than cotton, and the microfiber because 2 pounds of down typically requires a dozen or more geese to be live-plucked (a painful process).
Founder Leo Wang comes from a family with 20 years in the textile industry, so he knows a thing or two about bedding. He decided he doesn't like the cruelty or environmental destruction that goes into typical bedding-making, so he set out to make something different - and he did.
Popular on Instagram, the Buffy brand ships in Forest Stewardship Council certified sustainable packaging and lets you try a comforter for 30 days to see if you like it. If not, they take it back free of charge.
Price: Twin/couch size comforters are $120, full/queens are $150, and king/cal kings are $190.
Unique materials/fabrics or other specifics? Each comforter's filling is made from 50 recycled plastic bottles. Spa-grade eucalyptus fibers are used instead of cotton and rejuvenated microfibers are used instead of goose down. Comforter fabrics are resistant to microbes, mites, and allergens, as well as highly breathable to allow heat to escape and cooler sleeping to transpire.
Deals/special packages: Get $5 off your first order when you sign up for their email newsletter.
Thread count(s): 320 TC.
Machine washable? Yes, in a large commercial washing machine. If you don't have access to a large commercial washing machine, Buffy's FAQ section recommends spot cleaning or dry clean only - or covering with a duvet cover to keep your Buffy clean. Smaller washing machines may damage your Buffy. Read about it here.
Design/style: It appears that all Buffy comforters are fluffy and white like clouds.
In-home trial offered: 30 nights starting from the time of your order.
Return policy: Read it carefully. Your 30-day trial begins the day you order your comforter, not the day you receive it. (I don't know why either)
Financing offered: No.
Cool extras: Free shipping is offered via UPS Ground throughout the United States. They will ship to Canada by special request at hello@buffy.co. You get a free lavender sleep mask and the unboxing is fun.
Pros:
Eco-friendly and cruelty-free.
Good temperature regulation.
Cons:
Bottom Line: If you like to support eco-friendly and cruelty-free endeavors, go for this one - but watch that 30 night order date if you think you might want to return it. If you like the idea but want something cheaper, scroll through Amazon. They have some similar types that might fit your budget better.
Riley Home
As fourth generation bedding makers, the Riley founders have kept their prices low by maintaining exclusive partnerships with top Portuguese textile factories and shipping directly to customers.
Riley products are certified Standard 100 by Oeko-Tex, and ground shipping is free on all orders within the U.S. and military bases APP/DPO/FPO. Enjoy a glimpse of the 'Life of Riley,' (a phrase popularized around the time of WWI, meaning a carefree and easy life) whenever you lounge in/on Riley Home Bedding products.
Price: Sateen sheet sets start at $149, as do percale sheet sets. Duvet cover and sham sets range from $180 to $259. Spa towels are $19 and hooded waffle robes are $109. Rejuvenating eye masks are $25. Need a present for someone? Riley gift cards start at $50.
Unique materials/fabrics or other specifics? Each bedding item is made with 100% premium long-staple combed cotton, some woven with sateen or percale. Pillows and comforters are filled with down and down alternative.
Deals/special packages: You get a free tote bag with every order. Also, you can order two sheet fabric samples for only $5 with their Home Lie On program to see if they're soft enough for you.
Thread count(s): We couldn't find the TC on the sheets anywhere, but their terry robes are made with 100% cotton terry at 400 gsm. (And remember, the Home Lie On program explained above lets you try 2 sheet fabrics for $5).
Machine washable? Yes, most products are, but please follow instructions included under each product description on the website.
Design/style: Riley describes their style as 'cozy and chic, crafted in Portugal', with sheets offered in 6 colors: slate grey, mist blue, sand brown, thistle lavender, navy blue, white and 2 pinstripes (navy and white).
In-home trial offered: No, but bedding can be returned within 60 days of receipt.
Return policy: All bedding items can be returned within 60 of receiving them if they remain in new or gently used condition and you send them back with their original packaging. Everything else is returnable if unused and still in original packaging.
Financing offered: No.
Cool extras: With every purchase over $300 and/or purchase of a comforter, Riley donates one blanket to a local homeless shelter through their "Blanket the City" program. Personalize any product with a monogram for an extra $10 (fyi, personalized products aren't refundable). Trade discounts are available; email hello@Rileyhome.com for details.
Pros:
Sateen sheets are soft and cozy with a lovely sheen.
Percale has a natural, smooth feel.
Pillowcases have an envelope enclosure to cover the opening.
Good quality.
Fast delivery.
Arrives beautifully packaged as if you've bought yourself a gift - just as you should!
Cons:
No thread count listed.
Pricey.
Bottom Line: This bedding is cozy, so if you're in the market to indulge, treat yourself. Make sure you like the fabric with their $5 Home Lie On program before you order a full set — your $5 will go toward any future orders.
Flaneur
Flaneur Bedding is appropriately named after a French word meaning 'someone who aimlessly roams at a lounging pace'. Each element of this bedding is divinely crafted, and the exciting part is — it's dyed to order!
You can create your own color here, or choose from their Color House collections inspired by the palettes of Van Gogh, Matisse, Caravaggio and others here (we love the Rococo pinks and Jardin greens, and the Moroccan blue is especially nice).
Then, you select your product (sheet sets or duvet covers), and voila! Luxury bedding in the perfect color with free ground shipping to boot! You can also purchase a complete bedding set in an artistic blend of hushed hues when you 'Shop the Look,' created by designer Estee Stanley especially for Flaneur.
Price: Get a complete set in the Bohemian, Grayscale, or Modern Look ($800 - $1,000) . Each complete set includes 1 fitted sheet, 1 flat sheet, 1 duvet cover and 4 pillowcases. Dyed-to-order sheet sets and duvet covers range from $360 - $475.
Unique materials/fabrics or other specifics? Flaneur boasts of their unbleached 'DNA-tested Supima cotton' (an extra long-staple yarn grown in California and Arizona), 100% biodegradable Lyocell sewing thread, and Swiss-made Riri zippers (used on duvet covers). Their 'bud to bed' process is explained here.
Deals/special packages: Order a swatch for $3 to check out the color and fabric before you buy. Free ground shipping and returns throughout the U.S. and Canada. Trade program options are available here. Find promo codes for 10% or $25 off your purchase here.
Thread count(s): Sheets are 400 TC.
Machine washable? Yes, but be sure to follow full instructions provided under 'Wash and Care' section under each product description.
Design/style: Top quality craftsmanship, and numerous diverse, rich colors. Solids only.
In-home trial offered: No.
Return policy: Full refund within 15 days of your order. Custom-colored items are not refundable, but you can exchange them for store credit within 15 days of your order.
Financing offered: No.
Cool extras: You may be able to purchase just one sheet from certain complete sets if you'd prefer. Ask here: support@flaneur.com.
Pros:
Sheets are pre-washed twice to guarantee zero shrinkage and bleeding from dyes when you order.
No pilling.
Exceptional quality, unique colors.
Cons:
A bit expensive.
Sheets wrinkle if not taken from the dryer immediately when finished drying.
Bottom Line: If your budget allows these, go for the gusto. Just make sure you love the color you choose — custom-colored items aren't refundable.
Get each week's best deals from Dealspotr in your inbox
This guide was published on June 12, 2018
, and last modified on June 12, 2018
.