Couch-in-a-Box: The Best Modular Sofa Brands that Deliver to Your Door, Plus Discounts for Each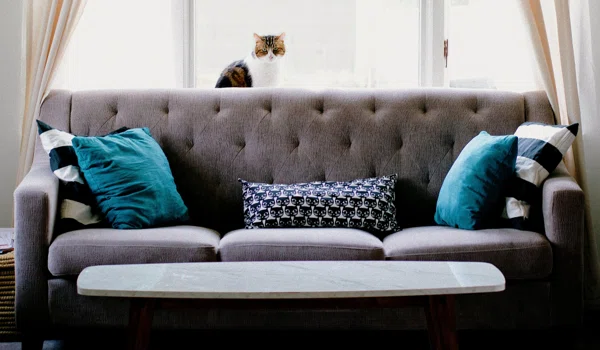 Many of us know the no-drill drill. Rather than lug an entire couch up the stairs of a walkup building, we've opted to go the DIY route, bringing disassembled pieces into our homes to craft full-fledged and functional furniture. We've spent precious weekend hours poring over instruction manuals, using Allen wrenches to turn screws, boards, and a little elbow grease into build-your-own masterpieces.
But, the couch-in-a-box model is more than just a neat way to furnish your home without having to maneuver tricky staircases and doorways—it's also a tremendously functional option for people who are likely to move at some point and don't want to leave their furniture behind.
That's because many of these products are just as easy to assemble as they are to disassemble which means that when it's time to move, you can take them apart, pack them up neatly, and then rebuild them when you arrive at your new place.
IKEA has more or less cornered the market on this simple, highly-effective model for decades, earning their status as the world's largest furniture retailer by around 2008. However, recently a number of other competing brands have popped up to offer their own take on the flat-pack, DIY model that rocketed IKEA to worldwide success.
These companies each offer their own unique take on the couch-in-a-box model with modern designs, tech-savvy features, and options to fully customize your products instead of only being able to select from a few available models.
That's why we've put together this list of the best couch-in-a-box brands that will help you to bring quality, build-it-yourself seating into your home or office. And, we've thrown in a few outstanding direct shipping couch companies at the end that require very little assembly in case DIY isn't your jam.
The top 5 flat-pack couch-in-a-box companies
Burrow
This startup flat-pack couch and sofa company created by Stephen Kuhl and Kabeer Chopra is giving IKEA a run for their money. Burrow offers a line of luxury, flat-pack couches at reasonable prices each of which are all fully customizable.
You can select from their ottomans, sofas, and sectionals and hand-pick your fabric color, leg color, and whether you'd like a low or high arm rest. And, their couches have some pretty cool features including:
US-manufactured, sustainably sourced materials

Stain resistant fabric

Reversible cushions

Hidden USB ports to charge your devices

Modular designs that can be mixed, matched, and adapted for your needs
Burrow is available in a number of showrooms throughout the US including their headquarters, the Burrow Lounge in Manhattan. However, the majority of their sales take place online and ship directly to you which means they pass the savings on overhead costs, retail markups, and shipping charges on to you. According to their calculations, that's up to $600 in savings.
How to save at Burrow:
Sign up for their mailing list to receive 5% off your next purchase as well as emails with information on events, new products, and more. And, like many other modern startups, they offer a 30-day risk free trial so you can test out their products and see if they're the right fit for you. You can also find a 5% off promo code here.
Campaign
Based on the "campaign furniture" used by British soldiers in the 19th and 20th centuries, Campaign takes pride in creating flat-pack furniture that isn't flimsy.
Their couches, love seats, and chairs are made with laser-cut steel frames and solid wood legs that are made to withstand regular wear and tear as well as multiple moves.
Their products are made with US-manufactured steel, midwestern wood, and sustainably sourced fabrics that are 100% recyclable. You can find their products at a handful of outposts across the US, but most of their sales are done online.
Campaign offers chairs, love seats, and sofas that you can customize by selecting your fabric, color, and maple or oak legs. If you're not sure about colors, they'll send you free swatches in the mail to help you decide. Plus, because their couch covers are removable, you can change the color and fabric of your sofa at any time as your space and vibe shift.
How to save at Campaign
Sign up for their email list to get a 10% discount on your first order plus access to exclusive discounts and information on their latest designs. You can also check for other Campaign deals here. Their products also come with a lifetime warranty that covers all of their frames. All products are shipped for free and should arrive within five to seven business days.
Home Reserve
Home Reserve offers flat pack couches in simple, adaptable, and elegant designs. All of their products are changeable so you can add or take away components to have anything from a simple chair to a full sectional sofa, and you can adjust the style to suit your liking. Their furniture items also come with built-in store compartments under every cushion.
One of the coolest features about Home Reserve's furniture is that all of the pieces of their furniture are renewable. That means that if a cushion, fabric, or frame piece is stained or damaged, you can reorder a new part quickly and easily. Their fabrics are also changeable so they're super easy to clean and can be switched out if you're looking to redecorate. Plus, you can grab swatches of their fabrics for $1 a piece with free shipping.
How to save at Home Reserve
Their risk-free trial program allows you to test out one of their single units for 30 days and return it at no cost if you're not satisfied. You can also try checking here for Home Reserve discounts.
Hay
While most of Hay's products are not flat-pack, they produce Can, a line of flat-pack sofas that arrive in boxes and are easily assembled with just a coated steel frame, cushions, and a cover.
The sofas were created by French designers Ronan and Erwan Bouroullec and combine the simplicity of a flat-pack couch with their classic modernist vibe. You can get their sofas in one-, two- or three-seater varieties with your choice of canvas, silk, or their signature upholstery.
How to save at Hay
The Museum of Modern Art (MoMA) sells Can sofas, and you can receive a discount of $270 if you're a member of the MoMA. They're also sold by the Danish Design Store where you can receive a 5% discount for signing up for their mailing list and get free shipping on your order.
Inpod
Sold by third-party furniture retailer Houzz, Inpod is a line of sectionals that arrives in flat-pack boxes and can be assembled easily.
Their sofas come with a cushioned ottoman and, as a modular, sectional sofa design, they can be reconfigured into a full sofa, a love seat, or a number of other different combinations. The sofas are covered in a soft, linen-like polyfiber fabric and come in blue or gray.
How to save at Inpod / Houzz
These sofas are a great option if you're on a budget, as they run under $1,000. You can get them shipped for free from Houzz. You can also get exclusive discounts, new product information, and more when you sign up for the Houzz mailing list. Plus, check their Sales section to see what products they're offering at a discount, or check for Houzz coupon codes here.
Other modular sofa companies that deliver fully- or mostly-assembled furniture
Hem
Based in Sweden, Hem offers unique, design-led, and high quality furniture for your home or office. Founded in 2014, Hem is Swedish for "home," and it shows in their designs which are a comfortable and chic addition to any living space and are designed by some of Europe's best.
Although their pieces come with a pretty hefty price tag with sofas topping out at $3,599, they do offer speedy and free delivery to 34 different countries from their inventories in Europe and the US. Hem operates mostly online with just one showroom in Stockholm and a pop-up shop in New York City.
Hem is set to release their first ship-smart modular sofa, Kumo, in 2018. The sofa is a flat-pack product that comes with four modules which can be reconfigured however you see fit, and will be available in wool and ultra-soft tan leather. You can sign up to join the waiting list for Kumo here.
How to save at Hem
Sign up for their mailing list and get a 10% discount off your first order. You'll also get free shipping on every online order. More Hem promo codes can be found here.
Joybird
Custom furniture company Joybird offers a huge variety of sofas inspired by mid-century Modern design. They offer over two dozen different designs which you can tweak and customize by selecting your wood stain, fabric type, and color.
Like Campaign, they're happy to send you free swatches to help you choose the best color for your home or office. Most products take around six weeks to build and ship, but if you select one of their Quick Ship pre-made designs you can have your couch in as little as three days.
One of Joybird's coolest aspects is their free design service which allows you to create a style profile and collaborate with one of their designers. You simply fill out a questionnaire and a designer will get back to you within a few days to talk about options and help you choose the best piece for your home.
These are some of the other awesome features that they offer:
365-day home trial. If it doesn't work for you, you can return it any time during the first year.

Several pet and kid-friendly durable fabric options that are easy to clean, stain-resistant, and won't trap pet hair.

They plant new trees for every sofa purchased.
How to save at Joybird
Sign up for their mailing list to get exclusive offers and information on new products. You can also check out their sales page to find discounts on their products.
Use their referral program to get a $100 discount for you and your friend when they spend over $300. They offer delivery with installation for $99, curbside service for as little as $49, and flat-rate shipping on multiple items. You can also score a 25 - 35% off promo code for Joybird here.
BenchMade Modern
BenchMade Modern started with a mission to create handmade, fully customizable sofas for the everyday consumer.
What sets them apart from other companies is that you can send them the exact dimensions of the space where you want to put your couch, and they'll build you a piece of furniture that fits it to a tee. You can also select your own design, fabric, and color to fit your unique style. They'll send you up to seven different swatches so you can choose which fabric and color is best for your home or office.
Some of their other great features include:
Free printouts. They'll send you a paper printout that's the exact size of your sofa so you can lay it out in your home and make sure it's the right fit.

They use safe, sustainable materials including wood harvested in the Pacific Northwest and water-based, low VOC glues whenever possible.
How to save at BenchMade Modern
Sign up for their email list to get a discount code for 10% off your first purchase plus information on new product releases and sales. They offer curbside delivery free of charge or you can select their white glove delivery for $200 to get your new couch brought into your home and set up for you.
All of their products come with a 100 day, risk-free return policy including free return shipping within 14 days of purchase, and their frames come with a lifetime warranty. You can also check here for 20% off BenchMade Modern promo codes.
Whether you're looking to furnish a temporary living space or get furniture to keep with you for the long haul, these companies have the right couch for you at the best price for your budget.
Want to find out more ways to save and get great advice on managing your finances? Then, be sure to keep up with the Dealspotr blog and check out our regular postings. And, as always, check out the Dealspotr home page for thousands of discounts and promo codes to save you money on just about everything you can think of!
Get each week's best deals from Dealspotr in your inbox
This guide was published on May 7, 2018
, and last modified on May 7, 2018
.