These 10 Gorgeous Notebooks Will Help You Create Next Year's Bullet Journal In Style
About the Author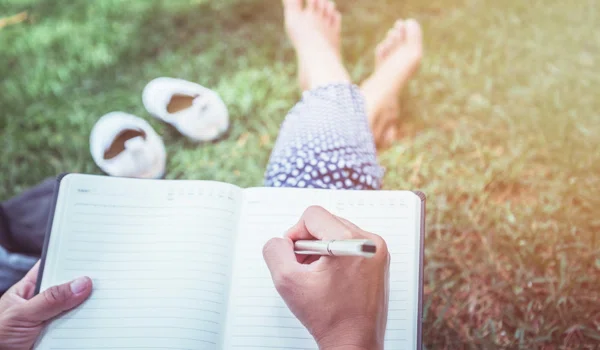 What exactly is a bullet journal? Is it a diary, or a to-do list? Well, to be quite honest it's both. The core structure of a bullet journal is bulleted lists (duh), but you can use it to track day-to-day activities and long-term goals.
Sure, you could keep notes on your phone, but it's not the same as having a physical bullet journal to reference. By keeping your to-do list and reminders in one place, you won't have to worry about living a disorganized life with random scraps of paper or your iPhone Notes taking up all of your data.
If you're still not grasping it, here's a great example from the bullet journal Instagram @minimalistbujo:
As you can see, bullet journals are for the more creative of the list-keeping bunch. But as creatives, you can't create your beautiful, hand crafted daily logs and lists in a boring notebook! So, we made a list of the best journals for keeping track of either your important life-goals or just your simple grocery shopping list -- all with your own bullet journaling style.
Poppin Orange Soft Cover Notebook
Keep it simple with a cute back pocket notebook that you can take with you everywhere. The Poppin Notebook can be taken with you on a plane, on the bus, or during a nice walk on a trail.
Always have access to your goals, so you can quickly jot down notes or remind yourself of your daily to-do's. If orange isn't your color, no worries - Poppin has way more options, too.
Vintage Floral Notebook
They say your journal should be a color or design that inspires you. If you're into a floral design or something eclectic, the Vintage Floral Notebook from Barnes & Noble is a lovely choice.
Barnes & Noble has one of the largest selections of notebooks, so you're guaranteed to find one that suits your needs. We chose this one, because it oozes elegance.
With 150 sheets of dotted pages, you'll have plenty of room to write your thoughts or goals for the day, week, or year.
Purple Marble Notebook
This Purple Marble Notebook is just stunning. You can find this gem on Amazon for a steal.
The rich, dark purples on the cover are enticing and mysterious, making it a perfect choice for a journal all about your future.
It's said that the color purple encourages introspection and intense contemplation. This notebook may be useful for someone who wants to jot down notes and thoughts that go deeper than just your mall shopping list.
Cactus Pink Notebook
Perfect for someone in SoCal or Arizona, the Cactus Pink Notebook is a cute choice that includes the same dotted interior of many notebooks these days. This is yet another option from Amazon, so be sure to check Dealspotr's coupon page for a discount before checkout.
Dotted bullet journals are cool because if you don't want to write down bullets for that day, you can draw images, diagrams, and whatever else helps you with goal setting and completion.
Basically, these journals are just like graph paper, but with even less strict of a grid:


Throw this notebook (you can get this one from Amazon) in your backpack, purse, or pocket when you're on the go and always keep tabs on the next thing to take care of.
Idea Bullet Journal
Instead of dreams or lists, you could use a bullet journal to track the crazy ideas you come up with!
This cute gold journal from Etsy is made with a heavy weight archival clipboard for the front and back covers and high quality paper in between.
You can actually choose between graph, dotted, lined, or blank pages - oh, the beauty of Etsy! The customizable element of this bullet journal is fabulous for the pickiest of journalers.
Bullet It! Notebook
If you're just starting out, the Bullet It! notebook is for you. This artsy bullet journal comes with handwritten fonts and doodle drawings all over, and comes with perforated pages so you can tear out notes and lists as needed.
The notebook is strategically placed in the "Self-Improvement" section of the Target website, which proves the idea that writing lists, your thoughts, and ideas really does help to improve your wellbeing!
Monster Bullet Journal
Let out your weird side with the Monster Bullet Journal. This journal might be a good starter journal for kids to learn how to structure and organize their tasks efficiently.
It's appropriate for school while still letting them show off their crazy style.
Marble Bullet Journal
Marble is in! You'll see the print on laptop covers, phone cases, and now your bullet journal!
The (very Instagram-able) Marble Notebook is under $20 on Etsy, and will have you looking classy AF in an instant. Though the print is trending right now, it's also a very timeless look.
As with many Etsy products, this item is handmade and made to order. It's customizable, so you can change the word "Notebook" on the front to another short combination of letters.
Bindertek Bullet Journal
A lot of these bullet journals offer a flashy cover or interesting design. If you're more of a no-nonsense individual, the Bindertek Bullet Journal is right up your alley.
This bullet journal comes with three "bookmark" spot savers, so you can open up to where you left off with no fuss.
Clearly made with the ultra-organized in mind, it comes with an instruction guide so you can set your goals and tasks with clarity. The journal also comes with stickers for labeling and archiving.
Out of this list, the Bindertek is by far the most helpful for the buyer who craves rigid structure.
Creative Journaling Bundle
If you thought the last bullet journal was intensive, get ready for the Creative Journaling Bundle.
In this pack you get your regular old bullet journal, but you also get stickers, colored pencils, and more! This bullet journal is the ideal intersection between strict organization and playfulness. The all-inclusive journal is the priciest of the bunch seeing as it's sold at Paper Source, but you can always check Dealspotr for the latest Paper Source promo codes.
Get Yourself Organized
It's all about prep! Make next year awesome by preparing for it to be. Positive changes don't just happen overnight. Big changes are made by taking small steps along the way!
It might seem like you're going back in time, but the old-fashioned pen and paper is tried and true. Get the bullet journal that matches your personality and start the year off right.
Get each week's best deals from Dealspotr in your inbox
This guide was published on December 22, 2017
, and last modified on December 22, 2017
.