Roomba vs RoboVac vs Shark: Which Robot Vacuum Do Owners Love the Most?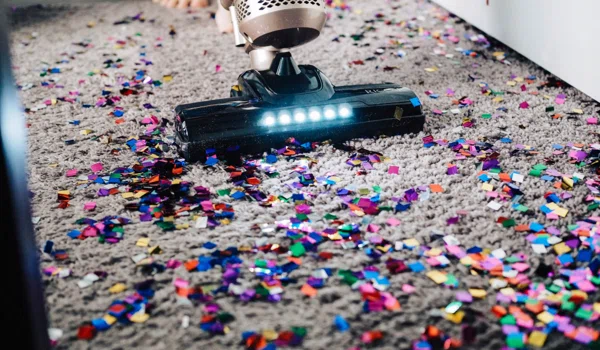 People rarely enjoy doing household chores, which is why a lot of smart devices have been developed in the last few years to help make doing chores a lot easier, or help avoid doing them completely. One popular smart device that changed the way we do household chores was the robot vacuum. Robot vacuums travel around your home on their own, and sweep up any dust or dirt left on your floors. These vacuums have been around since about 2002, but have only recently developed into a smarter and more efficient way to clean your home than your average vacuum provides.

The iRobot Roomba was first robot vacuum to hit the shelves, adding to the appeal of smart home devices. The Roomba is now almost a synonym for robot vacuum, but it is not the only robot vacuum brand available! There have been quite a few new versions of the robot vacuum made, and we want to know which one customers like the most. First, let's take a look at a few of the top robot vacuum brands.
What is a Roomba?
As mentioned before, the iRobot Roomba was one of the first robot vacuums developed in 2002. Now in 2019, the Roomba comes in 8 different styles. The most recent Roomba includes an automatic dirt disposal feature, where the Roomba docks in a disposable bin and empties itself into the bag. This bag holds up to 30 robot bins, making it easier to use your Roomba for weeks without emptying its contents. There is an app for your Roomba which lets you schedule cleanings and track the Roomba's progress. This version of the Roomba also features 10x the suction from a previous model, making it easier to clean all kinds of surfaces in your home.
What is a RoboVac?
Eufy is a brand that builds easy-to-use smart home devices and appliances. The RoboVac is one of those smart devices, and similar to the Roomba, the RoboVac is a hands-free robot vacuum. It sucks up dirt from your floors, and with its slim design can fit under sofas and beds to find any hidden dust. The RoboVac as large wheels to help get over ledges and carpets with ease, and also uses drop-sensing to avoid falling down stairs. This device automatically returns to the charging station when it's running low, and will resume cleaning once it holds more charge. With a 100 minute run time, this robot vacuum can clean your entire home in one charge.
What is a Shark?
A Shark is another robot vacuum device built by SharkNinja. SharkNinja is an innovator in the housewares industry, with the Shark business focusing on vacuum cleaners, and the Ninja brand focusing on kitchenware. The robot Shark vacuum is designed to help clean carpet and wooden floors, including picking up pet hair. You can control when to start cleaning by using the Shark app, or use voice control on an Alexa or Google Assistant device. The Shark has sensors to help navigate around obstacles and objects in your home, making an everyday cleaning easy and painless.
Comparing Models
So, which robot vacuum is the best? Each brand has multiple robot vacuums that I have outlined below for reference. Let's look at some of the key features of these vacuums, focusing on each of their latest, top-performing models.
Available Models
Roomba (8): Roomba i7+, Roomba i7, Roomba 960, Roomba e5, Roomba 690, Roomba 675, Roomba e5 & Braava 380t, Roomba 690 & Braava jet 240 Bundle
RoboVac (4): RoboVac 11S, RoboVac 30, RoboVac 30C, RoboVac 15C
Shark (4): Shark ION Robot Vacuum Cleaning System S87 with Wi-Fi, Shark ION Robot Vacuum R85 with Wi-Fi, Shark ION Robot Vacuum R75 with Wi-Fi, Shark ION Robot Vacuum R72 with Remote
Models We Will Compare
Roomba: iRobot Roomba i7+
RoboVac: RoboVac 11S
Shark: Shark ION™ Robot Vacuum Cleaning System S87
Best Price: RoboVac
Romba: $949.99
RoboVac: $219.99
Shark: $410.99
Best Battery Life: RoboVac
Roomba: 60 minutes
RoboVac: 100 minutes
Shark: 60 minutes
Most Popular (On Their Website Reviews): Roomba
Roomba: 4.9/5 stars from 91 reviews
RoboVac: 4.5/5 stars from 1184 reviews
Shark: No reviews
Most Popular (On Amazon): RoboVac
Roomba: 3.4/5 stars from 4 reviews
RoboVac: 4.5/5 stars from 1418 reviews
Shark: 3.6/5 stars - 35 reviews
Special Features
Roomba:

Clean Base Automatic Dirt Disposal
Power-Lifting Suction
iAdapt 3.0 Navigation with Visual Localization
Best for Pets
Dual Multi-Surface Rubber Brushes
Imprint Smart Mapping: Clean and Schedule by Room
Wi-Fi Connectivity, Edge-Sweeping Brush
Auto-Adjust Cleaning Head
Patented Dirt Detect Technology
Smart Navigation
Automatically recharges and resumes cleaning
Works on carpets and hard floors

RoboVac:

100% hands-free cleaning
The slimmest RoboVac only 2.85" thin
Increased suction power to 1300Pa
Intelligent BoostIQ Technology
1300Pa of suction
Large wheels roll over carpets and climb over door ledges
Uses drop-sensing technology to avoid falling down stairs
Automatically returns to the charging base when power is low
Combines a dual-layer filter and one high-performance filter
Multiple cleaning modes
Large 0.6L dust box holds more dirt per clean

Shark:

High-performance robot vacuum
Built-in, ultra-powerful handheld vacuum
Wi-Fi enabled with app compatibility
2-in-1 Charging Dock
Smart Sensor Navigation 2.0
Schedule or start cleaning from anywhere
Uses voice control with Amazon Alexa or Google Assistant
XL dustbin
3X more suction in Max Mode
Self-cleaning brush rolls
Which do people like the most?
Pros
Roomba:

Self-emptying dustbin
Multistory mapping
Excellent camera-based navigation
Automatic room recognition
Alexa and Google Assistant compatibility

RoboVac:

Affordable
Compact
Quiet
Strong cleaning performance
Good battery life

Shark:

Hand-held vacuum included
Max mode 3 x stronger than R750
1 docking unit charges both items
Alexa or Google Assistant compatibility
Has a large bin
Cons
Roomba:

Expensive
Noisy
Clean Base is bulky

RoboVac:

No virtual barriers or app control
Limited scheduling options

Shark:

Expensive
Weak battery
Hard to connect
Can't continue cleaning after recharge

From both the website reviews and Amazon reviews, it looks like RoboVac is the winner! The price is undeniably cheaper, it is thin and quiet, and the battery life is much higher than both the latest Roomba and the Shark models. What's interesting, is that the Roomba is still seen as a synonym for robot vacuum, even though there is clearly a better, cheaper, more efficient version out there. Roomba was the first robot vacuum, so it looks like being first gets you the title, no matter how much better other following brands may be.

Reviews
Looking at reviews of Eufy's RoboVac, many customers have delightful things to say. They even compare the Eufy product to Roombas! Here are a few of the top reviews found on Amazon:

"I have been an iRobot Roomba buyer since 2007. My last Roomba bit the dust this month, and I did a ton of research before buying a replacement. I went with the Eufy for a few reasons: price point, cleaning power, quietness, and sleek design." - LB

"The Eufy comes in at half the cost of the 4 year old Roomba that we previously used and out of the box, after a full nights charge, it worked flawlessly. The remote is easy to use and after a 2 minute look-over of the manual the thing just WORKS. Roomba would basically never make it back on the charger, it would push it all over our kitchen but never actually park itself correctly. The Eufy did it on the first attempt and has done it daily (unless it gets stuck somewhere) ever since. The Eufy is much slimmer than the Roomba so it is able to navigate some areas that were previously left untouched. The dust bin is always full or near full when we get home and check it, so it definitely is doing its job trying to keep up with our two large dogs and their fur." - Garrett

"Eufy has amazing customer service! I received an email from them addressing each of my "what could be improved" components with more information on the product. Very impressed." - CH
Takeaway
After thorough research on each brand's products, as well as diving into the reviews that customers gave using the vacuums hands-on, I have to say that the Eufy RoboVac is the best option out there. The Shark and Roomba vacuums clearly do a great job as well, but if you are looking at every aspect of a robot vacuum and want the best clean for the best price, you'll only find that with the RoboVac.

If you're looking to start 2019 off with a clean house and a reliable product, go out and buy the RoboVac 11S and join the many smart home device owners who live vacuum chore-free with their beloved RoboVac.
Get each week's best deals from Dealspotr in your inbox
This guide was published on January 7, 2019
, and last modified on January 7, 2019
.