These 7 Awesome Succulent Subscription Boxes Get Two Green Thumbs Up
About the Author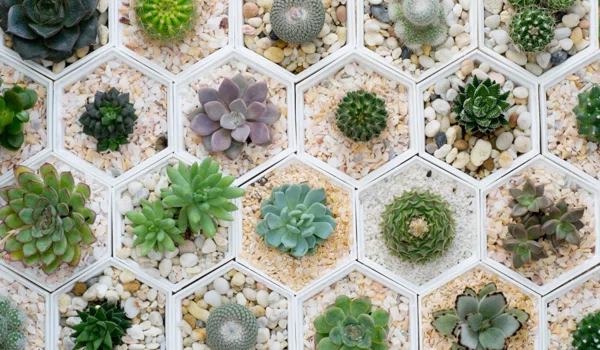 Succulents are the go-to plant for those lacking a green thumb. If you like having a plant-filled home but just can't seem to keep plants alive, it may be time to purchase a succulent -- or better yet, try out a bunch of them.
Whether you're new to succulents or an avid lover of the cute little guys, signing up for a succulent subscription service is a great idea. They're easy to take care of, and need less attention than many other plants. Plus, you can mix and match a group of different varieties to complete any room's decor.
We've put together a list of the 7 best succulent subscription boxes for plant lovers new and old to get your monthly flora fix.
My Garden Box
The first one on our list is My Garden Box. This succulent subscription box is perfect for those who don't mind getting a little dirty.
As explained, there's "just enough DIY to satisfy your sense of accomplishment." Instead of getting it in the mail, setting it on a table, and that's that, you'll actually be required to follow a few steps.
In each package, you'll get the plant, rocks, and everything else you need to put together the perfect looking succulent decoration. Everything is properly portioned, so you don't have to worry about leftover supplies. You'll also be able to specify how often you receive the plants, in increments of 3 months, 6 months, or 12 months.
Succulent Lovers
This is definitely one of the cheaper options. Succulent Lovers offers cute succulents for only $6 a month. The cheapest box, called Just Cuttings, gives you two different succulents to try every month.
Their succulents are rooted in ceramic pots for safe keeping, and they're the cutest pots on the whole planet.
There's also a pig.
So it's not just the plant you'll be looking forward to, but the pot it comes in, too.
These succulents are described as "hard to kill" so they're great for someone who's worried about plant death. Succulent Lovers is a fabulous choice, but it can only be shipped within the United States.
The Desert Box
Get the desert delivered to you in a box. The Desert Box is a lovely monthly subscription box for succulent enthusiasts everywhere. Subscriptions automatically renew and you can feel free to cancel at anytime.
These may be the most modern looking succulents on the list. The plants and the boxes they come in are Instagram worthy. The designers of these boxes certainly know what's in style when it comes to home decor.
If you're unsure that you want to commit to a monthly subscription, you can order single succulents as well. Perfect!

Get spiky, neat, weird, and awesome succulents delivered right to you. If you live in an area that's not like the desert, this box will bring a little desert to you!
There are different packages that come with The Desert Box. They range from getting a succulent in a pretty wooden planter every month to packages that come with the white granite pebbles, soil, and moss. It depends on how much you want to spend each month.
Succulent of the Month Club
The Succulent of the Month Club from The Succulent Source is a great option that guarantees you're getting your plants from a company that knows their stuff.
These guys aren't in it for just the monthly subscription service. They've been selling cacti and succulents online for over 15 years. They have over 60 unique succulents available.
These succulents come from a private nursery owned by people who've been in business for a long time. Sign up for their monthly club and try out some of their amazing California Sunsets, Coppertones, Little Jewels, or Powder Puff Graptoveria.
Urban Sprouts
This monthly subscription box is recommended for beginners. Urban Sprouts require little light for their plants and they actually don't even need any soil.
Along with the plant, you'll receive information about which species you got and how to care for that particular succulent. Though there is little work that goes into it, there is still a learning curve with any new living plant.
You can also go online and chat with plant experts from Urban Sprouts. Additionally, you can contact them through text and social media. That's some serious customer service!
Because these are air plants, you can put them in those beautiful round glass hanging terrariums! Hang them anywhere for a classy touch to your apartment, house, dorm, or office.
It's an amazing learning opportunity signing up for this monthly subscription succulent box.
ItBees
Etsy is a fantastic place to find succulents and even monthly succulent subscriptions. ItBees is a succulent subscription box from Orlando, FL that sends you succulents for the year!
Similar to The Succulent Source, this company also offers succulents for weddings, baby showers, and everything else a traditional plant store does. This company was around before monthly subscription boxes became popular, so they're a trusted place for plants.
HelloHiCacti
HelloHiCacti is yet another wonderful Etsy brand succulent subscription box.
This brand sells a ton of plant related products, so this isn't only a monthly subscription box. Jackie, an 18 year old college student, created this shop as a way to share her plants with others.
When subscribers sign up for a 3 month subscription they receive a random succulent or cacti. Pots and soil, however, are not included.
Order Yours Today
If you've read all the way through this article, that means you have definitely decided that you need some succulents in your life. Pick one of these succulent subscription boxes and get ready for a new house buddy. You can't go wrong with any of these choices!
Get each week's best deals from Dealspotr in your inbox
This guide was published on January 4, 2018
, and last modified on January 4, 2018
.
Stores related to this article:
Lowe's
,
Etsy
,
Cost Plus World Market
,
Urban Outfitters
,
Pottery Barn
,
Anthropologie
,
Wayfair
,
Home Depot
,
West Elm
,
IKEA
,
Pier 1
,
HomeGoods