40+ Swimming Pool Alternatives for Your Backyard This Summer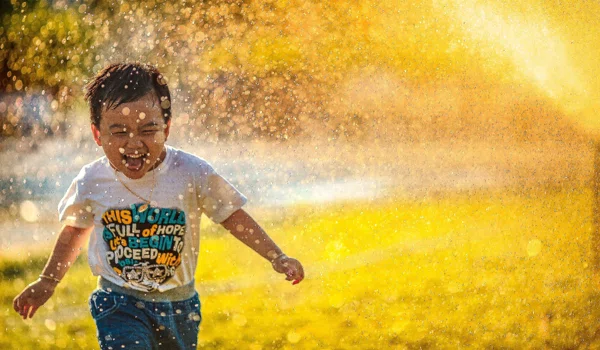 If you're looking for a change for your backyard this summer, you're not alone. Lots of folks are opting for something besides the usual swimming pool for their fun in the sun — especially since they come at a lower price.
Need some ideas? We've gone in to find out what they're choosing - and where to get the best deals. Come on in and browse our finds!
Inflatable pools
When you want a pool sometimes but not all the time, go for a handy inflatable pool.
Some are even large enough for the whole family, although in these you'll mostly be sitting or lightly splashing, not swimming laps. But they can still be a great way to stay cool in the summer for way cheaper than a pool. For some sweet deals on these and similar items, check out:
Hot tubs
Is anyone else reminded of Eddie Murphy's old James Brown Celebrity Hot Tub skit on SNL whenever hot tubs are mentioned? Just us then? Oh well.
Anyway, when you want to lounge in the backyard, but not necessarily with the kids, opt for a hot tub. Some are even inflatable! Visit these for ideas:
Creative sprinklers
You may have seen these on social media, and good news: you can actually buy your own giant, inflatable sprinkler. Take your backyard sprinkler game up a notch with these giant unicorn, dinosaur, elephant, or octopus sprinklers!
The popular unicorn sprinkler pictured is made by Big Mouth, Inc. and stands a whopping 7 feet tall, shoots water out its spiral-y horn, and is easily connected to any outdoor water hose. Choose the unicorn or opt for a giant dinosaur or elephant sprinkler from Big Mouth instead on Amazon, for $79.99 with Prime.
You can also find the unicorns cheap at Target for $49. Target promo codes here.
Pottery Barn Kids has the cutest giant red octopus sprinkler, and you can save 15% on your next online order from Pottery Barn Kids by signing up for their email newsletter. Plus, you can get 15 - 30% off your order with this promo code. There's a cheaper cephalopod on Amazon for $25.99 here.
Natural, eco-friendly swimming ponds
Looking around today, we can see the faux natural swimming hole of yesteryear has taken things up a notch. Environmentally-savvy natural water creations have taken the spotlight throughout Europe, and there's an assortment to choose from in the U.S. as well.
Aaaaahhh. Now that looks relaxing.
They usually aren't called "pools" anymore, though — these are bonafide natural swimming ponds! Come see the options:
The Deck and Patio Company makes natural ponds, water gardens, waterfalls, and rainwater harvesting alternatives. They can give you a rate by quote here. Another company, EcoSolutions (pictured), uses natural filtration in their environmentally-conscious swimming ponds and can be reached for details and prices at their Vermont Headquarters or Honolulu offices here.
Total Habitat, Biologic Performance, and BioNova are a few more companies you could consult to compare prices for your natural swimming pond.
The cost? Although few sites post prices, some say you should expect to pay between $1.50 - 3.50 per cubic yard of soil dug. Not in the market for this? Try some of these more affordable DIY methods instead:
Check out Grit's guide to Build Your Own Natural Swimming Pool, or get tips from Mother Earth News here.
Some may prefer a simpler but just as tranquil koi pond. The Pond Digger is the place to go for that, and here's a how-to for DIYing one of those as well.
Swim Spas
Dying to swim some laps, but your yard is too small for a pool? If you're not on a budget, a swim spa might be a great option for you.
While not extremely cheap, swim spas are great for small spaces, as well as superbly low maintenance and über energy efficient.
Slip and slides
Remember when those basic orange slip and slides first came out in the 80's? No? Well, that's okay — there are way cooler ones out now.
Check out these epic slip and slides for backyard adventures at great prices:
Sand and water tables
If you've got wee ones, let them play in both sand and water with these tables.
Obstacle courses
Need to get those kids moving, sans water? Wear them out with these crazy fun backyard obstacle courses! Some of them hang between trees (or other surfaces) while others are easily inflatable. Check these out:
Ninja Line: Cargo Net
This exciting obstacle course is designed to be a challenge for both the arms and the legs. Mindware has it for $59.95, and Dick's Sporting Goods has it for the same price (plus promo codes here).
Add a Ninja Backyard 45-foot Obstacle Course to the top (or replace the whole thing entirely — this one has rings, swinging monkey bars, and more) for $89.99 with free shipping on Amazon Prime. Save a little with this 36-foot Powerfly version at $79.90, or this 3-in-1 Monkey Line Kit at $59.97.
Ziplines
While not exactly obstacle courses, we couldn't leave these super cool backyard ziplines off our list! Some have seats while others give your kids' arms a workout (for a little less in price).
Feast your eyes on:
This Slackers Hawk Series 70' Zipline with Seat is $159.99, but Amazon has a similar one marked down to $143.99. And Walmart has one without the seat for $79.99.
The Slackers' parent company makes more than just ziplines too - check out the swings, ninjalines, water toys, and many more super fun creations here.
Inflatable obstacle courses
These come in vastly different sizes and styles, depending upon the size or your backyard and wallet.
Let's look at the range:
If you've got a considerably larger backyard (and budget), or you need something fun for a super cool neighborhood, school, or community event, Beston Inflatable Bounce has a ton of obstacle course varieties available. Their Disney castle inflatable course is pictured. Contact them for a quote, browse alternate rentable options, or go with some cheaper varieties below:
Amazon has this YARD Giant Inflatable Obstacle Course with Climbing Wall for $769, while this Bounceland Inflatable Obstacle Pro Racer Bounce House is only $499.
Backyard butterfly stations
Check out butterflies without traveling to the nearest butterfly pavilion when you have one of these learning centers in your own yard.
Check out:
Frame It All Backyard Butterfly Learning Center (pictured) provides the optimal ecosystem for attracting and housing the ever-elusive monarch butterfly. Get a 7x8 center for $296.99 on sale here. Frame It All promo codes here.
Home Depot has a 4x4 model for $181.79, while Wayfair has it for $195.99, or you can get one for $179.99 here, or Amazon has it for $179.99 and free shipping via Prime.

Outdoor Inflatable Projector and Movie Screens
Throw a backyard movie party with popcorn, blankets, and the neighborhood kids' (or adults'!) favorite flicks this summer with an outdoor projector.
These vary by style and size, so check them out and see what works for your yard:
Geodesic Backyard Chicken Coop
You heard us right — chicken coop! While you may want to check into local laws in your area before investing in any cluckers (and please do get proper guidance if you're a newbie), we're certain you won't find better friends or more fun for your yard this summer.... and you'll get fresh eggs to boot.
Depending upon how fancy your chickens want to live, these geodesic domes vary in price significantly:
That's all for now. We hope you enjoy some delightful backyard adventures this summer, whether you choose these recommendations or find your own.
Get each week's best deals from Dealspotr in your inbox
This guide was published on June 1, 2018
, and last modified on June 1, 2018
.
Stores related to this article:
Pottery Barn Kids
,
Crate & Barrel
,
Mindware
,
Lifesmart
,
BigLots
,
Bestway Inflatables
,
Amazon
,
Target
,
Coleman
,
Frame-It-All Garden
,
Walmart
,
Inflatable Zone:
,
Wayfair
,
Jet.com
,
Overstock
,
Bounceland
,
Discount School Supply
,
Kohl's
,
Shop BestOn
,
Big Mouth INC
,
Intex
,
Banzai