The 6 Best Waterproof Smartwatches, Compared: Apple Watch v. Samsung Gear S3 and Others
About the Author

Digital Marketing Manager here at Dealspotr! Email me with your questions: emily@dealspotr.com :)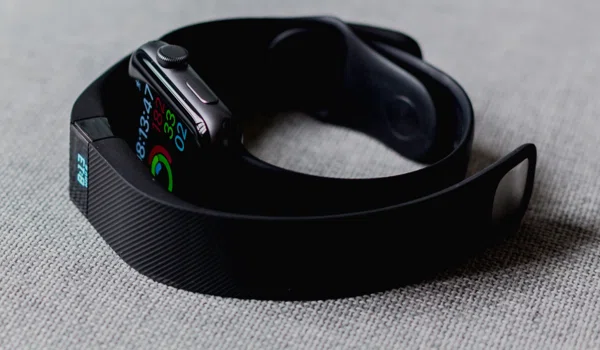 It's 2018. And even if you refuse to admit it, there's no doubt that we all want to stay connected at all times of day, doing any type of activity. For some activities, like working out or relaxing on vacation in a resort pool, carrying a phone is far from convenient. What's there to do?
Enter: the smartwatch — more specifically, the waterproof smartwatch.
You've undoubtedly heard of the Apple Watch, FitBit, even the Samsung Gear series. But which one is best? And what are the pros and cons of each waterproof smartwatch?
We've sorted through the strengths, weaknesses, and top features of the 6 hottest smartwatches so you can make an informed choice on the matter.
Let's take a look at what each has to offer.
The top 6 waterproof smartwatches for 2018
Apple Watch - Series 3
Originally launched in 2015, the Apple Watch has already evolved through the Apple Watch 2 and Apple Watch 3 phases, each tailored to work optimally with iPhone.
To get the most out of this watch, make sure you've got an iPhone 5S or later running iOS 11 software. (Other models may work with the iPhone besides the Apple Watch, including some Tizen and Android Wear watches.)
Changeable wristbands? Yes.
Price: $400- $1,000 depending upon features, your selected service plan, any extras you opt for. You may find lower prices, with some as low as $319 with basic features on Amazon here. You can also find any Apple promo codes here.
Compatible with iPhone? Since the Apple watch is an Apple product, it is compatible with iPhones and iPads.
Compatible with Android? No.
Protective casing/screen protectors available? Yes, the Apple Watch has a ton of options when it comes to protective gear.
Is it waterproof? Yes, for some types of water activity (see below).
Battery life: Usually between 18 hours and 2 days, with some finding they often need to charge it overnight instead of wearing it.
App Selection: Wide range of options on the Apple App Store.
Top features: Activity/fitness goal tracking (heart rate, miles walked, calories burned, etc.), provides driving directions, Apple Pay, and Siri can set timers/add events to your calendar for you.
Life span: Likely to last about 4 years or so until the next upgrade becomes necessary.
Is it really waterproof?
According to Apple Support, the Apple Watch 2 and 3 can be worn during "shallow water activity" like swimming in a pool, but not for "scuba diving, water skiing, or other activities involving high velocity water or submersion below shallow depth."
Care should also be taken while showering to prevent exposure to soaps, shampoos, perfumes, and conditioners. Additionally, keep in mind that water resistance may diminish over time and Apple does not offer "re-sealing" of waterproof products.
Strengths:
Plenty of useful apps and features available
Sleek, polished design
Can check texts, missed calls, and other notifications at a glance while at work without needing to get your phone out
Ping feature can help you find your iPhone when missing
Helpful flashlight feature
Smart coaching when you need it
Weaknesses:
iPhone must be within certain range to get notifications, etc. efficiently, otherwise service disconnects
Somewhat complicated setup process
Solely for Apple Music users, can't use Spotify or others (Apple Music requires its own subscription)
Falls off its magnetic charger easily; must find a flat surface where there is no chance of disturbance for uninterrupted charging
Replies to texts must be done via Siri with no option to revise offered (iMessaging to other iOS users works better than others)
Requires a whole separate service plan monthly besides your iPhone plan - with an extra monthly fee attached and another initial service fee to set it up
Some have trouble using Instagram and Twitter with the watch
Bottom Line:
Most iPhone users love the Apple Watch and find it worth the price, especially if they want to pimp it out with rose gold wristbands and rhinestone-encrusted bezels.
If you're likely to have your iPhone nearby most of your wearing time, and you enjoy getting lots of prompt notifications (with a limited ability to text back using Siri), this smartwatch is for you.
Keep it on if you want to show off at the pool, but take it off if you're water-skiing or going deep sea diving. Also, you'll want to remove it before showering if you plan on using soap or shampoo — they can weaken the waterproof sealants of the phone.
Fitbit Versa Smartwatch
Released in the early spring of 2018, the Fitbit Versa Smartwatch aims high for accolades among this summer's high end wearables.
A much more fitness-focused option than other smartwatches, the Versa has 20 customizable exercise choices available with the exercise app (biking, swimming, weights, etc.) and measures average user heart rate, calories burned, minutes spent in each designated activity, daily steps taken, calculates user's "cardio score", and more.
You can check calls, texts, calendar alerts, and other notifications, as well as use apps for music, alarms, weather, timers, coaching, relax (breathing app), and others.
Changeable wristbands? Yes (in fact, some find the original wristbands stiff and unattractive, prompting alternate band purchases at time of watch purchase).
Price: $199, with Fitbit promo codes here.
Compatible with iPhone? Yes.
Compatible with Android? Yes - compatible with Android, iOS, and Windows.
Protective casing/screen protectors available? Yes, plenty of options, like these.
Is it waterproof? Yes, to 50 meters.
Battery life: 4+ days of battery life (more than double the battery life of the Apple Watch 3 — and you might even make it up to 6 days if you turn off notifications).
App selection: Limited (especially compared to Apple Watch 3).
Top features: Pandora, Deezer, Starbucks, Barcodes, Hue Lights, Nest, Period-tracking for women (coming soon), sleep tracker monitors pulse and sleep patterns.
Life span: Too new to guess, but most Fitbits last between 8 months and 2-4 years depending on usage.
Strengths:
Sleek, lightweight, thin design — you might even forget you're wearing it
Has a gently-rounded square face called a "Squircle" by Fitbit
Excellent goal tracking for fitness
Much more affordable than other smartwatches
Charges securely locked into cradle; less likely to fall off like the Apple Watch 3
Nest app lets user control temperature setting of home thermostat
Starbucks app lets user scan watch to pay for drinks
Barcodes app lets user upload frequently used barcodes and scan watch to pay at stores/restaurants, other locations
Hue Lights app lets user control household lighting (dim/on/off)
Pandora app plays Pandora music selections (Deezer does the same with its app)
Period tracking app allows women to track their monthlies and note irregularities easily
Weaknesses:
There's no onboard GPS, so the Versa just uses phone's GPS (making it slightly less useful for runners)
Does not provide any type of notification that it's charging
More fitness-focused than other smartwatches, so slightly less dazzling features
Appearance closely mimics Apple Watch design (which may be a strength to some!)
When you get a new notification, you might get several extra vibration alerts if you haven't checked old notifications
Very few third party apps available
Can't reply to messages from your wrist just yet, but should be able to soon
Bottom Line:
If you want something to start off with as a wearable and you like both the fitness tracking focus and simple assortment of smartphone capabilities the Versa has, the could be right for you.
The Fitbit Versa is less flashy than the Apple Watch 3, but probably more fun for the sportiest among us with the strongest athletic goals.
Garmin Fenix 5 Smartwatch
As the world places bets as to when the anticipated Fenix 6 will finally launch, the mostly satisfactory Fenix 5 remains the latest Garmin Smartwatch on the market.
While it has many excellent functions and works beautifully for high activity sports junkies, you'd be wise to carefully weigh your options for fitness tracking smartphones — you may find better quality with lots more useful features and apps available for approximately the same price.
Changeable wristbands?

Yes, QuickFit release lets you swap bands without special tools. Choose silicone or metal bands from Garmin — there are a few third party bands that fit, but not a large selection of them. This

HRM strap

is available for swimmers.

Price: $449 - 800, $549.99 if you buy directly from Garmin. Find Garmin promo codes here.
Compatible with iPhone? Yes.
Compatible with Android? Yes.
Protective casing/screen protectors available? Yes - you can also upgrade to sapphire display face to reduce scratches.
Is it waterproof? Yes, up to 100 meters.
Battery life: 75 hours during normal use; 20 hours during GPS use.
App selection: OK, but not as plentiful of a selection as the Apple or Fitbit App Stores.
Top features: All day fitness tracking, optical heart-rate sensor, save your location app, group live tracking for group running/cycling activity, flashlight.
Life span: Up to a full week or longer with normal usage.
Is it really waterproof?
Yes, up to 100 meters. Keep it on in swimming pools or during open water swimming up to that depth - which is the equivalent of .062 miles
Strengths:
Sleek, smooth design
Fast connection speeds
Available in 3 sizes with choice of silicone or metal wristband
Can save your location and navigation coordinates on your watch (i.e. if you park a long way from a concert venue, save location to find your way back to your car afterward)
Has group live tracking if you're running or cycling with a group, they can find you on a map
Handy flashlight and weather widgets, among others
Displays notifications from your phone, i.e. texts, missed calls, etc.
Weaknesses:
Uber expensive — starting as high as $550 for the very best deal on just the basics
Original display face can get scratched over time; there's an option to upgrade for an extra $100 to the sapphire display if you're concerned
Screen resolution not the best
Software upgrades every few months - and with them may come the destruction of other features you may already enjoy
Connect IQ App Store for Garmin is well behind the Apple and Fitbit Stores as far as apps go
Large buildings, thick patches of trees, etc. may leave you with shaky GPS accuracy
No voice assistant available, nor any other speech recognition capabilities to respond to texts or set functions
Can adjust music playing on your phone if nearby, but cannot play music on watch itself
Bottom Line:
Shop around. This smartwatch isn't cheap, so pay attention to price for value and consider what you really want in a smartphone. If you love this smartwatch after you've compared a few, grab it. If not, go with the option that best suits your lifestyle needs.
Samsung Gear S3 Smartwatch
As the world awaits the possible launch of the Samsung Gear S4, those with the Samsung Gear S3 are mostly satisfied with its features. A larger watch than the S2, some feel this smartwatch better suits a man, but plenty of women enjoy wearing it as well.
Choose from the more traditional Classic model or the bulkier and larger Frontier model.
Changeable wristbands? Yes, there are many options for bands to swap out.
Price: $299 - 349 for starters, less with a Samsung promo code.
Compatible with iPhone? Yes.
Compatible with Android? Yes.
Protective casing/screen protectors available? Yes, numerous options.
Is it waterproof? In theory, yes, it's rated IP68, and should be submersible for up to 30 minutes in up to 1.5 meters of water (however, read below).
Battery life: Between 2 and 4 days depending upon usage.
App selection: S-Voice, S-Health, sleep tracker, Find My Car, lots more.
Top features: LTE, Samsung Pay, SOS feature (triple tap on home button to access SOS in an emergency), WiFi.
Life span: Likely until the Samsung Gear S4 comes out, but nobody can guess whether that will happen in a month, a year, or longer.
Is it really waterproof?
Be careful with this. It has an official rating of IP68 water resistance, meaning it can conceivably be submerged as deep as 5 feet for up to 30 minutes. But this has not been everyone's experience, and some even had trouble with it after sweaty workouts.
Strengths:
Sleep tracking, heart rate monitoring, weather, reminders for the day, step counting
Twist the bezel to rotate and choose from apps, texts, messages, etc. on the interface; tap the center of the face to choose the app you want to launch (a nice look)
15 preloaded faces to choose from plus more on the Gear App Store
Speech recognition features for checking weather, etc, talk-to-text email and texting, take and make calls from the smartwatch
S-Health tracks your activity for the day
Instead of talk-to-text you can also tap or "write" letters to text/email
Weaknesses:
S-voice requires almost total silence around you in order to work properly
Texting keyboards aren't ideal
Thicker body and bezels than some other, sleeker smartwatches
Bottom Line:
If you like a larger watch with a round face, and you don't mind spending a bit more for it, this could be for you. Play with the features and remember to power off and turn back on after the initial charging and setup are complete - for some reason, users believe this may help to enable some features more fully.
LG Watch Sport
The LG Watch Sport is the feature-heavy, bulkier partner to the more delicate and sparsely-featured LG Watch Style (which we outline below).
With two programmable shortcut buttons and a digital crown on the side, you can wind to navigate through features on the watch face to find the app you need, swipe up to get to notifications, swipe down the face to view settings, then swipe right across the face to go back to the regular watch setting.
The Sport is nearly twice the size of the Style at 89 grams and its larger face enables easy viewing of texts and messages.
(Keep an eye out for LG's rumored newest smartwatch release as well, discussed here and here).
Changeable wristbands? No. What you see is what you get. The LG Sport's wristband is very thick, holding in place the watch's extended antenna, and therefore cannot be removed.
Price: $350 for starters, and found at Walmart and Best Buy — look for promo codes for Walmart and Best Buy before purchase.
Compatible with iPhone? Yes.
Compatible with Android? Yes.
Protective casing/screen protectors available? The Sport comes protected by Gorilla Glass 3 (scratch resistant).
Is it waterproof? Yes.
Battery life: 14 hours to 2 days, depending upon usage (you'll get longer battery life without the SIM inside and by turning off the "Always On" screen — and it takes about 2 hours to fully charge back up).
App selection: Lots of pre-installed apps, like Google-related Contacts, Google Fit, Flashlight, and Hangouts. Also Android Pay and Playstore, (with Playstore, you can download directly to watch without using phone, so grab apps like Nest off the Playstore easily and adjust your home thermostat, or run Strava to tap into the watch's GPS for your next jog, etc.).
Top features: Great activity tracking, heart rate sensors, barometer, etc.
Life span: Upwards of 2 years.
Is it really waterproof?
Yes. Its IP68 certification means it can be submerged in as much as 1.5 meters of water (approximately 5 feet deep) for up to 30 minutes. However, continuous submersion is not recommended so this may not be ideal for swimmers who want to track their laps.
Strengths:
Large, high resolution display is bright and easy to read
Has Android Wear 2.0, with voice activation, can draw emojis with fingertip, can "write" words on watch face with fingertip and it scrolls right as you complete each word
Easily transfers WiFi from phone to watch
Has WiFi, GPS, LTE, bluetooth 4.2 built-in, as well as NFC for wireless payment
Can be set to mute mode for all sounds, or do not disturb so you won't get notification alerts
Can stream music
Good responsiveness capabilities with texts, emails, etc.
Can add a SIM to run cellular data separately
Can keep count of gym exercises like squats, lunges, and and push-ups without too many errors
Weaknesses:
Speaker and microphone combo very basic for music streaming, etc.
Very large, heavy, and bulky, uncomfortable for some to wear with long sleeves (3.15 oz in weight and 0.6 inches thick)
No reminders to stand up (unless you use a third party app)
Not great for swimmers
Bottom Line:
If you're super into fitness and you love to track your data, this might be good for you if you don't mind larger, bulky watches with stiff, unchangeable wristbands (although the Fitibit Versa still might be better and cheaper).
You do get a lot of great features with the Sport, though, so if you're willing to give up slimmer, flashier looks for those, you'll likely be happy. But, even with those in mind, you may want to wait a minute to see what the newest version soon to launch will bring to the table.
LG Watch Style
The Watch Sport's little sister, the LG Watch Style, measures in at a very slim 10.8 mm design, weighing in at 46 grams. This smartwatch is light and sleek, ideal for the small-wristed.
Google promises to improve the Style's efficiency with updates, and therefore users can look forward to apps working that perhaps haven't been compatible with its limited hardware just yet. It's quite underwhelming when compared to its larger Sport counterpart, however, so if you're looking for them to be similar, you'll probably be disappointed.
Changeable wristbands? Yes, easy to switch without any special tools (comes with a subtle "flesh-colored" leather band, so people who prefer more color or bling will want to change it out immediately).
Price: $250 for the basics. You'll have the best luck finding this one at Best Buy.
Compatible with iPhone? Yes.
Compatible with Android? Yes (works with all phones with iOS 8.2 or Android 4.3 and above).
Protective casing/screen protectors available? Yes. Also comes protected with Gorilla Glass 3.
Is it waterproof? Yes, but it has a IP67 rating, meaning it's not suitable for swimming or diving.
Battery life: 1-2 days depending upon usage. Charges fully back up in 1.5 to 2 hours.
App selection: Pair it up with your smartphone and it copies your Google account to the Style, bringing your downloaded apps with it. It also has Playstore for new apps (some apps may be hindered by the Style's hardware incompatibility).
Top features: Movement tracker and fitness apps, has Gyroscope, Accelerometer, ALS.
Life Span: Unknown but may be decreased with the launch of the new LG smartwatch anticipated shortly.
Is it really waterproof?
The Style's IP67 rating means it can probably survive a splash but not a dive into the neighborhood pool. Not ideal for swimmers.
Strengths:
Has WiFi and bluetooth 4.2 built-in
Simple, classic look with slim, sleeker design than the Sport
Rotating digital crown lets users scroll through apps and settings, etc., without always swiping display face
Users can tap on keyboard, "write" on display face, draw emojis, etc. (like the Sport)
Has Google Assistant to answer your questions, set reminders, and more
Built-in ambient light sensor sets brightness automatically, so you won't need to adjust it manually
Weaknesses:
Lacks many features of the LG Sport
No built-in speakers, so you can't take a call, and you'll need to read the answers Google Assistant gives you in text form
Has no GPS, no LTE, no NFC (so no Android Pay)
Needs to remain within range of phone to function properly
While the digital crown is handy, it's very small and sometimes making swiping the display face seem easier instead
Digital crown accidentally launches Google Assistant easily, and is very annoying
Display has low pixel resolution, so some images may not show up as clearly as users would like.
Bottom Line:
The Style brings "just the basics" compared to the Sport, but it runs well, sits pleasantly on the wrist, and there are some pretty faces available. Also improvements via Google updates may bring more interesting apps and other compatibilities along with them.
Some find the design chic, but to others it looks and feels cheap compared to other smartwatches available for the same price. Might as well wait for the new LG smartphone launch — unless you have your heart set on this one.
Get each week's best deals from Dealspotr in your inbox
This guide was published on May 21, 2018
, and last modified on May 21, 2018
.