These 7 Women's Razor Subscription Boxes Will Help You Stroll Into 2018 with Silky Smooth Legs
About the Author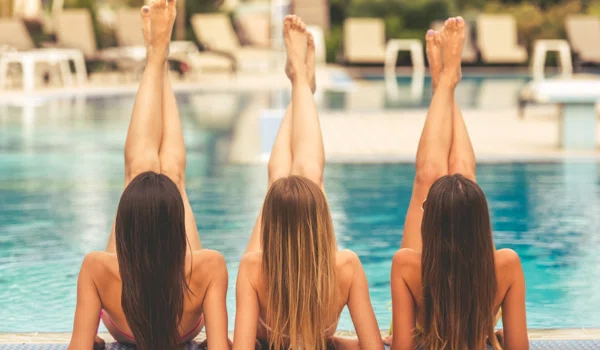 Ah, shaving. Considered a "necessary evil" by many women (and men, too), the shaving process leaves a lot to be desired. Between the nicks and cuts and dulling razor heads, shaving is anything but glamorous.
These days, you fortunately don't have to pay an arm and a leg to, well, shave your arms and your legs. Razor subscription boxes are easier and usually way cheaper than buying regular razors at the store.
Not to worry, though. Even with these improved prices, you won't be sacrificing quality. Razors that come from subscription boxes seem to work just as good as razors sold at your local Rite Aid or Walgreens.
With the shaving industry booming due to a growth in these subscription boxes, there are so many options to choose from. We've rounded up the best razor subscription boxes you can order right this minute!
Venus Subscription Box
We'll start out with a brand we all know. Venus is an already well-established razor company that is owned by Gillette who's been making safety razors since 1901. They know their stuff.
That's why a subscription box from Venus is a great option for people who want to go with a tried and true brand.
You can choose from different types of products, depending on what razor you prefer.
Never run out of blades again!
Angel Shave Club
Angel Shave Club has the cutest branding. You'll feel pampered every time an order comes in with that pink packaging.
You're offered a 6 pack of razors or an 8 pack of razors based on how often you shave. You can also choose from razors that hold 3 blades or 5 blades.
Angel Shave Club beautifully illustrates how much you'll save by switching to their subscription box in the graphic below. You can save even more by checking the brand's page on Dealspotr.
Look at how many cups of coffees you're missing out on by not subscribing to a more cost efficient razor company.
You'll be saving money on razors and they also offer free shipping anywhere in the U.S.
If you're unsure, you can sign up for a free two week trial!
Women's Shave Club
The name says it all, this shaving club subscription is made specifically for women! The Women's Shave Club is a monthly subscription service, just like the others on this list.
Right as you enter their website, you're greeted by a pretty awesome image of a lady shaving in the bathtub with a Boba Fett helmet on. The Women's Shave Club obviously knows how to have fun!
They also have a series of choices you can choose from ranging in prices and razor types. All of their colorful options offer Vitamin E & Aloe Vera lubricating strips.
This brand is on the up and up: shave gels are coming soon.
Happy Legs Club
Smooth legs are happy legs. Join the Happy Legs Club to receive razors made with heavy metal and rubber handles that feel like quality in your hand.
They're not cheesy light plastic handles that feel as though they'll break if you drop them.
These razors from Happy Legs Club are ergonomically designed to reach every curve and difficult area. Plus the blades are stainless steel to reduce skin irritation.
Subscription plans renew automatically, so you don't have to worry about continually ordering.
You heard 'em. Make shaving great again!
Billie
Billie certainly stands out from the crowd. They're super modern and stylish website reels you in with bubbly images of models who look like they're having an awesome time.
Billie is a female-focused brand that aims at empowering women. They're not just for women, but they are all about propping up women.
Billie says, "Women shouldn't be an afterthought in the shaving category. We deserve to have a great shave and no, we're not paying more for it." Heck yes!
By "paying more," they are referring to the dreaded Pink Tax. This is the extra amount women are charged for certain products and services - just 'cause. Billie offers razors that are anti-Pink Tax!
Ok, they sold us on how in-tune they are with women. But what about the razors?
Well, those are awesome, too.
Instead of a strip, they do an entire encasing of aloe soap. Not only that, they offer a magnetic holder for you to put in your shower. No more having to set down the razor in random places while you're showering.
Pretty sweet!
All Girl Shave Club
"Turn the chore of shaving into a girly treat!" This is the first thing you read when you go to their website and we love it.
All Girl Shave Club is a subscription box razor company that has been featured on Buzzfeed, Cratejoy, Business Boutique, and Love Meg.
Subscription plans are inexpensive. It doesn't have to cost you a lot to get a fantastic razor.
Not only do they offer premium razors, you can sign up for their Discovery Products Package which gives you a chance to try out all different types of fun shaving and beautifying products.
Pink Shave Club
When you ask a Gen X-er the girliest color they can think of, what do they say? Pink!
Pink Shave Club is probably the most traditionally feminine women's subscription shave club on our list. When it comes to Pink Shave Club, everywhere you look is pink, pink, pink!
This company was "made by women, for women," so it feels good knowing the brand is in touch with women's true shaving needs.
One thing that is unique about this brand, is that they offer a blog on their website with helpful articles pertaining to beauty.
Like they say at Pink Shave Club, "It's time to upgrade your shave game. Girl, we got you."
Join the Club
Whichever "club" or subscription box you choose from the list, you'll never have to deal with dull razors again. Even if some razors vary in quality, you'll always be receiving a new one in the mail before you know it. A sharp razor is no longer a luxury.
Quit waiting in line at the store. Order new blades from the comfort of your own home and get great razors in no time.
Get each week's best deals from Dealspotr in your inbox
This guide was published on January 9, 2018
, and last modified on January 9, 2018
.