Blogger Q&A with Marissa McKenna of Mommy Knows What's Best
About the Author

Digital Marketing Manager here at Dealspotr! Email me with your questions: emily@dealspotr.com :)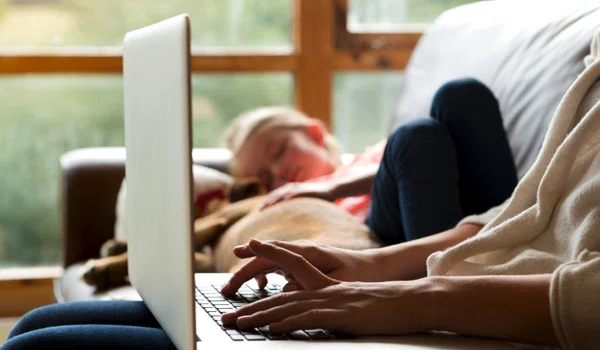 Dealspotr's network of influencers includes notable bloggers and social media personalities across a wide range of topics and interests, but all with a focus on frugal living and saving money. In our weekly Influencer Spotlight, we invite one influencer to share their experiences and success stories with the rest of our community. If you'd like to be featured, send me a message via Dealspotr. 
There's no one path that leads to blogging. For Marissa McKenna of the blog Mommy Knows What's Best, she started by writing articles for a website that wasn't hers. Now, she owns her own domain, and is a go-to blog for parents looking for tips, advice, and product reviews related to raising a family.  Marissa is here with some killer advice for new bloggers, and reminders for veteran bloggers on how to balance blogging with daily parenting life (hint: it involves taking advantage of the kids' nap times) in this week's Q&A.
INTRODUCE YOURSELF! FIRST NAME, WHERE YOU'RE FROM, YOUR "DAY JOB," AND ANY OTHER FUN FACTS YOU'D LIKE US TO KNOW.
My name is Marissa, and I am the owner of the parenting and family blog Mommy Knows What's Best. I'm from the northeast corner of Pennsylvania, approximately 2.5 hours from Philadelphia and 2.5 hours from New York City. By day, I am a stay at home mom of four kids, two boys and two girls. Two of my kiddos are at school for most of the day, and two are home with me. I blog during the day when my two youngest are napping. I also run a website for my kids' local little league when I have a spare moment.

Fun fact 1: I have been with my husband since I was 16 years old and he was 18. We have now been married for almost 11 years.

Fun fact 2: I was a middle school teacher. I taught two years of 8th and 9th grade Spanish and four years of 8th grade Language Arts. I have a BA in English and Education, and an MA in Educational Technology.

Fun fact 3: Coffee is my life-source.
DESCRIBE YOUR BLOG. WHAT IS ITS MAIN FOCUS?
Parents know what's best for their kids, even if they need some advice from time to time. At Mommy Knows What's Best, I try to share what works best for my family to give others ideas to use for their own families. Along with parenting tips and family friendly advice, I also write reviews and have giveaways.
HOW DID YOU GET INTO BLOGGING? WHEN DID YOU START?
After I had my second baby in late 2010, I needed an outlet to share information. I missed interacting with my students and teaching. I found HubPages and started writing informational articles about parenting there. Someone there recommended starting a blog as another way to share articles, so Mommy Knows What's Best was born. I started it on Blogger, but after a few years I bought my domain and moved to WordPress.
What was your best-performing blog post in the past year? What do you think made it successful?
My most successful blog posts are both about my experiences with subchorionic hemorrhage. I think the posts became successful because there's nothing out on the web like them. When I experienced the condition during my last pregnancy, I had a very, very difficult time finding out anything about the condition and what can be done about it. I gathered all of my research and wrote two posts about my experience. The response has been great. There are many women out there who are searching for the same information and who are thankful for finding a post or two that has all the information they need in one place.
What's the one way your blog is unique or distinct from other blogs in your niche?
Is my blog unique? I can't say. I take my time and do things right when it comes to my posts. I try to be as thorough as possible while still being interesting. I try to stand out with high quality, in-depth writing. I cover all of the possible angles of a topic, especially when I'm writing reviews. I find it important to write about the pros and cons, highs and lows. I personally try and use the products I promote. While I could accept every single offer that comes my way, I actually turn many down. I am very keen on only promoting those things that I know my audience will benefit from.
What's one thing you love about Dealspotr? Has Dealspotr helped your blog out in any way?
Honestly, I love how easy it is to use and that it doesn't eat up too much time. Time is precious when raising four kids! As a community member, I can complete my daily checklist (and sometimes more!) in just 15 minutes a day. As a consumer, I love that I can easily sort and find the deals or discounts for specific items I am looking for.

Dealspotr is now becoming an extra source of income for my blog. Not only do people read my review of Dealspotr, they join as my referrals and have fun earning rewards as they save other people time and money.
If you could identify the one thing (okay, or multiple things) responsible for your blog's success, what would that be?
Determination and willingness to learn. My blog started small. I was a nobody in a sea of somebodies. I really believe that since I am determined, my blog has grown and continues to grow. I am also constantly learning about new blogging methods. You can never learn enough when it comes to blogging!
WHAT ADVICE WOULD YOU GIVE TO SOMEONE LOOKING TO START A BLOG?
Do your research. There are many people who would say "Just jump into it and start doing it!", but in my experience, knowing what you're getting into is so beneficial if you want to make your blog successful.

A few tips for beginning bloggers:

Learn about finding a domain name, web hosting, and blogging platforms before deciding on anything, especially if it costs money.
Research laws regarding blogging. Did you know it is illegal to copy someone else's post or images without written permission? Do you know about the FTC's rules regarding disclosing business relationships?
Write about what you love. It can be tedious to write about topics in which you have no interest!
Is there a useful tool or resource you've used that you'd recommend to other bloggers? Maybe something other bloggers might not know about? 
If you're just starting out, or even if you need a refresher, I highly recommend searching for the Facebook group "Start a Money Making Blog" run by Heather and Pete Reese from It's a Lovely Life. You can take their free course (course is free, but there might be some purchases necessary) that takes you step by step through the process of starting a blog and running social media. It's great for beginners who have no clue where to start!
Tell us about the most exhilarating moment you've experienced as a blogger.
I can't say I have just one moment that was exhilarating. I mean, it's awesome when a brand I admire reaches out to me because they see my potential and wants to work with me. For instance, in 2015, I was contacted by Huggies to join their first ever parent council, and they flew me out to Chicago to meet with them and their team. It was so exciting!

My favorite moments though are when I make a difference in someone's life through my writing. I am so humbled by comments from strangers who were inspired or given hope from one of my posts.
Which major blogger or influencer do you most admire and why? 
There are too many to mention! My favorite bloggers are those who those who have amazing blogs yet are still very down to earth. They find ways to connect with their audience, whether it be through their writing or in comments they leave on social media. They work hard to create and sustain their blogs and online presence, even with busy personal lives. 
Have you ever experienced a moment when you wanted to quit blogging? How did you overcome it?
So many times. Blogging can be a roller coaster adventure. Sometimes you are climbing up and flying high in the sky with success, and other times a search platform or social media giant changes an algorithm and you find yourself speeding downhill way too fast. When I'm in those downhill moments, I remember that there is always a recovery, even if it's a little hill at first that leads to a much bigger one. It's also during those downhill times when I do some research about how to improve my blogging skills. 
WHAT'S YOUR FAVORITE TV SHOW?
Wait, there are TV shows out there for adults? I'm supposed to have a favorite? Just kidding. This is going to be perhaps cliche, but I love "This is Us." There is just so much to relate to in that show!
WHAT'S YOUR FAVORITE SNACK?
Chocolate. Anything chocolate.
If you could have dinner with anyone, living or dead, who would it be? 
Ooh, I always hate this question... it's a tough one for me to answer! Could I have dinner with my younger self to tell her how easy she has it and to enjoy sleep while she can? 
You can read Marissa's blog at MommyKnowsWhatsBest.com. You can also follow her on Dealspotr, Facebook, Twitter, Pinterest, and Instagram.
Are you a blogger or social media influencer who loves sharing advice on saving money? Dealspotr is a rapidly growing community of deal hunters and savvy shoppers - join our Influencer Network to gain visibility, earn perks, take on paid gigs, and help people save money.
Get each week's best deals from Dealspotr in your inbox
This guide was published on May 15, 2017
, and last modified on May 15, 2017
.