Blogger Q&A with David and Veronica James of The Gypsy Nesters
About the Author

Digital Marketing Manager here at Dealspotr! Email me with your questions: emily@dealspotr.com :)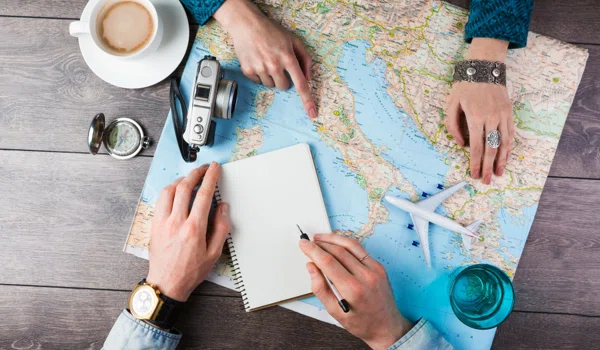 Dealspotr's network of influencers includes notable bloggers and social media personalities across a wide range of topics and interests, but all with a focus on frugal living and saving money. In our weekly Influencer Spotlight, we invite one influencer to share their experiences and success stories with the rest of our community. If you'd like to be featured, send me a message via Dealspotr. 
After sending their three children off to college, Veronica and David James were left with an empty nest. Instead of taking this as a negative, the couple ventured out on a cross-country road trip across America. Veronica started a blog along the way, and from there, The Gypsy Nesters were born. Now, after continuing their adventures and publishing a book about them, the couple is sharing how they turned what they love to do into a successful blog and business in this week's Q&A.
INTRODUCE YOURSELF! FIRST NAME, WHERE YOU'RE FROM, YOUR "DAY JOB," AND ANY OTHER FUN FACTS YOU'D LIKE US TO KNOW.
We are David and Veronica James and have spent the last thirty five years together, ever since a boy from the heartland met a Valley girl on the west coast and took off to Nashville for a wild ride through parenthood and the music business. After sending three kids out into the big wide world we set out to find it for ourselves, selling everything and taking off in a beat up old motorhome. Along the way we accidentally created the top travel blog GypsyNester.com and authored the book Going Gypsy: One Couple's Adventure from Empty Nest to No Nest at All (Skyhorse 2015). In the past seven years we have visited and written about fifty countries on six continents.
DESCRIBE YOUR BLOG. WHAT IS ITS MAIN FOCUS?
GypsyNester.com features our take on empty nest lifestyle, which for us became nomadic. The big thing we discovered was to try new things. It doesn't have to be travel; there are all sorts of opportunities, cooking classes, dance lessons - take a college course, or volunteer together, so long as it is something new to both of you. Now we try to pass along the things we have learned in an informative, yet entertaining way.
HOW DID YOU GET INTO BLOGGING? WHEN DID YOU START?
Initially what got us wandering around the U.S. was as a way to catch up with family and friends. We had lived on the Caribbean island of St. Croix all through our children's high school years, so it was hard to visit relatives and friends up in the states. When our youngest graduated, we figured a good way to reconnect with overdue visits was to get a motorhome and make our way across country. Once everyone was visited, we liked it so much that we just kept going. Veronica had worked in tech for years and had started GypsyNester.com while we roamed around, mostly as a way to keep our loved ones posted on our adventures, but when we decided to continue our travels we thought that we should also focus on the blog.
What was your best-performing blog post in the past year? What do you think made it successful?
I'd say it was Street Food Eating our Way Through Mexico's Yucatan Peninsula. Guess it was popular because everyone loves Mexican food, and we covered everything from the usual, like tamales and soup, to the bizarre, like crickets and tacos made with brains or eyeballs. Plus, you get to watch us eat a bug!
WHAT'S THE ONE WAY YOUR BLOG IS UNIQUE OR DISTINCT FROM OTHER BLOGS IN YOUR NICHE?
Well, as you can tell from our food adventure, we like to seek out the unusual. We don't write our stories as travelogues with an eat here and stay here point of view, we write as narratives of our explorations while we look for out of the way, off the beaten path experiences.
What's one thing you love about Dealspotr? Has Dealspotr helped your blog out in any way?
That's easy. Who doesn't love saving money? As far as for our blog, it has introduced us to many new friends and readers.
If you could identify the one thing (okay, or multiple things) responsible for your blog's success, what would that be?
I think it is because we try to find different viewpoints, and we are happy to poke fun at ourselves. We try to take our subjects, but not ourselves, seriously. Even when we visit a famous tourist city, we look for a unique and quirky take, like how we found The Oddest Art at the Louvre in Paris, France.
WHAT ADVICE WOULD YOU GIVE TO SOMEONE LOOKING TO START A BLOG?
Don't be in a hurry. It takes time to build a relationship with your audience and to practice writing. There is no doubt that we are much better at telling our stories than we were eight years ago when we started. Also, be social on social media, talk to people, engage.
Is there a useful tool or resource you've used that you'd recommend to other bloggers? Maybe something other bloggers might not know about? 
I don't think we have any big secret. Social media was our biggest tool. For us it was Twitter that had the most impact, but we have noticed that it is different for different blogs. Don't try to force one or the other, just let them build naturally.
Tell us about the most exhilarating moment you've experienced as a blogger.
There have been a ton of amazing moments for us, walking on the Great Wall of China, snorkeling the Great Barrier Reef, teaching and going on safari in Africa, and seeing the northern lights above the Arctic Circle in Norway, but the most exhilarating had to be Skydiving Over Queensland in Australia. Jumping out of an airplane 10,000 feet above the Coral Sea was a rush like none other in our lives. Can't say it's one we are in any hurry to repeat either.
Which major blogger or influencer do you most admire and why?
When we were just getting started we met Donna Hull from My Itchy Travel Feet, The Baby Boomer's Guide to Travel. She was so nice, and also helpful, really got us to see the possibilities. She never felt that there was any competition between bloggers either, saw that we can all help each other, and we have tried to continue that attitude.
Have you ever experienced a moment when you wanted to quit blogging? How did you overcome it?
Every now and then, especially when we get tired or jet-lagged and out of sorts, we will have twinges of wishing for a homebody lifestyle, but it doesn't last long. There is too much to see and do, and always something new just over the horizon.
WHAT'S YOUR FAVORITE TV SHOW?
We generally use the TV for movies on DVD or streaming, but I guess we will show our age and say "Friends."
WHAT'S YOUR FAVORITE SNACK?
Veronica could probably live on popcorn and watermelon, and David can do some damage to hot wings.
If you could have dinner with anyone, living or dead, who would it be? 
Wow, that's a hard call, but after visiting the FDR home and library at Hyde Park, I guess we'll say Franklin and Eleanor Roosevelt.
Anything else you'd like to add?
Just to say thanks for asking us to be a part of this.
You can read David and Veronica's blog at GypsyNester.com. You can also follow them on Dealspotr, Facebook, Twitter, YouTube, Pinterest, and Google+.
Are you a blogger or social media influencer who loves sharing advice on saving money? Dealspotr is a rapidly growing community of deal hunters and savvy shoppers - join our Influencer Network to gain visibility, earn perks, take on paid gigs, and help people save money.
Get each week's best deals from Dealspotr in your inbox
This guide was published on April 20, 2017
, and last modified on April 20, 2017
.