Buckle Up and Take a Ride with These 20 Car & Auto Micro-Influencers
Written by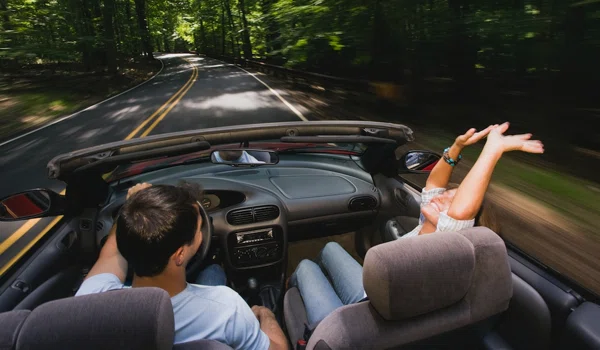 A vast majority of car owners view their car as just a means of transportation, getting them through their daily schedule in a time-conscious way. But any car enthusiast knows that cars aren't just a way to get from A-to-B. They're a literal reflection of the owners themselves.
Over the last century, there have been mind-blowing innovations to enhance the way we drive. And who better to learn about these innovations from than real people?
While some of us may think we know cars, we're nothing like these top 20 car & auto micro-influencers. Live fast and furiously by following their rules of the road - Ready, set, go!
Nick Roshon: Nick's Car Blog
Are you an Audi fan? Nick Roshon of Nick's Car Blog is the micro-influencer for you.
Roshon is an undeniable car enthusiast with a heavy emphasis on everything Audi. Fans of his blog often leave comments for him, asking extensive questions because he is so knowledgeable. He describes himself as an "ad guy by day" and a "race car driver" by night.
Roshon is extremely keen on details when it comes to writing about cars. His followers learn so much by reading his regularly updated blog and social media accounts.
Website | Instagram | Twitter | Facebook | Google + | Pinterest
Keith Cornett: Corvette Blogger
If you're into Corvettes as much as Keith Cornett, you gotta check out his blog. This man is extremely well versed in car knowledge and his love for Corvettes comes out in his enthusiastic writing.


His biggest following is on Facebook where he's created a community where car lovers can go to comment, like, and share interesting articles.
Cornett posts anything from interesting Corvette news to informational articles on the next big thing in the Corvette world. He is constantly updating his blog, so you won't miss a moment of what's going on in the world of Corvettes.
Website | Instagram | Twitter | Facebook | Google + | Pinterest | Youtube | Tumblr
John: Flat Sixes
This is the micro-influencer to follow if you love anything and everything Porsche.
John and his wife blog about Porsche and all the facets that come with it. After retiring due to health reasons, John started to blog about his favorite vehicle and the rest was history.
Cut to today where Flat Sixes is one of the most popular destinations for Porsche lovers all over the world.
Website | Instagram | Twitter | Facebook | Google + | Pinterest Youtube | LinkedIn
Cyril Huze
Cyril Huze qualifies as a micro-influencer as well as an avid custom motorcycle lover.
His blog focuses on motorcycle news. He regularly updates the blog and gives his readers the first-to-know advantage in the motorcycle world.
Readers can send their own news in the "Submit News" tab on his blog, which creates a community of people sharing the motorcycle industry scoop.
Website | Instagram | Twitter | Facebook | Google + | Youtube | Linkedin
Marc Carter: The Torque Report
For over 10 years, The Torque Report has been a source for car news, debuts, reviews, and rad photos of cool cars.
The Torque Report has it all. Look at awesome car photos on their Instagram page, read up on shared articles on their Facebook page, and read in depth informational blogs on their website.
Though we don't know too much about Carter, we do know The Torque Report is run by a serious car pro.
Website | Instagram | Twitter | Facebook | Google + | Pinterest | Linkedin
Tycho de Feijter, Joey Wang, W.E. Ning: Car News China
Want to know everything there is to know about cars in China? The Car News China blog is the one to read.
Car News China offers car news, information on the history of cars in China, concept cars, and more. The site is run by three men who devote their time to writing about all things cars.
Tycho de Feijter is a specialist on cars and trucks and researches the latest information to feature on the blog. Joey Wang specializes in industry news and the Chinese government's involvement in cars.
W.E. Ning writes about foreign cars in China and keeps an out for the latest in car news.
Website | Instagram | Twitter | Facebook | Youtube | Linkedin
Allie Knight
Allie Knight is all about traveling. She travels all over the world and discusses what she drives during her travels.
She provides survival guides for people who are traveling. For example, she encourages her readers to get a tire tread depth gauge, flashlight, and other essentials when on the road.
Knight also has a podcast where she chats about her hobby. Her most recent episode covered her experience traveling to a big RV show.
Website | Instagram | Twitter | Facebook | Youtube | Patreon | Podcast
James Ford: Well Driven
If you're into classy cars, then Well Driven is the blog for you. Focusing on only the most luxurious cars, this influencer writes in depth articles on fancy cars.
It's more whimsical than informational, which gives it the unique edge from the other car blogs. There's more of a personality behind the brand, which Well Driven's readers love. Website link is below, but European riders can find Ford here.
Website | Instagram | Twitter | Facebook | Pinterest
Tara Weingarten: VroomGirls
This next influencer is a website run by girls for girls. This car site for women invites females into the often male-dominated field of automotive.
Internationally recognized and growing, VroomGirls gives "jargon-free" news and information on the car world with celebrity and fashion in between.
VroomGirls aims to help the modern women purchase cars and to make an "intelligent car buying decision."
Website | Instagram | Twitter | Facebook | Youtube | Linkedin | Google+ | Pinterest
Debbie Baer, R.N.: The Car Seat Lady
Let's take a break and talk about something extremely niche. There is an entire internet following devoted to staying up-to-date with a pediatrician who writes specifically about car seats.
In all seriousness, it is vital to make sure your child's car seat is properly placed and researched. Car crashes are the leading cause of death and injuries to children in the U.S.
Debbie Baer will help guide you in finding the best car seat for your vehicle and also keep you informed on the latest news in car seat innovation. She's a leading expert in child passenger safety and even offers a special course for parents to learn everything they need to know about car seat safety.
The blog is also run by Alisa Baer (Debbie's daughter) and Emily Levine (Alisa's best friend).
Website | Instagram | Twitter | Facebook | Youtube | Linkedin | Google+ | Pinterest
Car Design News
Car Design News focuses on the most aesthetic part of the car world - the design. A great resource for car design, readers can stay in-the-know on new cars, events, and details about what went into the design for a particular vehicle.


You'll get the inside scoop on what goes into the development of designing a car and who's working on what.
Follow Car Design News on Instagram and see great shots of "car spotting" photos from all over.
Website | Instagram | Twitter | Facebook | Youtube | Linkedin | Pinterest
Exotic Car List
Desperately searching for your exotic dream car? Exotic Car List is the blog that will help you find your next exotic car.
Exotic Car List won't just help you find your next hot vehicle, this site keeps you informed on all the latest news in the auto industry.
The blog page of the Exotic Car List website is updated frequently. You'll read posts that give you tips on selling your car, help you choose a car through reading reviews, and more. There are also fun blogs like "Top 9 Car Movies of All Time."
It's a great hub of information and community for true exotic car lovers.
Website | Instagram | Twitter | Facebook | Google+ | Pinterest
Autotribute
Visit Autotribute's website and you'll be greeted by a giant wave of car articles.
Autotribute is chock-full of fun facts, predictions, and opinion articles about vehicles from all over the world. This influencer really does pay tribute the automotive industry.
This is not the website to read if you're only "kind of" a fan of cars. Autotribute gets down to the nitty-gritty details in each article, so it'll be hard to understand the verbiage if you're not aware of the many things there is to know about cars.
That means, it's perfect for the true car enthusiast!
Website | Twitter | Facebook | Google+ | Pinterest
Tushar Kelshikar: The Supercar Blog
Run by an automotive photographer from Italy, Tushar Kelshikar wanted to have a place where car people could go and read everything there is to know about the current car world. He writes for people who appreciate the "masterpieces of modern technology."
Read everything that's going on in the auto industry. There's even an article about John Cena getting sued by Ford for selling his Ford GT!
Other members on the team include photographer/author Mike Cutler and illustrator/author Pratyush Rout.
RallyWays
RallyWays is a car blog that features all types of cars for those that love variety. This is where their "A Million Ways to Drive" slogan comes from.
The special thing about this blog is that the photography is all original, meaning they don't just take photos from other websites or blogs.


Surprisingly, RallyWays gets their biggest following from Google+, which is unusual for a blog. They do update often on all of their platforms, so they're audience is definitely growing everywhere.
Website | Instagram | Twitter | Facebook | Google+ | Pinterest | Youtube | Flickr
Classic Car Restoration Club
There's a lot that goes into restoring a car. But classic car admirers know it's all worth it.
Classic Car Restoration Club is a great resource for how-to videos on everything from upholstering to rust removal. Learn how to make your car the envy of your friends with help from this trusty micro-influencer.
This influencer understands how rewarding it is to take care of a classic car and everything that goes into keeping it running smoothly.
Website | Twitter | Facebook | Google+ | Youtube
Fossil Cars
Enjoy your love for "fossil" cars by following an influencer that keeps an updated blog and social media following all about classic, muscle, hotrods, and antique cars.
Fossil Cars works with dealers and individual sellers to promote their classic cars on sale while also entertaining the world with interesting photos and Youtube videos. You can visit Fossil Cars on Youtube right now and you'll see the featured video is a top 10 list of the fastest muscle cars as rated by Muscle Car Magazine.
In a truly antique fashion, Fossil Cars features a old-school car forum on their website for people to go and have in depth conversation about their favorite ways of transportation.
Website | Twitter | Facebook | Youtube | Instagram
Women Riders Now
This female-centric motorcycle blog is all about women who ride. This women's motorcycle magazine features lifestyle content that invites women into the fun world of biking.
This blog as well as the social media content that follows it is a great source for information about biking based on a rare female perspective.
Women want a place in the biking world, too, and Women Riders Now is a great site that promotes just that.
Website | Twitter | Facebook | Google+ | Youtube | Instagram
Mike Hudson: Vandog Traveler
This next blog is a little different. For those that actually love their car so much that they want to live in it, this is the blog for you!
We're joking of course, but van life is a real endeavour by many and there is a lot to know about living in a vehicle.
Hudson makes unbelievable Youtube videos documenting his travels, his process in writing his book, and what to do when your van breaks down. He describes his content as "DIY" because he can teach you, too, how to take care of a van and reside in it to fully explore life on the road.
Website | Twitter | Facebook | Google+ | Youtube | Instagram
Dave Thomas: Stance is Everything
Stance is Everything is a auto fanatics dream come true. Dave Thomas created a place where enthusiasts like himself can come together and read up on trucks, cool cars, and everything in between.
This Toronto based influencer is gathering followers by updating consistently, posting to all platforms, and letting a little personality get mixed in with his content.
His WTF Friday portion of the website features hilarious and strange cars and designs you wouldn't believe. It's just the kind of content that keeps people coming back.
Website | Twitter | Facebook | Google+ | Youtube | Instagram
Ride On!
Isn't it a blast to find other people online that are into the same interests as you? Thanks to the internet, there's a whole community of car enthusiasts and auto micro-influencers sharing their love for the art of cars. Time to explore!
Get each week's best deals from Dealspotr in your inbox
This guide was published on December 6, 2017
, and last modified on December 6, 2017
.