Couponing at Nordstrom: How to Save at Nordstrom Using Coupons, Sales & Price Matching
About the Author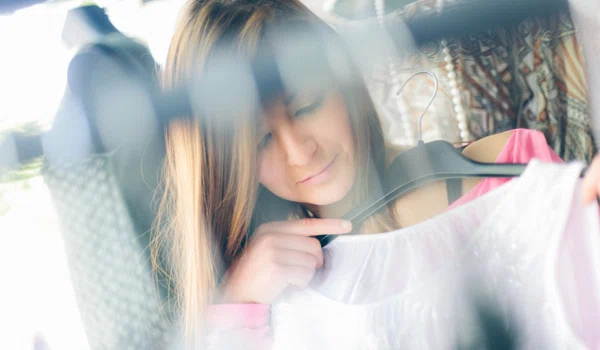 Nordstrom is an upscale department store with enough variety to match all types of shoppers. Those with designer tastes and a discount store budget can still get some of the things they want at Nordstrom by using the following money-saving strategies. Being frugal no longer means you have to forgo those Ferrigamo heels with a price tag that could pay your way through Harvard.
Join the Nordstrom Rewards Program
What It Is
Nordstrom wants to reward its customers, so it has created this free rewards program that lets you earn points for the dollars you spend. With your free membership, you can also attend special bonus points events that will let you earn additional points with your purchase.
How It Works
Members earn one point for every dollar spent in-store or online at Nordstrom, HauteLook, or Nordstrom Rack. This includes payments made with checks, cash, or non-Nordstrom debit or credit cards. Once you've earned 2,000 points, you will receive a $20 Nordstrom Note to use at any of the three stores mentioned above. Your Notes will expire one year after they are issued.
During bonus points events, you can earn three points for every dollar you spend, so take advantage of these events. Keep an eye out for special rewards during the holidays, too.
Insider Tip
If your Nordstrom Notes are about to expire, ask a store clerk to transfer your rewards to a gift card for use later.
Price Matching
If you purchased an item only to find out a few days later it is sold for less money at a similar retailer, don't despair. Nordstrom is dedicated to offering its consumers the best prices on the market. As long as the article is the same size and color, Nordstrom will match the competitor's cost. However, Nordstrom will not meet prices from auction and outlet stores or websites. The company will also not match other competitor's sale promotions, shipping or gift card offers.
Insider Tip
If you happen to buy an item and discover that it is on sale only a few days later, the store will adjust the reduced price for you. This offer is only good for two weeks after your purchase, so keep your eye on the discount flyers. Be advised that Nordstrom will only make one adjustment per item and any designer merchandise that is originally bought on sale is excluded from this offer.
Apply for a Nordstrom Debit or Credit Card
What It Is
When you apply for a store credit or debit card, you get to experience the rewards program at a new level. As a cardholder, you will be eligible for great discounts on alterations and significant discounts during Personal Triple Points Days. You will also be invited to special shopping events during the holidays and VIP access to in-store events.
How It Works
The cardholder rewards program is divided into four levels dependent upon your annual net purchases. For instance, Level 1 is up to $1,999; Level 2 starts at $2,000; Level 3 starts at $5,000 and Level 4 starts at $10,000.
Like the free rewards program, you earn points for every dollar spent. Cardholders receive two points for every dollar they spend and six points for every dollar spent during bonus points events and Personal Triple Points Days. Get a Nordstrom Note valued at $20 for every 2,000 points you spend, plus an extra $20 bonus Note when you spend $100 at Nordstrom with your store card the day you apply. Purchases, points, and notes are applicable at Nordstrom, HauteLook, and Nordstrom Rack.
Insider Tip
Because you get to choose any day to earn triple points for every net purchase made at Nordstrom and its affiliate stores, use the Personal Triple Points Days as an opportunity to quickly earn a Nordstrom Note. Then plan to take advantage of shopping with your Nordstrom Notes when there is not a bonus points event.
Always Use Coupons and Store Events
Nordstrom offers shoppers a number of sales throughout the year. A Nordstrom sale is a special counter where products from a particular line are displayed at a reduced price. The sale counter is also available on Nordstrom's website.
The most anticipated sales event is Nordstrom's Anniversary Sale. Held in July every year, this sale includes the year's new fall merchandise, rolled out for the first time.
If you can't make the Anniversary Sale, don't despair. Nordstrom has great half-yearly sales with discounts on current merchandise, as well as items from the previous season. Nordstrom coupons worth 40-60% off bags and boots are commonplace during these sales. Patrons can also visit Nordstrom during the sample size shoe sales that are held twice a year in the Salon Shoes department.
Insider Tip
A fantastic way to save money when you are not able to spend time shopping is the pre-sale. You can select merchandise to buy shortly before the official sale begins. Keep in mind that your preferred items may not be on sale. The store will use your debit or credit card number to hold the products until the day of the sale. Your card will then be charged once the sale begins (if your item is on sale) and you can pick up your purchase.
Follow Nordstrom on Facebook
If you like to see behind-the-scenes and insider content, be sure to follow Nordstrom on social media. The store offers special giveaways, alerts about new store openings, tips, and inspiration for its customers on Facebook, Twitter, Instagram, Pinterest, and Wanelo.
Insider Tip
Some stores periodically hold Sample Saturdays, where they give away free items to a select number of customers. Nordstrom usually announces these events and other sales on the events tab of its Facebook page, so if you want details on past or future sales, that's a good place to check. The store is also very active in responding to customer questions or concerns about its sales events.
Ask for Help
When it comes to customer service, Nordstrom has no equal. Salespeople are always available to lend a hand and offer helpful advice. If you have an item to return, bring it into the store or ship it back for a free and easy return process. Nordstrom doesn't have a set return policy, so just contact the store about any issues you have to get a full refund.
Insider Tip
If you can't find your size in the product you want, in-store or online, contact the store. They will try to find your size and will send it to you for free!
Buy All of Your Shoes at Nordstrom
Nordstrom's incredible return policy makes it the best store to purchase your shoes. If your shoes fall apart or start hurting your feet a month or two after purchase, bring them to your local Nordstrom for a return. If your shoes break after a year, the store will fix them for you. When your boots get scuffed, take them to the store for a cleaning and to learn how to do it by yourself at home.
Insider Tip
Do you have to get two different shoe sizes because your feet are different sizes? Nordstrom will set you up with a single pair in the sizes you need. If you need to return or exchange these shoes, the store will treat the transaction as if your shoes were a fully matched pair.
Free Gift Offers
Nordstrom often offers free gifts with select purchases. These gifts can include sports equipment, apparel, cosmetics, fragrances, bags, and more. You never know when these gift offers will be available, so pay attention to advertisements.
Sign Up for the Email Newsletter
If you want deals and tips sent right to your inbox, sign up for Nordstrom's email newsletter. You'll receive alerts for upcoming events and sales, exclusive seasonal offers, and information on fashion, beauty, and discounts. You can also customize your emails to only receive information on men's, women's, and Nordstrom Rack products.
Get the App
Nordstrom's app allows you to view the store catalog and browse in-stock items in your local store. If you see a product you like, you can use your phone's camera to take a picture and use that picture to search for similar items. Rewards members can use their Notes and check their points status at any time. You can also track your orders and use the app to see if the items in your shopping cart are available in a nearby store. The app is available for iPhone and Android.
Buy & Save
When you buy two or more of a specific item or group of items, Nordstrom will apply a discount to these items during the checkout process. These large discounts can apply to anything from designer products to popular clothing, so keep an eye out for this discount.
Purchase Discounted Gift Cards
The simplest way to save money on your Nordstrom purchases is to shop with discounted gift cards. Websites such as Cardpool and Raise sell gift cards with a 4-5% discount off the value amount. The savings aren't huge, but they are guaranteed and hassle-free.
Shop at Nordstrom Rack
Nordstrom Rack carries discounted Nordstrom products, usually at 50-60% off the original prices. Products move in and out fairly quickly, so keep an eye out for the products you want. Once a deal is gone, it's gone.
Get Cash Back
Rebate sites like Ebates or Swagbucks offer cash and point rewards for the dollars you spend. Sign up and use these services to save money and get cash back for your purchases.
Get each week's best deals from Dealspotr in your inbox
This guide was published on October 24, 2016
, and last modified on October 24, 2016
.