How to Save Money When Shopping at Bloomingdale's
About the Author

The best community for finding and sharing deals.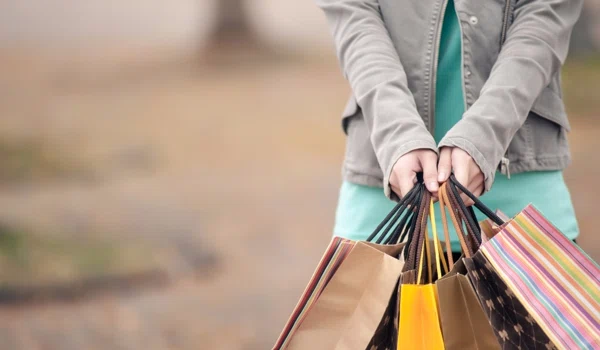 Bloomingdale's is an upscale department store, and may not be the first stop for bargain shoppers. However, with brands like Dolce and Gabbana, Chanel, Balenciaga, and Oscar de la Renta, even a splurge at Bloomingdale's is subject to savings if you follow our tips and tricks.
Join Bloomingdale's Loyallist Program
The Loyallist program lets you earn points when you shop at Bloomingdale's. Once you reach 5,000 points, you'll receive a $25 reward card. It's important to note that the number of points you earn is linked to your method of payment. For example, the Bloomingdale's Store card and Bloomingdale's American Express card will earn you 3 points per dollar spent at Bloomingdale's. If you pay with cash, checks, or other debit or credit cards, you will receive one point for every dollar spent.
If you spend more than $3,500 at Bloomingdale's with your Bloomingdale's card in a calendar year, you will be upgraded to Top of the List status. With this upgrade, you will get four points for every dollar spent, free shipping on all purchases, and the ability to pick your own Triple Point Days.
Throughout the year, the retail store will hold special events where Loyallist members can earn double or triple points for their purchases. Occasionally, members can earn Power Points, which are fixed amounts of points awarded for qualifying purchases. Cosmetics and fragrance purchases qualify for double points every day.
Inside Tip
If you're a Loyallist, check for coupons specific to those in the loyallist program before making a purchase. Bloomingdale's will often offer online promo codes for additional loyallist points on certain purchases.
Use Coupons
As always, coupons are an easy, straightforward way to save money on your purchases. Save money on regular and sale-priced items or on your total purchase. You can find coupons in the sales section on Bloomingdale's website or every day on Dealspotr.com.
Sign up for a Bloomingdale's Credit Card
If you want the best perks offered by the Loyallist program, Bloomingdale's credit cards are the way to go. You can choose either the store credit card or an American Express credit card, whichever better suits your needs. Both cards offer free shipping and bonus point benefits for Loyallist members, plus access to special offers throughout the year, both in-store and at other locations. Plus, when you open a new card, you will receive a 15% discount on purchases up to $250 made on the day you get your card and the day after.
Inside Tip
If you reach Top of the Line status with your Loyallist membership, your store credit card will get an upgrade, too!
Shop the Friends and Family Sale
Bloomingdale's holds multiple Friends and Family sales throughout the year, and typically offers 20% off home and fashion items, and 10% off luggage, electronics, and dinnerware. These sale prices include regular and sale-priced items for women, men, children, and home items. The great thing about this sale is that it's available for in-store and online purchases. Although some brands are excluded, the sale is perfect for back-to-school shopping, and shoppers in the Bloomingdale's Loyallist program may even earn triple points on their purchases.
Shop the Sales and Promotions Section
Bloomingdale's has crafted the perfect section on their website for bargain hunters. Once in the sales and promotions section, you can navigate through all of Bloomingdale's special offers. These sales can include discounts on shoes, cookware, or clothes, free sitewide shipping, or new product promotions. This section also lists gifts with purchase offers and Loyallist promotions, such as free shipping and double or triple point opportunities.
Download the bWallet App
If you download the bWallet app and link it to your Loyallist account, you'll automatically get Loyallist points whenever you use the app to make purchases. When you add available offers and promotions to your bWallet, the app will show you which offers will save you the most on your purchase at checkout. Use your bWallet to store your credit, debit, and Rewards cards for a more organized, easier payment process.
Bloomingdale's Will (*Sometimes*) Price Match
Bloomingdale's doesn't have an "official" price matching policy, so your success will likely vary from store to store. Some store managers will adjust the price upon proof (an ad or website print out) that the item is at another store at a lower price.
Inside Tip
If the manager is unable to price match, ask if they have any applicable coupons available for any of the items in your purchase – you might even be able to snag your item cheaper than if they price matched it for you!
Join a Cash-Back or Rebate Website
When you join a rebate or cash-back website, such as Ebates or SwagBucks, you get access to coupon codes and cash-saving opportunities. These websites often allow you to see Bloomingdale's current sales, so you can decide if you want to shop now or wait for better sales.
The Give Pink, Get More Program
The Give Pink, Get More Program runs during the fall, usually from the end of September through the end of October each year. To enroll in the program, you will be charged a $15 fee on your Bloomingdale's credit card. One hundred percent of this fee goes to support awareness programs and fund research for breast cancer.
Once you've enrolled, the purchases you make with your store credit card at Bloomingdale's and Bloomingdales.com during the program's duration will qualify for rewards. In late November, you will receive a Give Pink, Get More card with a value that is based on the purchases you made during the program's duration. Here's the breakdown:
Get $25 when you spend $250-$499.99

Get $50 when you spend $500-$749.99

Get $75 when you spend $750-$999.999

Get $100 when you spend $1,000-$2,499.99

Get $250 when you spend $2,500 or more
In addition, Loyallists who sign up for the program get 5,000 power points when they spend $250 or more.
Price Adjustments
If you see that an item you purchased at Bloomingdale's is now on sale, you can submit a request for a price adjustment for both in-store and online purchases. Adjustments can only be made 10 days after purchase, so keep an eye on sales. In-store purchases must be brought back to the store for a price adjustment, but online orders require a price adjustment request. The difference will be refunded to the original form of payment.
Inside Tip
Price adjustments also apply for new coupons. If you see a coupon that you can apply to your recent purchase, contact the store to get your discount.
Instantly Receive 10% Off When You Register For Email Alerts
If you sign up for Bloomingdale's email alerts, they will email you a promo code for 10% off your next purchase. In addition, the alerts include exclusive offers, fashion advice, and new arrivals. Registering an email is a simple way to save money, especially if you were already planning to make an online purchase.
Inside tip
Texting "CODE" to 25666 registers you for text alerts – and you'll get a 10% off promo code for signing up. Standard text messaging rates apply.
Buy Discount Gift Cards
Cardpool offers discounted gift cards for Bloomingdale's, which average about 10% off of the card's value. The gift cards on Cardpool have no expiration date or fees, and the site offers both electronic and physical Bloomingdale's gift cards. In addition, if you choose to purchase a physical gift card, Cardpool has free shipping.
Use the Store Locator to Learn About Local Bloomingdale's Events
The store locator on the Bloomingdale's website will help you find local events and promotions at the Bloomingdale's closest to you. Once you choose your store, you can search for store events by date, or filter by fashion events, beauty events, or home events. Store events usually mean special offers, so get the details on the upcoming events at your local Bloomingdale's.
The Perks of Bloomingdale's Gift Registry
Bloomingdale's is very generous when it comes to wedding gift registries. If you register with Bloomingdale's, you'll get exclusive offers, including 10% off the remaining home items on your registry for six months after your occasion date. Bloomingdale's also offers a $100 "splurge card" if you spend $500 or more on the remaining items in your registry, as well as complimentary monogramming. Additional exclusive savings include:
25% off regular-priced women's dresses

20% off fine jewelry

20% off one regular-priced intimates item

25% off one regular-priced purchase of $500 or more in the men's department

10% off of luggage (starting two months prior to the occasion date).
These offers expire 12 months after you create your registry. To scan and add items directly to your wish list, download the Big Brown Bag app on your mobile device.
Inside Tip
Bloomingdale's partners with other companies to hold exclusive in-store events throughout the year. These partnerships can sometimes offer exclusive promotions, such as deals on honeymoons through The Travel Siblings, Bloomingdale's official travel concierge for its registries.
Get each week's best deals from Dealspotr in your inbox
This guide was published on October 26, 2016
, and last modified on October 26, 2016
.