At first glance, couponing is pretty straightforward, but you quickly see how complicated it can get the more involved you become.
Couponing has its own language and the vocabulary doesn't always make much sense.
Below is a coupon dictionary designed to help you easily understand what you see and hear as you enter the world of coupons.
Overall Couponing
BOGO: This one is pretty simple. It means buy one, get one free (or sometimes discounted). It's most common with food items and other types of products where it makes sense to buy duplicates of something.

B1G1: This basically means the same thing as BOGO.

B2G1: Very similar to BOGO or B1G1, this means buy two items, get one free.

Clip: The word used for physically cutting coupons. It also sometimes refers to grabbing a promo code online.

Closeouts: When a store decides to stop selling a particular item and heavily discounts it to unload excesss stock.

CRT: An abbreviation for Cash Register Tape (or in common vernacular, the receipt).

ECB: This refers to "Extra Care Bucks", which is the term CVS uses for store credit. CVS often runs promotions promising store credit (ECB) with the purchase of certain products.

Exp.: Short-hand for the word expiration, which refers to the date a coupon loses its validity.

Extreme Couponing/Extreme Couponer: This phrase was popularized by the cable channel TLC, which aired a show called "Extreme Couponing" that chronicled the adventures of the most hardcore couponers. It has come to mean anyone who identifies with the couponing lifestyle, although it usually refers to in-store couponers, rather than online ones.

Glitch: When a coupon is either supposed to be expired or only valid in limited quantities is accepted due to a mistake on the store's part.

Haul: This word represents the number of items purchased using coupons during a shopping outing. Couponers regularly post their "hauls" online using photos that show entire carts full of items, often of the same kind.

ISO/IDSO: An abbreviation for the term "in search of" (or "in desperate search of"). This refers to couponers who are seeking coupons that they don't already have in their possession.

Match-Ups: Blog posts or documents that link coupons with store sales to provide the best price.

MFG or MQ: The old-school manufacturer coupons. These are the ones that come in the weekly newspaper that can be clipped and redeemed for a discount at the supermarket or elsewhere. These manufacturer coupons can also sometimes be found online and printed at home for use in-store.

Money Maker (or MM): Some stores will give customers money if their total coupons and discounts exceed the total purchase cost.

Newbie: Anyone who is new to the couponing game is called a newbie.

Overage: When coupon savings exceed the product's price and a store allows that excess to either be paid out in cash or applied to the overall purchase.

OYNO: This refers to the phrase "on your next order", meaning that a coupon or credit won't take effect until the next time you return to the store and make a purchase. Some stores allow you (or a friend) to get right back in line and use the coupon right away, but others require a certain period of time to pass before you can use the coupon.

Q: This is shorthand for the word coupon.

Raincheck: This occurs when a store runs out of stock, but gives you a "raincheck" form guaranteeing that you will get the item for the same price currently offered when it does come back in stock.

Rebate: A paper form that can be traditionally mailed in (although some companies now have online forms) in which the manufacturer or company will send back money to the buyer after the fact. An example of this would be a $200 vacuum cleaner that comes with a $50 rebate. You would pay $200 at the register, and be given back $50 once you submit the rebate.

RR: The same essential meaning as above, but it's the store credit program from Walgreens, which refers to the credit as Register Rewards instead of Extra Care Bucks.

Stack/Stacking: The practice of combining manufacturer coupons with rebates and sales and mobile app discounts and internet coupons to get the biggest possible bargain.

Stockpile: This word refers to when extreme couponers purchase large quantities of items and then hold all of the extras in storage. That is considered the stockpile.

UFT: This stans for "up for trade". Basically what it means is that a couponer is willing to exchange a coupon for a different coupon with another couponer.

WSL: Pretty self-explanatory, this means "while supplies last" and indicates that no rain checks will be given and the offer expires once the supplies are exhausted.

WYB: The abbreviation for the term "when you buy". This applies to coupons with strings attached, that only become valid when the requirements are met. For example, the coupon might be 50 cents off a third box of cereal, when you buy the first two boxes.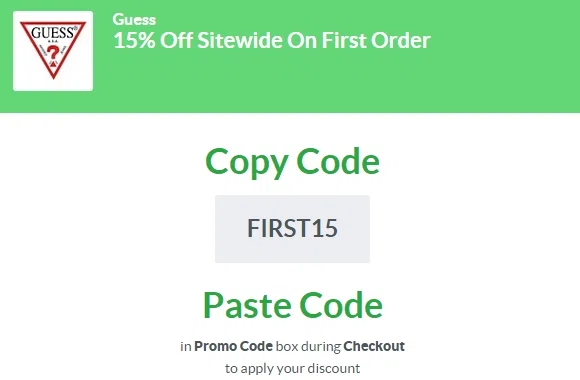 Online Couponing
Promo Code: The online version of a printed coupon. This is a code that you enter into an ecommerce site in order to receive the stated discount.

Coupon Code: This means the same thing as Promo Code.

Daily Deal Voucher: Groupon popularized this style of coupon. You purchase a voucher for a set amount (say $25) that you can use to get a set amount of good or services (say $50) from a vendor. This was very unique in the couponing world when it launched, because it required an upfront purchase for a future redemption.

Exclusive: Online coupons or promo codes that you can only find on one site.

IP: This stands for internet printable coupon.

QR Code: Shorthand for "quick response code" this is a little barcode-type box that appears on printed materials from which you can use your smartphone to scan and download a coupon or other related discount.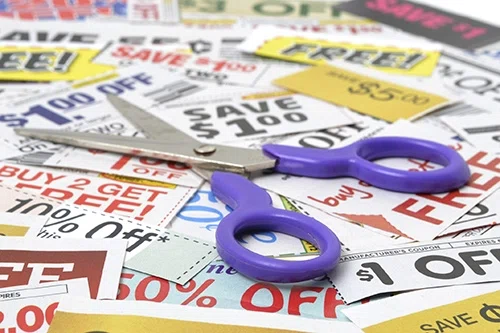 Print Coupons
Blinkie: Somewhat similar to a tearpad, but a little more high-tech, these are coupons for particular products that are dispensed from a box-like machine on the shelf near the product.

Catalina (or Cat): The coupons that are given to you in addition to your receipt when checking out at a physical store. CVS is a leading provider of catalinas.

Circular: The term used to describe the weekly print ads that grocery stores and retail stores produce each week.

Envie: Short-hand for the word envelope. Many couponers keep the coupons they plan to use in envelopes.

Hang Tags: Coupons that are hung from a product. You will often find these on two-liter soda bottles and other types of items that lend themselves to hanging coupons.

Inserts: This term refers to the sales flyers that come inside of the newspaper or in the mail. Sometimes they can also refer to the manufacturer coupons that come inside the newspaper (Smart Source and Red Plum are usually the providers of those).

Peelie: Coupons that are essentially stickers placed on products. An example of this is when a $1 off sticker is put on a bag of chips.

PG: Proctor and Gamble (this company makes couponing booklets for its many products).

POP: The abbreviation for "proof of purchase", which is typically a small barcode found on the product. Sometimes these can be mailed in for prizes, coupons or discounts.

RP: Red Plum (a couponing booklet provider).

SS: Smart Source (another couponing booklet provider).

Tearpad: Coupon booklets for a particular product that are attached to the shelf carrying that product in the store.

YMMV: Technically this means "your mileage may very", but it's basically a warning that a coupon that worked for one couponer in one store, may not work at another store. Many coupons are regional and therefore only work in certain areas, and store owners, sometimes of the same chain, can have different policies regarding coupons.
Get each week's best deals from Dealspotr in your inbox
This guide was published on May 14, 2015
, and last modified on May 14, 2015
.