Cuddle Fairy Founder Becky Explains How Blogging Changed Her Life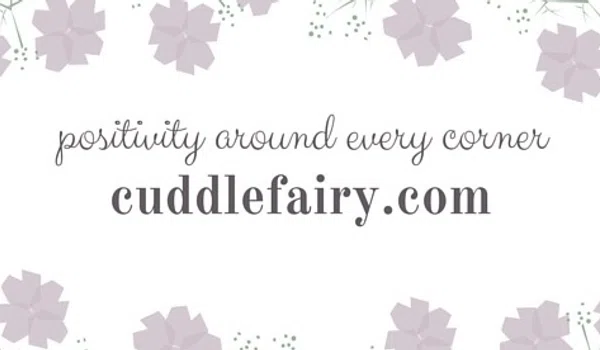 There are plenty of parent bloggers online, but not too many offer the kind of inspirational content provided by Cuddle Fairy. The blog's founder Becky is dedicated to writing about parenting and lifestyle topics in a way that always leaves a positive impression. It doesn't matter whether you are seeking family travel advice, delicious recipe ideas or guidance on how to deal with a sick child; Cuddle Fairy has you covered.
We were blessed to have a few minutes with Becky recently as she took part in the following Q&A.
Q: What are your favorite topics to blog about??
A: My favorite topics to blog about are positive parenting, travel with kids, recipes, quotes, fashion & reviews. Cuddle Fairy's motto is: positivity around every corner & that's what my blog is all about!
Q: How long have you had your blog?
A: I started Cuddle Fairy five months ago.
Q: What's the most interesting reader interaction you've ever had?
A: I had a reader leave a very personal comment on one of my posts. I was humbled by her comment & also proud that my words had meant something to someone.
Q: What prompted you to get started with blogging?
A: I was late to join social media. Last year I opened a Facebook account & then a Twitter account. I really enjoy engaging with people from all over the world on Twitter. I was sharing positive quotes & that's what made me think of starting a blog. Then, Cuddle Fairy was born!
Q: What do you like most about blogging?
A: I love interacting with people all over the world. I have made some amazing friends through blogging & get to communicate with other bloggers, brands & new people everyday.
Q: What advice would you give to an aspiring blogger?
A: Don't be shy about putting yourself out there into the blogging community. Follow bloggers on Twitter, join linky parties & blogging groups. Other bloggers have been so helpful & I'm always happy to pass advice onto others. So if you need any help, just ask someone. It's an amazing community.
Q: Which post have you had the most fun writing?
A: My Updated Wardrobe. I fell into the habit of wearing hoodies & tracksuit trousers around the house. I have been wanting to go shopping for new clothes but kept waiting to lose weight or for this or that to happen. I ended up stumbling onto some amazing sales a couple weeks ago & started trying on clothes. Everything fit - it was a miracle. I bought new tops & cardigans to go with leggings. I'm still comfortable during the day but look & feel much better. I was really thrilled with the response my post received & happy to know I wasn't the only mom who got stuck in a fashion rut.
Q: What is the biggest challenge to being a blogger?
A: Balancing blogging & family life. I could easily sit & blog all day. When I say blog I mean write, comment on other blogs, reply to comments on my blog & hop between my social media platforms. Or, I could easily spend the whole day with the family. I mostly blog when the kids are at school or asleep. I keep the weekends for playing with the kids. I'm working on making a blogging schedule now.
Q: Who are some of your blogging inspirations?
A: >> Aby at You Baby Me Mummy
>> Vicki at Honest Mum
>> Fi at Dolly Dowsie
To name a few, I have so many amazing bloggers that inspire me!
Q: Final Thoughts
A: I'm a wife & stay at home mom to 3 kiddies. Starting my blog has changed my life! I had little to no adult interaction day to day before blogging. Now, I have a voice outside of being mom, a creative outlet, interactions with new people everyday, made new friends & I look forward to the new opportunities that come each day.
Get each week's best deals from Dealspotr in your inbox
This guide was published on September 17, 2015
, and last modified on September 17, 2015
.