Travel, Dining, & Retail Store Discounts for Boy Scouts and Girl Scouts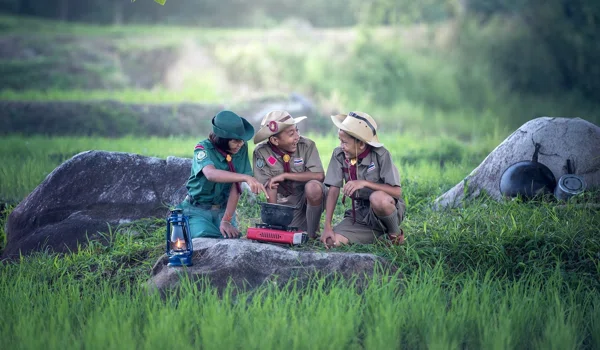 Got a Scout in the family? Then you're in luck! Not only are you connected to a bright and capable young adventurer, but you may qualify for hundreds of discounts, too. We've gone in for the best deals available for the Scouts among us and brought them to you in this handy guide. Take a look!
A few tips before we get started:
Check with your local activity centers, museums, aquariums, planetariums, sporting goods shops and other businesses to see if they offer discounts for Scouts, as many of them do but it may not be advertised on a national level.
Check expiration dates on offers, even if we share it here — some of them do expire, but they often offer new deals after that.
With the Boy Scouts' name change to Scouts BSA and their troops beginning to allow girls scheduled for February 2019, some products, giveaways, and opportunities listed may soon be open to all. Check with your local organizations for details.
Please note: Unless specified, reference to 'Scouts' in each entry covers both Boy and Girl Scouts and possibly more, i.e. Cub or Eagle Scouts, etc.
So, without further ado, here's our complete guide to (almost) every available discount for boy scouts and girl scouts.
Discounts on campgrounds for boy and girl scouts
KOA - Kampgrounds of America
KOA has a range of discounted programs and activities for Scouts on assorted KOA accommodations throughout North America's largest network of campgrounds.
Camp Emerald Bay
Up to 50% of camping fees may be available for Boy Scouts in need of financial assistance at Catalina Island's Camp Emerald Bay to be used toward their many diverse programs.
Historic SAM Shortline Railroad Adventures
Scouts get special pricing deals at Georgia's SAM Shortline Railroad for train rides and overnight primitive camping provisions. Minimum 10 Scouts per group pre-booked reservations.
Sporting goods store discounts for girl and boy scouts
You may qualify for discounts on gear and other Scout supplies when you flash your membership card at:
Discounts on dining for boy and girl scouts
Travel discounts for girl and boy scouts
Orlando Vacation
Orlando Vacation has theme park and other travel ticket discounts for both Boy and Girl Scout groups heading to the Sunshine State
Philmont Scout Ranch
Amtrak's Southwest Chief route takes thousands of Boy Scouts to Philmont Scout Ranch every summer, and a recent grant from the Department of Transportation ensures it will continue to do so for the foreseeable future.
Blue Sky Adventures bus company and lots of other travel companies occasionally offer deals and options to Boy Scouts heading to Philmont as well. Philmont also sells gently used gear at a reduced rate and offers surplus trail meals beginning in September of each year for anyone who needs them once on-site.
Discounts on amusement parks and waterparks for scouts
Discounts on ski hills for boy and girl scouts
Shawnee Mountain Ski Area
Boy, Girl, and Cub Scouts get discounted rates on the snowy fun at Ski Shawnee, the best ski area in the Poconos.
Jack Frost Big Boulder
JFBB of Blakeslee, PA also offers Scouts and other groups deals on lift tickets (pay for 15, get the 16th free), plus plenty of other discounts.
Paoli Peaks
Paoli Peaks ski resort offers a ton of Scout discounts, like Scout Sundays, Merit Badge Weekends, Jamboree Weekends and more deals and discounts on group pricing for both Boy and Girl Scouts, including orientation, lift tickets, ski/board rentals, a beginner's group lesson and more.
Ski Butternut
Dreaming of next winter already? Pre-register your Scout troop to save up to $25 on lift tickets, $13 on ski/snowboard packages, and $20 on group lessons at Massachusetts' Ski Butternut.
Discounts on museums, science and discovery centers, and planetariums for scouts
Legoland
Legoland has Scout Days throughout May and October with savings and other Scout activities and Scout group bookings for special rates.
Madame Tussauds
Three group packages are offered at a discount for Boy and Girl Scouts at Madame Tussauds locations, and include a Limited Edition Commemorative Edition Patch.
California Science Center
A variety of reduced price Scout Day adventures and badge-earning opportunities are offered at Los Angeles' California Science Center
The National World War II Museum
Scouts can learn what is was like to be a kid on the Home Front during wartime at New Orleans' National World War II Museum on special discount Scout Days.
National Constitution Center
Historic Philadelphia's Constitution Center has Scout Days and other discounted Scout-related activities throughout the year.
Children's Museum of Houston
Check with the Children's Museum of Houston for Girl Scout and Cub Scout Sleepover Deals and other activities.
The Jamestown Settlement & American Revolution Museum
Both Boy Scout and Girl Scout Programs with special group rates are offered at this educational Williamsburg locale, as well as guided private tours and patch-earning opportunities.
Adler Planetarium
Chicago's Adler Planetarium honors Scouts with badge-earning opportunities and special group rates for pre-booked tickets.
Discounts on aquariums and aquatic centers for scouts
Sea World San Diego
Boy Scouts and Girl Scouts can enjoy Scout Sleepovers at San Diego's Sea World, including a day of shows, rides, and animal attractions for reduced rates on groups of at least 25 - as well as a Sea World Sleepover t-shirt, pasta dinner, breakfast, and a Sea World patch. Not in San Diego? See what's offered at Sea Worlds (and other affiliated parks) in your neck of the woods.
National Aquarium
Baltimore's National Aquarium hosts Scout Days, guided tours, overnights, and has special rates on groups of 15 or more.
Tennessee Aquarium
Chattanooga Scouts get ½ price admission on Scout Days at both the Tennessee Aquarium and IMAX 3D Theater when wearing their uniform or sash. See details.
Ripley's Aquarium of the Smokies
Several Scout discounts and programs are offered at Ripley's Aquarium in Gatlinburg, including Sleep with the Sharks Scout Night - where Scouts get 30% off regular overnight pricing.
Newport Aquarium
Newport Aquarium of Newport, Kentucky hosts Scouts Honor Weekends (with supplementary experiences like up-close penguin encounters) and new Girl Scout Badge programs.
Miscellaneous discounts for boy and girl scouts
Harlem Globetrotters
Boy, Girl, and Cub Scouts and their families get specially priced tickets to see the Harlem Globetrotters, including a commemorative patch and even possibly a chance to present the Color Guard or meet the Globetrotters! Email groupsales@Harlemglobetrotters.com or call 1-800-641-HOOP for details.
JOANN Fabrics
JOANN offers 15% off Girl Scouts' purchases and other great deals with a registered Girl Scouts Rewards Card - check site for details.
Disney on Ice 'Dare to Dream'
Scouts get discount tickets for Disney on Ice 'Dare to Dream' using Special Offer Code SCOUT on Ticketmaster - check details here.
Savings guides, sites, and ways to save for boy and girl scouts
BSA Savers Guide
BSA welcomes Camp Card users to their online savers guide. Create an account here to use your Camp Card and browse thousands of coupons and discounts nationwide.
BSA Buildings & Facilities Guide
This page offers miscellaneous ways for Boy Scouts to save on supplies at Lowe's, Conestoga Log Cabins, Sherwin Williams, and Grainger, while this page offers similar deals from Barnes and Noble, Rand McNally, Davis Tents, and more.
Scouting Alumni and Friends/Abenity
Sign up with SAA to browse for savings on everything for Scouting alumni from movie and concert tickets to insurance and flower delivery.
Contests and Giveaways
Boys' Life has several contests and giveaways going on for Boy Scouts, so scan through here to see what you can win.
Free Ideas
Need ideas for your Scout troop? Check this Pinterest collection out. There's everything from cool t-shirts to free printables, painting badge activities, and games.
InsaneScouter
The InsaneScouter site has another whole chart full of Scout discounts (as mentioned, check expiration dates on these), and they also send a newsletter twice monthly with updates on all sorts of Scout information when you subscribe.
Scholarships
Plenty of colleges, universities, religious, military, and other organizations offer scholarships for Scout affiliation. Check the list here for details.
Scout Opportunities
Additional scholarship programs based on specific merit requirements, work possibilities at a European Scout center, and other unique opportunities can be explored here.
Buddy up and hand it down
If you're travelling to a new area, contact local Scout troops to see if they can join you for some adventures. This lowers any potential expenses (larger groups = lower rates per Scout on a variety of activities) and can lead to great fun when experienced locals show newbies the ropes and point out the best parts of their hometown and campgrounds.
Hand down used uniforms and other Scout necessities
Outgrown a uniform? Donate your old uniform to a younger Scout to save them money. Your patches can be stripped and returned to you for framing, and the younger Scout gets a uniform at reduced cost. Do the same with old merit badge pamphlets, brochures, maps, and leader guides - and check the Scout Shop for swappable materials or eBooks.
ABLFD
Always be looking for deals! This list cannot possibly be exhaustive with the range of options available throughout the nation, and the willingness of locals to cut deals on the spot for Scouts when asked (especially on the aquariums - there are so so many Scout discounts/programs offered at many more aquariums)!
Headed out for dinner with the troops? Call ahead and find out if managers can give a Scout discount on groups of 10 or more. Planning an adventure at the local city science museum? Find out about Scout Days or Overnights/Sleepovers before you buy tickets.
Lots of places love Scouts as much as we do — so keep your eyes peeled for deals, and Happy Scouting!
Get each week's best deals from Dealspotr in your inbox
This guide was published on May 23, 2018
, and last modified on May 23, 2018
.
Stores related to this article:
Sierra
,
GearTrade.com
,
JM Cremp's Adventure Store for Boys
,
Legoland Theme Park
,
Bass Pro Shops
,
REI
,
Cabelas
,
Coleman
,
Campmor
,
Steep and Cheap
,
Gander Outdoors
,
The Clymb
,
Eastern Mountain Sports
,
Moosejaw
,
Outdoor Gear Exchange
,
Dick's Sporting Goods
,
L.L.Bean
,
Academy Sports + Outdoors