100+ Resources, Tips, and Discounts on Mobility and Accessibility Products for Seniors and the Disabled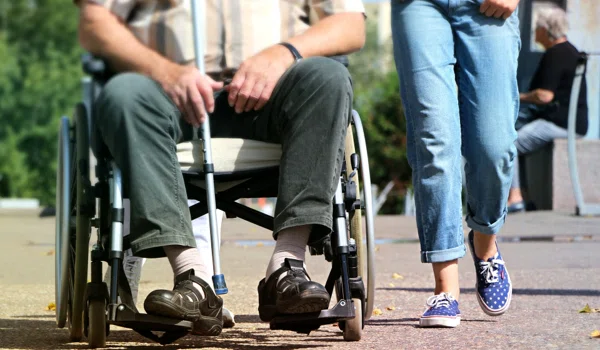 If there's one thing certain in life, it's that each one of us is temporarily able-bodied. One way or another, someday, we will face losing our mobility, at least partially. So it's never a bad idea to consider the ways to obtain mobility products and assistance, even if we don't need it just yet. Additionally, many of us are or will become caregivers for mobility-challenged individuals and need information on how best to serve them.
We've taken a look at the different types of equipment and resources out there for anyone in need or interested. While not all sites are discount sites (most will attempt to work with your insurance company or Medicare to find you the best prices possible, where applicable), you can always catch sales if you check back from time to time.
Here's what you'll get in this guide:
100+ resources for mobility/accessibility devices and mobility-related products

Organizations and services that help those with limited mobility

Tips for finding and securing financial aid and discounts on mobility and accessibility devices and products
To start, here's a list of popular mobility and accessibility equipment, and the category it falls in:
Types of mobility and accessibility equipment
Many mobility and accessibility devices fall into three main categories. They are:
Mobility aids
Walker
Wheelchair
Scooter
Cane
Crutches
Lift chair
Mobility home modification products
Mobility and accessibility Apps & Technology
Apps and hands free mobile technology
Speech generation products and tech
Vision assistance
Hearing assistance
Now, let's dive into how you can apply for funding for accessibility equipment in the US.
Financial aid for mobility & accessibility equipment in the US
While outfitting yourself and your home for accessibility may seem like a daunting and expensive task, there are many government and non-government organizations that may assist with the cost of some of the above items, depending on what type of item they are.
IRS tax breaks
If you use a mobility device and itemize your deductions when you file, you might be able to deduct medical expenses for the previous year. This covers all sorts of medical and dental procedures and products, including hearing aids, wheelchairs, crutches, and things of that nature.
You might also be able to deduct transportation costs to and from doctor's appointments and visits - check the IRS site for more info.
Medicare
While all medicare plans differ, Medicare Part B usually covers durable medical equipment (DME), which mobility devices fall under. Only durable, medical items that your doctor prescribes for use in your home qualify as DME.
Some of these items include:
Canes
Commode chairs
Crutches
Hospital beds
Manual wheelchairs and power mobility devices
Patient lifts
Traction equipment
Walkers
Anyone with Part B medical insurance is covered, and you'll most likely only end up paying 20% of the total cost. Other options can include renting the equipment, which might be a good idea for someone with temporary mobility issues, like a recent hip replacement patient.
You can search here to find mobility product suppliers that offer Medicare rates & discounts.
Financial assistance for veterans
There are a few ways that Veterans can receive aid for mobility products.
Veteran-Directed Care
The U.S. Dept. of Veteran Affairs offers a Veteran-Directed Care program that allows senior or disabled veterans to consult with their caregiver and receive assistance with buying items and services that will help them live independently in the community.
TriCare
TriCare offers health care coverage to veterans and active duty military members, as well as their families. They offer financial aid to supplement Medicare costs for veterans. As a part of their coverage, TriCare offers three grants that are awarded to help with the cost of updating your home to be more accessible:
Special Home Adaptation Grant: Offered to veterans who are blind or unable to use both of their hands, goes towards renovating their home so they're able to live on their own without the assistance of others.
Specially Adapted Housing Grant: Offers financial help for home renovations to veterans who were disabled from their service, or have something causing one of their legs to not function properly.
Temporary Residence Adaptations Grant: Financial support offered to veterans who qualify for a SHA or SAH, and who are temporarily living with a family member. The grant allows for updates to be made to this residence.
CHAMPVA
The U.S. Dept. of Veteran Affairs offers the health care service CHAMPVA to spouses or children of severely injured or deceased veterans. CHAMPVA offers payment assistance for some DMEs, but you'll have to check to see what might be covered for your individual plan.
Medicaid
Medicaid coverage varies by State, but they offer both assistance and waivers for individuals experiencing mobility and accessibility impairment. You can check on your state's policies on the Medicaid website.
Next we'll dive into some companies - offering both physical products and innovative technology - that can assist you with mobility and accessibility. If the company offers any type of discount at all, we've listed it here.
Mobility and accessibility apps & technology
As inevitable as it is to grow older, technology is inevitably becoming more and more a part of our everyday lives. And luckily for those facing mobility challenges, they are changing the way we move about the world as well.
Apps and hands-free mobility technology
Here are some apps that work to improve mobility and increase your overall quality of life:
Speech generation products and technology
Hearing assistance technology
Assistech makes products to enhance or improve hearing, vision, dexterity, mobility, and more

Starkey makes hearing amplifiers, aids, and other tools and accessories for hearing assistance. Check out their U.S. veteran assistance options and 30-day free trial on latest styles.
Vision assistance technology
Physical mobility aids and accessibility devices
These these retailers offer physical products you can add to your daily life to make things more accessible for you.
Beds, desks, and accessories
Canes, crutches, and walkers
Scooters and wheelchairs (wheeled mobility)
Seating
Miscellaneous
Mobility home modification products
These products are tacked on to your existing home or place of living to make it more accessible for you.
Stair lifts and elevators
Lifting and transfers
Other mobility resources, organizations, and services
The Assistance Fund is an independent charitable patient assistance foundation that helps patients and families facing high medical out-of-pocket costs by providing financial assistance for their copayments, coinsurance, deductibles and other health-related expenses.

Caregiving Cafe has a huge collection of links and resources for caregivers in need of support/assistance.

Caring.com provides links to support for caregivers of seniors eligible for Medicaid. See also Financial Planning for Family Caregivers.

Center for Accessible Technology offers computer access to people with disabilities by developing a lending library of iPads and iPod touches for those with speech and other disabilities.

Codi offers a wealth of sites and links for assistive technology, mobility equipment and accessories, such as reachers and grabbers from Allegro.

Connecting to Care offers assistive virtual technology which allows users to connect with physicians and caregivers via advanced camera and video technology.

Good Days provides assistance to those with cancer, chronic diseases, or other life-changing conditions who cannot afford their treatments or medications. See also PAN Foundation, Leukemia and Lymphoma Society, and Cancer Care.

Graying with Grace offers tips, resources, and equipment for seniors facing mobility issues for the first time.

The Eldercare Locator and the Eldercare Financial Assistance Locator can find help and resources for your beloved elder within your community.

Healthwell Foundation helps those who are insured but cannot afford their co-pays, treatments, etc., due to low income.

Silver Cross helps those in need find help purchasing their mobility equipment.

Give Forward allows users to create crowdfunding campaigns to raise money for treatments (similar to GoFundMe).

HomeCity offers information and links to resources for guidance on modifying your home or selling it when mobility equipment becomes necessary.

Illinois Assistive Technology Program offers help with the costs of tuition and assistive learning devices, and more.

Internet Drug Coupons offers discounts on over 50,000 different types of medications nationwide. See also FamilyWize, LifeSource Direct, Live Healthy, Rx Relief, Prescription Discount Card, and Your Rx Card.

Mobility Advisor offers guidance on various types of mobility equipment.

New Mobility is an online magazine featuring articles on all the latest topics for wheelchair users.

Needymeds lists numerous programs to help with costs of mobility devices as well as companies which work toward discounts through Medicare, private insurance and state agencies. Search by diagnosis, state name, program name, or others.

Patient Advocate Foundation assists with finding funding resources to help remove obstacles to health care.

Rx Outreach helps those in need get their medications if they are eligible. See also Partnership for Prescription Assistance,Together Rx Access, Co-Pay Relief, and Medicare Pharmaceutical Assistance.

State Assistance may be available for mobility products, medical equipment, and assistive technology in your state. Additionally, State Protection and Advocacy Systems may help you fight insurance companies when your equipment has been denied. Check the site to find out!

U.S. Department of Veterans Affairs helps veterans and their caregivers find support when in need of health care provisions. See also National Resource Directory and Army Homefront Fund to find educational, employment, housing, transportation, homelessness supports, and other benefits for those who have served in the military.
It can be hard to see the light when attempting to live a normal life as someone with limited mobility. Hopefully, these money saving tips and resources can help you adjust as best you can.
Get each week's best deals from Dealspotr in your inbox
This guide was published on March 27, 2018
, and last modified on March 27, 2018
.