60+ Discounts on Women's Vitamins & Supplements: PMS, Prenatal, Prescription, and Menopause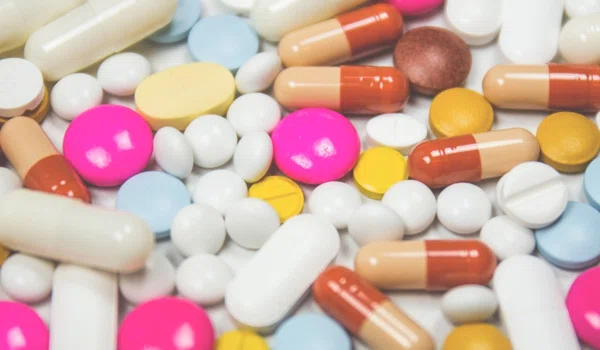 The world of vitamins is a confusing alphabet soup of pills, products, and potions that can be hard to wade through. Our bodies are complex and delicate systems that need certain vitamins and minerals in order to function at their best, and the vitamin and supplement industry is there to fill that need.
In fact, according to a 2016 survey, over 170 million people in the US take a multivitamin regularly, making up more than half of the population.
For women and folks with uteruses, vitamins can be an especially crucial way to maintain balance and keep yourself feeling great. Indeed, your body has some specific needs that you might not be able to take care of a with a generic multivitamin.
That's why we've put together this list of ways that you can save and find discounts on vitamins that will specifically help you to feel your best, even when you're on your period, pregnant, or going through menopause.
Here's what you'll get in this guide:
Discounts on over-the-counter vitamins, including supplements for women

Advice on accessing and saving money on prescription vitamins

Tons of coupons, sales, and savings on vitamins specifically made to help folks who are pregnant, people having their period, and those going through menopause
Discounts on over-the-counter vitamins
There are tons of stores out there that specialize in vitamins, as well as drug-store chains that offer vitamins as well. You'll be sure to find a selection of women's vitamins for all of your needs at any of these stores, and all of the other vitamins you need to be healthy and well. Check out these discounts and savings on vitamins:
Discounts on prescription vitamins
While most vitamins are typically offered over the counter (OTC), there are some that can be prescribed by your doctor. Here are some tips for getting free or low-cost prescription vitamins:
Generics. Whether you're covered by insurance or not, generic vitamins are always going to be a lower cost option for you than getting brand name vitamins. Make sure you ask your doctor to write your prescription for a generic brand when they're prescribing you vitamins.
GoodRx. This app and website allows you to compare prices for your prescription vitamins at all of the pharmacies in your area. They also have free coupons you can print out to save even more money.
WellRx. Get the app or download their free discount prescription card to save on women's vitamins and more.
Walmart. They have a low-cost generic drug program where you can get a month's worth of certain prescriptions for $4 or a 90-day supply for $10. The standard vitamins they offer are Folic Acid, Mag 64, and Magnesium Oxide. Find your local Walmart here, and check here for Walmart discounts.
Rite Aid. Sign up for their free Rx Savings program and get certain drugs for $9.99 per month or $15.99 for a 90-day supply. They offer a number of different vitamins including a few multivitamin options. Find your local Rite Aid here, and check here for Rite Aid coupon codes.
Walgreens. Join their free Prescription Savings Club and get generic medications for as low as $5 per month or $10 for a 90-day supply. They offer a wide variety of different vitamins, although they vary in price depending on which of the three tiers the vitamins fall under. Check here for Walgreens promo codes, and find your local Walgreens here.
Discounts on menstruation and PMS vitamins
Your monthly cycle can cause a lot of pain, discomfort, and emotional trouble. Thankfully, these companies have come up with vitamin blends that can specifically help to quell the symptoms of menstruation and of PMS. Check out these discounts:
Period Vitamin. Save on their special period vitamin blend when you buy in bulk, a value of up to $83.75 and you'll also get their free e-books with information on dealing with your period. Plus, if you don't experience relief from their product, it's on the house.
Serenol. A natural supplement to help alleviate PMS symptoms. Get $5 off the first month of your monthly membership with the code: ACTTODAY.
Discounts on prenatal vitamins
For women who are pregnant, there are specific vitamins you need to increase your intake of in order to help prevent certain birth defects. Folic acid and Vitamin D are the most important supplements to add to your diet, and iron, calcium, zinc, and iodine are also good vitamins to consider.
Save money by finding a good prenatal multivitamin that contains all of the vitamins you need so you don't have to purchase them individually. These are a few ideas for getting free or low-cost prenatal vitamins when you're expecting:
Medicaid. The coverage offered by Medicaid programs varies depending on what state you're in. However, according to a survey from the Kaiser Family Foundation, all states reported that they cover prenatal vitamins and ultrasounds for women who are pregnant. Check your state's Medicaid benefits as some may impose a quantity limit on how many vitamins you can get per month or may only cover those vitamins if they're generic.
Local Health Departments. Some, though not all, local health departments offer free or low-cost prenatal vitamins to pregnant women in their area. Call 1-800-311-BABY to connect to your local health department or 1-800-504-7081 if you speak Spanish.
Doctor Samples. Doctors often receive free samples of certain prescription medications. Ask your doctor if they have any free samples of prenatal vitamins that they can offer you to try or to supplement your current vitamins.
Prenate. Prenate is a specialized prescription prenatal vitamin. With their eVoucherRx program, you'll pay no more than a $20 copay and they'll cover the rest of the cost (up to $60). If your pharmacy doesn't except their eVoucher, they also have codes that will automatically make your copay $20.
DuetDHA. Another prescription prenatal vitamin. Print out their Patient Savings Card to save up to $50 per prescription for up to 12 refills.
Citranatal. Offers an entire line of prenatal vitamins so you can tailor them to your specific needs. Print out their Co-Pay Savings Card and pay as little as $20 for a month's supply.
Vitafol. They have a wide variety of prenatal vitamins and minerals. Print or download their savings card and pay no more than $18 per month for your prescription.
VitaMed MD. Offers a wide selection of prenatal vitamins. Pay $25 or less for your prescription if you order through them online or download their savings card to use at your local pharmacy.
TriCare Prenatal DHA One. Click here to receive a free sample of this over-the-counter prenatal vitamin.
PrimaCare. A prescription prenatal pill that contains 16 vitamins and minerals as well as Vitamin B6 to aid with morning sickness. Use their eVoucherRx voucher or their discount code to pay $20 or less for your prescription.
The Synergy Company. Check out their PureNatal vitamin formula and save 10% when you subscribe for auto-shipping. Check here for Synergy Company promo codes.
One A Day. Offers a line of prenatal and pre-pregnancy vitamins over the counter. Print this coupon to save $2 on any prenatal product, or check here for promo codes.
Meijer. They offer free prenatal vitamins with your prescriptions including NatalCare Plus, Ultra Natal Care, Natalcare Glosstab, NataTab Rx, and Advanced NatalCare. You can get your prescription refilled for free every 30 days. Meijer is only located in the Midwest. You can find your local pharmacy here.
Walmart. Under their low-cost generic drugs program, Walmart offers select generics including folic acid and a special Prenatal Plus vitamin for just $4 per month or $10 for a 90-day supply. Find your local Walmart here.
Walgreens. Their Prescription Savings Club program includes several options for prenatal vitamins. They have Folic Acid under the first tier ($5 per month or $10 for a 90-day supply) and a prenatal vitamin in their second tier ($10 per month or $20 for a 90-day supply). Find your local Walgreen's here.
CVS. Offers a range of prenatal vitamins. Buy online to save, or join the ExtraCare program to get cash back on your purchases and exclusive discounts. Plus, you can find other CVS promo codes here.
Groupon. Search "prenatal vitamins" on Groupon to get deals on over-the-counter prenatal vitamins.
Discounts on menopause and perimenopause vitamins
Perimenopause, the phase leading up to menopause, and menopause typically occur around your 40's and 50's and involve the cessation of your menstrual period along with a number of other symptoms including hot flashes, night sweats, chills, irregular sleep, weight gain, mood changes, and more.
Most doctors recommend vitamins A, D, and E as supplements to help you ease your symptoms and stay healthy. As with prenatal vitamins, it's a good idea to purchase a multivitamin that contains all of these vitamins in order to save some money. Here's some other ways to save on vitamins if you're dealing with menopause:
Free vitamin consultations
There are a few websites out there that can offer you a consultation with a professional to help you figure out your vitamin needs free of charge. Check these websites for your free consultation:
Whether you take them at morning or at night, vitamins are crucial to keeping your body in top shape. Use these helpful tips to maintain a healthy body and a healthy wallet at the same time. And, as always, be sure to keep up with the Dealspotr blog for more useful resources and information on saving money and check out the Dealspotr homepage for thousands of discounts each day.
Get each week's best deals from Dealspotr in your inbox
This guide was published on April 12, 2018
, and last modified on April 12, 2018
.
Stores related to this article:
The Honest Company
,
Vitacost
,
Persona
,
CVS
,
Rainbow Light
,
Pure Formulas
,
Walgreens
,
LuckyVitamin
,
The Synergy Company
,
Walmart
,
GNC
,
Invite Health
,
Rite Aid
,
Meijer
,
Source Naturals
,
Dr. Sinatra
,
One-A-Day
,
Hum Nutrition
,
Groupon
,
New Chapter
,
Prenatal Vitamins
,
Care/of
,
Vitamin Shoppe
,
Thrive Market
,
Swanson Vitamins
,
WellPath