70+ Discounts and Resources on Travel, Technology, and More for Digital Nomads & Remote Workers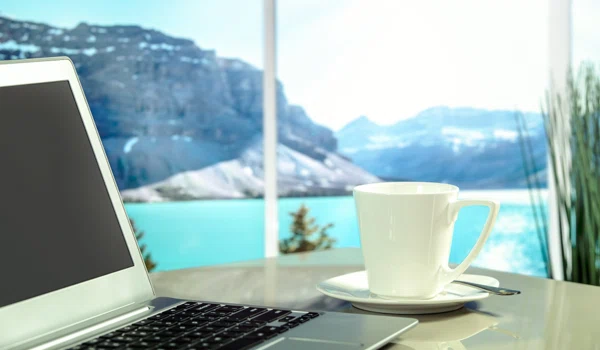 Recent trends in the workforce are slowly making the office and other centralized workspaces a thing of the past. The onset of new technologies and the increased flexibility of the workplace have meant that more and more Americans have begun working remotely.
In fact, according to a 2016 poll of nearly 200,000 workers from Gallup's State of the American Workforce report, around 43 percent of respondents spend at least some of their time working remotely. Around 31 percent of employees who worked remotely at least part of the time spent 80 to 100 percent of their workdays out of the office.
One of the coolest things about this trend is that once you're not tethered to a specific place, you have the opportunity to do your work from literally wherever you choose. And, an increasing number of people are choosing to do work while they travel the globe, encompassing what has now come to be known as the "digital nomad" lifestyle.
However, as amazing as working while travelling the globe can be, it can also come with some pretty big expenses. That's why we've put together this guide to help you save money, time, and effort while you take your work on the go.
Here's what you'll get in this guide:
6 Tips for digital nomads and remote workers
Try to get your travel covered by an employer
If you work for a company instead of freelancing or running your own business, see if you can get them to cover a remote work program. Even if they won't cover the expenses, you may be able to work out a deal where you are able to work remotely while traveling.
Plan everything in advance
Of course, if you're looking to go where the wind takes you this won't work. But, the further you plan in advance, the cheaper the travel and accommodations will be.
Ask the locals
People who live in a particular area are going to know the best places to find affordable food and fun. Check with your new neighbors to find the best deals.
Scope out the area for necessary work amenities
When you're planning where to stay, make sure that there's somewhere nearby with reliable WiFi access, a quiet place to work, and any other necessities you'll need to be able to work seamlessly.
Be aware of time differences
If you're traveling abroad, you're going to be operating on a different schedule than the folks back home. Make sure you've got a plan in place to account for time differences.
Pack light
If you're on the go, the last thing you want is to have too much stuff. Make a list of the essentials you can't make do without and leave everything else at home.
Exclusive discounts for remote workers and digital nomads
Nomad Gate
Nomad Gate members get exclusive deals on LeapIN, a service that helps you run an Estonian business as an e-resident, and a $25 discount on Taxes for Expats, a tax preparation service that's especially helpful for Americans living abroad.
The Remote Nomad
Access The Remote Nomad's exclusive discounts from companies like Herschel and Airbnb by signing up for their insider's list.
Programs for digital nomads and remote workers
These programs offer the complete package at one convenient price for digital nomads who want to travel the world, but need someone else to take care of the details:
Remote Year
Remote Year offers digital nomads the opportunity to take four or twelve month adventures around the world while working remotely. Participants make a down payment and pay a flat monthly fee which includes travel between destinations, accommodations and co-working space in each city, and immersive activities that show you what it's like to live like a local.
Past participants get special pricing on future trips. Sign up for their mailing list to get special offers, updates, and announcements.
WiFi Tribe
WiFi Tribe is another travel program for digital nomads that offers trips to a new location or "chapter" each four to six weeks. Members pay a one-time subscription fee and then pay a monthly rate for accommodations at each location.
If you choose to do more than one chapter per year, your monthly rate will decrease with members opting to do six or more adventures each year paying the lowest monthly rate.
Nomad House
Nomad House offers themed 30-day retreats at locations around the world. During your retreat, you'll co-live and co-work with 15-20 other people of varying ages and career paths.
The objective of the retreat is to help you build an idea for an online business and take the first steps towards making it a reality. Your fees include access to a co-working space, a SIM card, a bicycle, and free breakfast every weekday. Save money by sharing a room with another person.
WiFly Nomads
The WiFly Nomads program offers virtual training to help you learn about options for working remotely in order to help you find a job. As part of the program, you'll spend two weeks living and working remotely in Bali with perks including free breakfast, scooter rental, a SIM card, yoga classes, co-working space, a hotel or villa equipped with wifi and a pool, and more.
Money-saving travel resources for digital nomads
Whether you're just headed to one destination or looking to jetset around the globe, travel expenses can really add up. Check out these comparison sites and other deals to get the most affordable rates on travel:
Travel comparison sites
Eurail Travel Pass
Save money on travel by rail throughout Europe by purchasing a Eurail Travel Pass. Passes offer you unlimited access for a given number of days per month to up to five different countries. Travel with a group of two to five adults and save 15% for each additional adult you add to the trip, or find more promo codes here.
Happy Rail
Happy Rail offers discounted train tickets and rail pass packages in Europe, Asia, Australia, and North America. Most passes allow you unlimited travel for a certain number of days on a number of different rail lines so you can explore each country at your own pace.
Money-saving housing resources for digital nomads
Figuring out your housing situation is one of the more stressful things about traveling abroad. These options are some of the best for finding your own housing, living with other digital nomads, or getting housing in exchange for providing labor and services:
Finding your own housing as a remote worker
Searching for housing on your own can be a lot of work, but that work can definitely pay off. Check out these sites for inspiration:
Living with other digital nomads
It's likely there are other folks out there living the digital nomad life just like you. These websites connect you with other nomads to share the cost of housing and co-live and co-work together:
Trading skills for accommodations
Sharing your labor and skills in exchange for housing is one of the most economical ways that you can travel. Check out these opportunities:
Luggage and travel gear (+ discounts) for remote workers
Having the right gear on your trip can make things go much more smoothly. These travel bags and packing lists can help you make smart preparations for your trip:
Nomatic has a line of minimalist travel bags and gear suited for everyday use or trips of up to seven days. Sign up for their email list to get the latest sales and news, and there are plenty of 20% off promo codes available as well.
REI offers an extensive selection of travel backpacks and other gear you need, particularly if you'll be camping during your adventures. Check out their deals and discounts here, or use this 15% off code. Co-op members also get exclusive deals, 10% back on purchases, and more.
eBags has a variety of different travel bags and luggage options. Sign up for their mailing list for a 25% discount code. Students signed up with Unidays can get a 30% discount on their items. Their free rewards program offers 10% back on purchases and exclusive discounts, and get 20% off with this code.
Tortuga Backpacks
Perfect for city travel, Tortuga Backpacks offer a variety of travel bags and backpacks. Save money by purchasing a bundle of different travel gear. Sign up for their email list to get a free packing list and check out their blog for useful travel tips.
Packing cubes
Packing cubes. Lightweight fabric and mesh cubes that help you to organize your luggage in the most compact and efficient way possible. These are great for helping you fit more items into your carry-on and checked luggage, saving you money on extra fees. Amazon offers a basic four-piece set for just $22.99.
Sites with tips on travel gear and packing lists
Travel insurance for remote workers and digital nomads
You'll want to be sure you and your assets are covered while you're trotting the globe. Most travel insurance will take care of you in the event of a medical emergency, lost baggage, delayed or cancelled flights, and emergency evacuations. These sites and plans offer the best deals:
Money-saving travel insurance comparison sites
Travel insurance plans (+ discounts) for digital nomads
Useful travel apps for remote workers and digital nomads
Everything is easier with an app! These apps offer useful services for you while you're on the go:
Viator connects you with the best local tours, activities, and experiences at locations across the world. You can also find private tour guides to show you the sights only locals know about. Sign up for their mailing list to get 10% off your first purchase & get access to members-only sales, VIP experiences, and travel tips.
Tripit is a free itinerary app where you forward all of your travel and lodging confirmation emails and get one convenient master itinerary accessible from any device, even if you're offline.
Fancy Hands offers digital assistant services for quick 20-minute tasks at prices as low as $4 per request. You pay a monthly rate to get a certain number of requests like booking hotel rooms, performing minor administrative tasks, or anything else that can be completed quickly, then their team of digital assistants will take care of it for you. Refer friends to get free credits.
Google Translate
If you're traveling to lots of different locations or one where you just don't know the language, having a translator app like Google Translate in your pocket is invaluable.
Duolingo
Duolingo offers quick, easy, gamified lessons to help you pick up the basics of a new language in a short period of time.
Spotted by Locals
Spotted by Locals provides information on stuff to do in different cities curated by locals for just $3.99 per guide.
Useful technology for remote workers and digital nomads
Having the latest technology can make all the difference between doing your remote work seamlessly or experiencing interruptions that can throw you off track. Be sure to check out these crucial tech gadgets for your adventure:
Mobile Hotspots
Of course, the main thing you're going to need for work is reliable internet. You can hit up the local cafe or co-working space, but the safest bet is to have your own mobile hotspot just in case. These mobile hotspots are a great deal:
Cell phone plans
You probably won't be able to use your normal phone abroad without incurring some massive fees, so check out these alternatives to keep you connected around the world:
Miscellaneous tech items
E-readers
When you're traveling the world, you want to make sure you're packed light which means that books probably aren't the best use of your luggage space. Check out these e-readers to save room and get access to millions of books at your fingertips in one small device:
This list has only barely scratched the surface of the best ways to save on your journey as a digital nomad. With a little research and some thoughtful planning, you can travel the globe, advance your career, and create the adventure of a lifetime for yourself.
Interested in finding discounts, savings, and financial advice on tons of other topics? Then be sure to keep up to date with the Dealspotr blog and check out the Dealspotr homepage for promo codes and coupons on thousands of items you purchase every day.
Get each week's best deals from Dealspotr in your inbox
This guide was published on May 31, 2018
, and last modified on May 31, 2018
.
Stores related to this article:
EBags
,
T-Mobile
,
Kindle Fire
,
Eurail
,
Airbnb
,
Fancy Hands
,
Tortuga
,
FreedomPop
,
REI
,
Duolingo
,
Amazon Kindle
,
Couch Surfing
,
Tile
,
Trusted Housesitters
,
Amazon
,
Walmart
,
SkyScanner
,
Hotel Tonight
,
KAYAK
,
Hipmunk
,
Tzumi
,
Tracfone
,
Hostelworld
,
Nook
,
Viator
,
Orbitz
,
Allianz Travel Insurance
,
Nomatic