Eco-friendly Grilling: Top Hacks and the Best Green Products for Having an Eco-Friendly BBQ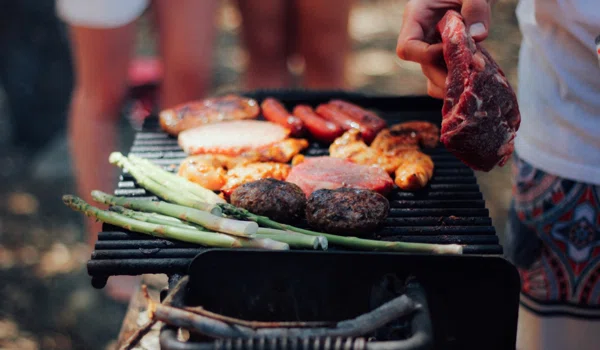 Imagine you're almost ready for a weekend cookout: your checklist is nearly complete, and all you need are the brats and beer.
But then, like clockwork one of your yoga friends reminds you about the health and environmental hazards of grilling. And suddenly you're less excited.
Truth is, the carbon dioxide shed from one 4th of July's 60 million American barbecues equals 225,000 metric tons — and according to the U.S. Department of Energy, those same cookouts burn the equivalent of over 2,000 acres of forest and guzzle the same amount of energy as the entire city of Flagstaff, Arizona annually.
And that's just for the 4th of July.
But what can you do? To start with, take heart. Although grilling in general produces the carcinogenic HCA and PAH compounds, there are some ways grillers can reduce risks and enjoy more eco-friendly grilling. We've gone in for the best methods to help turn your grill green, so take a break at the picnic table and read on!
Tips for eco-friendly grilling
Use products that cause the least harm
This means both environmental harm and animal suffering. Grill veggies and/or veggie burgers and plant-based sides (if you can pull it off) with your guests.
Otherwise chicken or fish are better than beef, with smaller fish or shellfish being the best for the environment. Obviously, organic, grass-fed options are optimal whenever available.
Choose eco-friendly grills and green charcoal
Try out an electric grill or a gas grill — they both emit less toxins than a charcoal. If you must grill with the old charcoal grill, make sure to reuse the coals.
Use reusable picnic products
Reusable silverware and cloth napkins, while less convenient than ones made of plastic/styrofoam, are the more eco-friendly choice. You can also make your own decorations, and your own beverages to serve in pitchers instead of individual servings like juice boxes or cans.
Other ideas? Invitations can be sent online instead of on paper, and many forms of mosquito repellent are effective without DEET, for example.
Read on for details on these and more ideas for your greener grilling options.
Eco-friendly grills for your summer BBQ
Gas grills emit less carbon dioxide than their charcoal cousins, and they also prevent the VOCs, particulate matter, and ground-level ozone emitted by conventional charcoal. Propane and natural gas have a greater production efficiency than charcoal as well.
But there are even better alternatives, like electric grills, (if powered by renewable sources), or even pellet grills, solar grills, or hybrids, if you're in the market. Here are a few great options:
Grill Dome: A greener option for grilling, their ceramic grills hold way more heat than a regular grill, so you're able to use less fuel to heat your grill.
EcoQue: Offers a range of eco-friendly grilling products, like portable grills that use up to 75% less fuel and propane grills with glass panels in the hood letting you keep the lid closed to conserve gas.
BioLite: This company's aim is two-fold: provide a fix for the 400 million deaths and 25% of black carbon emissions that come from open fire cooking each year, as well as provide sustainable cooking solutions to areas without electricity. Their grills generates electricity from fire, reduce smoke by 90%, and use 50% less wood. You can save $10 off your BioLite purchase with this promo code.
How to use greener charcoals
Get lump charcoal and ditch the lighter fluid
If you must charcoal, use lump charcoal without the lighter fluid and reuse it whenever possible. When you're done grilling, close vents and starve oxygen from remaining charcoal so it stops burning and can be used next time.
Buy "greener" charcoal
Some sources suggest Coshell Briquets made from coconut shells, Royal Oak Ridge Briquets made from U.S. scrap wood, and Whole Foods 365 Real Hardwood Charcoal are the greenest you can buy.
Others opt for these charcoals as the best. They range in price and most can be purchased on Amazon if you can't find them locally (but do try to find them locally).
Use a chimney starter
Instead of lighter fluid, use a chimney starter to avoid harmful petrochemicals.
Keeping your grill clean, the eco-friendly way
Use a grill grate
These sit atop the grill to spread heat and reduce flame flare-ups. GrillGrate offers many options, and will even make a custom grill grate for your grill. You can get 10% off your GrillGrate order with this promo code.
Brush the grill with oil to prevent sticking
Prevent charring of meat by oiling your grill grate to ensure easy turning and removal of your foods once cooked. And when you're done, check out Saudia's tips on cleaning up that grill for future parties.
Trim the fat and pre-cook meats
If you can't ditch the meat, take a few steps toward healthier grilling by trimming the excess fat off gristly meat slices, and pre-cooking foods like ribs on non-fire heat sources. And use a no-drip basting brush if basting meat on the grill.
Check your grill mats and grill cleaners
Earth 911 suggests ditching the grill mats altogether and opting for good old-fashioned foil or stainless steel baskets instead. Also, grab half an onion to clean that grill, or pull out the baking soda and dish soap. Don't feel like scrubbing? Consider the Grillbot, for the griller who has everything — you can get 20% off with this promo code.
Eco-friendly food and drink options for a summer BBQ
You'll reduce your carbon footprint and limit your contribution to worldwide animal suffering if you make just a few tweaks to your normal BBQ menu.
Up your vegetarian or vegan menu items
If you can, try to opt for veggie burgers instead of steaks. Whether you buy them frozen or make your own homemade patties, today's veggie burgers are tastier than ever.
We have a few favorites you can try pre-made (follow these steps for best results):
You can also try making your own veggie burger, using a few of our favorite recipes:
Still want to try more? Here are 10 more tantalizing homemade veggie burger recipes you can try.
If you want something besides "burgers," check these mouth-watering options out:
Not sure what to make for side dishes? Here's a list of healthy, plant-based suggestions you can work from - and a homemade grilled pizza how-to (ditch the cheese completely or replace with these for vegan 'za).
The most eco-friendly meat to grill at a summer BBQ
If you really can't resist the meat, below are some tips for cooking and preparing the most eco-friendly grilling meat.
Grass-fed meat
Skip the factory-farmed selection if you're a devout carnivore. The quality of meat and flavor is better with grass-fed, pasture-raised, organic varieties of any and all meats, and you'll contribute to less environmental destruction and animal suffering, too.
Slice it thin and serve alongside equal portions of veggies and starches to encourage more conscious meat consumption. Or better yet, cut it into small chunks and cook between veggie pieces and fresh pineapple bits skewered onto kabobs.
Soak meats in lemon or beer-based marinades
This process helps inhibit PAH compounds while grilling, and tastes just as good.
Try grilling up shellfish or small fish
Instead of huge tuna steaks, opt for smaller fish varieties or shellfish on your grill — you can use Seafood Watch as your guide to the most sustainable types.
Two top London chefs recommend farmed tilapia, arctic char, squid, or crayfish, as well as pollock in the spring and sardines or mackerel in late summer. Or, grill whole artichokes in foil with olive oil or stuffed Portobellos to replace them all, or as a side.
Go for locally-Sourced Meat
If you've got a farmer's market in your town, pay them a visit prior to your barbecue. Grab their tasty local produce and organic meats for a more eco-friendly experience.
Short on funds? Try services like Spare Harvest or Farmigo — they help reduce food waste by connecting local farmers with an overabundance of extra directly with their communities (i.e. you), and they often sell it at significantly reduced rates.
Now that you've considered the least harm in which meats you use, and hopefully added some veggies or fruits to your BBQ grilling menu, let's take a look at the grill itself.
Go for greener beverage options
Instead of a cooler full of Capri-Suns, cans of soda, and bottles of beer, why not serve an ice-cold glass pitcher or two of iced tea, limeade or lemonade, this uber-easy 5-Ingredient Sangria, sparkling soda (fruit juice mixed with sparkling water), or your own home-brewed beer?
Consider these suggestions on how to get green beer for your backyard soirée. And if you must use paper or plastic cups, be sure to set a magic marker out beside them so guests can write their name on their cup to refill it and minimize waste.
Need more eco-friendly drink options? Try some of these:
Reusable & homemade products for your eco-friendly BBQ
If you don't want to dirty your regular dinner plates and silverware, try something like EarthShell 100% biodegradable plates or Jaya biodegradable silverware. Here's a whole site of eco-friendly party supplies for your perusal.
You can also minimize napkin and paper towel use by setting out fewer napkins for the taking — or use washable cloth varieties instead. For anything you don't plan to eat later, compost scraps and other organic remnants from your picnic.
Other eco-friendly BBQ options
Get your recycle on
Put up clearly labeled, easily identifiable recycling bins for whatever single-use containers you do have at your cookout. Glass, cans, plastic, and paper should do it for most barbecues.
Repel mosquitoes the non-toxic way
Try some of these DEET-free options to green your mosquito-free patio, or go for the BugBand brand.
Make your own homemade decorations instead of store-bought
These are fun ideas, as are these (go for the reusable materials, though) or you can integrate activities like flower pot planting for your guests.
Sending invitations? Go for paperless and save a tree
Why not send e-vites or post an event with invite options on social media? If you're unsure how to go about it, check out these four online invitation sites, ranked by Techlicious.
Get each week's best deals from Dealspotr in your inbox
This guide was published on May 17, 2018
, and last modified on May 17, 2018
.