5 Secret Ways to Find a DSW Promo Code (That Actually Works!)
About the Author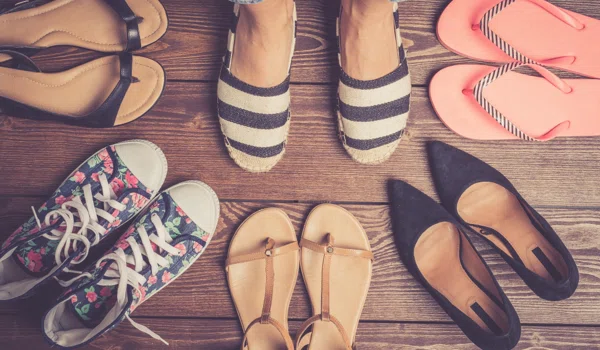 DSW is the place to go for fashionable yet budget-friendly shoe shopping. The in-store discounts are awesome, but sometimes the name brands still seem out of reach.
That's where we come in. We're here to share a few easy ways to get those designer shoes without breaking the bank.
If you're reading this, you probably already know about promo codes and how great they are. Finding a promo code for DSW, however, can be pretty tricky. The in-store discounts tend to get most of the attention.
We know deeper discounts are out there, so here are the best ways to find DSW promo codes.
Visit DSW's Clearance Section
First things first. Let's visit the official clearance section of the DSW website. It's good to know these clearance items are here because not only do they offer a great deal, you may be able to use a promo code to make them even cheaper.
Head over to the official DSW website and click on the Clearance section at the top.
Choose the category your shopping for from the drop down menu whether it's Women's, Men's, or Kids. Get specific and choose which items you're looking for in the selections.
We chose "All Women's Clearance" and were taken to a page with tons of discounts.
Now that we have an idea of the sale prices on the site, let's find some deeper discounts.
Sign Up For Emails
Go back to the DSW homepage. Scroll all the way down to the bottom of the page and click on Sign Up For Email.
When you click on it, a little pop up will show up at the bottom of the page.
Type your email into the box and click "SIGN UP."
You'll then get this message:
Now it's time to wait on that email. It may show up in your junk folder. In my case, it showed up under the "Promotions" tab in Gmail.
When you open the email, you'll see this message:
The next email from DSW will include a discount code. So easy.
Search Coupon Sites for Single-Use Codes
What's a single-use code, you ask?
Single-use codes are promotional codes than can only be used one time. Let's say you get a promo code to use in an email that was made just for you. No one else has that specific combination of letters and numbers. That is a single-use code.
So, how can you find other people's single-use codes? Well, generous people who don't wish to use the single-use codes that they got in an email can pass them off for others to use. Sharing is caring!
Alright, now let's show you how to find these mysterious codes.
We're going to try a few well-known coupon sites. Let's try Dealspotr, Groupon, and CouponCabin.
Let's start with Groupon. Let's go over to the Groupon main page.
Type "DSW" in the search bar at the top and click enter or return on your keyboard.
Great! Now we're looking at the DSW deals.
After looking, we can see that there are some nice discounts but no actual promo code.
Next, we'll try CouponCabin. Go to the CouponCabin website.
Use the search bar at the top just like you did on Dealspotr and Groupon. Type in and choose DSW. Let's cross our fingers that CouponCabin will have a few working promo codes!
We see attractive deals. However, there are no codes in sight.
Last but not least, we'll try Dealspotr. Dealspotr offers single-use codes that are checked by members of the Dealspotr coupon community.
Go to the Dealspotr homepage.
Type in DSW in the search bar and a drop down menu will appear. Click on "DSW."
Now you're looking at a whole bunch of of great codes. Stay focused!
Scroll down to where you see "Single-use codes" on the left hand side.
When you click on that option, you'll see working single-use promo codes that you can use.
The awesome thing about these codes is that they're ranked from high-to-low depending on if they're believed to work or not.
You can pretty much trust the "High" rated coupons in green, especially when they've been reviewed by members recently.
Let's click on one!
Here you can see a member named @thedreamtraps3Hot validated this deal a mere 5 hours ago. They'll often have screenshots proving that the code works at checkout as well.
Check the Brand's Own Website to Compare Prices
Sometimes footwear brands offer shoes sold on DSW for less.
I checked the DSW site for Low Top Chuck Taylors and found they had them in white.
Now if we check the actual Converse website, we see that there is the same shoe for the same price (plus a penny).
So, if you can't find a deal for DSW specifically, you might be able to search for Converse promo codes specifically.
If we go back to Dealstpor, they do have plenty of Converse codes (and single-use codes, too!) if the DSW codes aren't as great for your new Chucks.
Connect on Every Platform
Social Media is the best way to keep up with brands. If there is a chance to save money, you can trust that it will be shared on social media.
Follow DSW on Facebook, Twitter, Instagram, and everywhere else. You can find all their handles if you go to the DSW homepage and scroll all the way down.
They don't post as much about promo codes as they do about what's new in their inventory, but it's good to be safe!
Click that "Like" button!
Bookmark This
Ok, we've showed you the best ways to save money at DSW. Bookmark this handy tool to use whenever you feel like saving big on those designer heels or comfy loafers.
Get each week's best deals from Dealspotr in your inbox
This guide was published on January 15, 2018
, and last modified on January 15, 2018
.