Looking For an Urban Outfitters Promo Code? Here Are 6 Ways to Find One.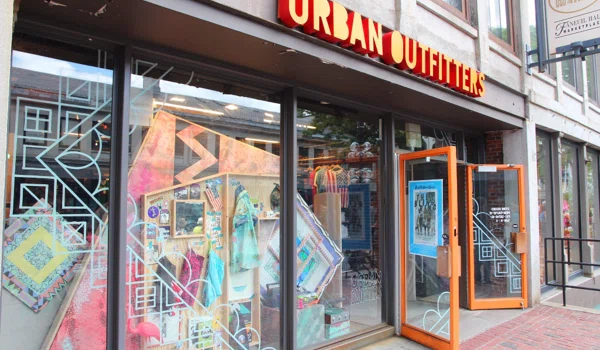 When it comes to millennial clothing brands, Urban Outfitters is at the top of almost every list. Take it from me, a millennial myself. With hip clothing lines, unique retail spaces, and an overall chill vibe, Urban has been a go-to if I'm looking to shop while staying on trend.
It's no secret that Urban Outfitters can be a bit pricey at times. And while they often have a killer sale section, they are not generous with their promo codes. But that doesn't mean that these codes don't exist.
Sure, you can try Googling. But let me save you some time - you won't find much. Come with me as I take you around the web (and mobile app space, briefly) to show you how and where to find Urban Outfitters promo codes that actually work.
Sign up for the Urban Rewards program to get a 10% off code
With most stores that you shop at often, it's a good idea to sign up for their rewards program (if they offer one). You'll have the opportunity to earn points and rewards, and more often than not you'll receive a bonus for signing up.
Urban Outfitters offers this type of bonus, but they make you jump through a few hoops first. You can start by heading to the UO Rewards page, and signing up.
Once you're in, you'll get an email letting you know that you're entered to win a $100 gift card.
That's a fun bonus, but the real discount is still a few steps away. We still have to download the UO mobile app.
Just find the app on your device's app store, and download it. You'll be taken to the homepage, which lists the latest sales and new merchandise available at the store. Just click on the hamburger menu to open the sidebar.
Click on "My UO," and you'll be taken to your rewards dashboard. From here, you're able to view your rewards number & QR code, rewards progress, and current available promo codes. To see the code you've just earned for signing up, just scroll down.
There it is! For signing up, I got a 10% promo code (which I can view by clicking on the discount) - and I'm already pretty close to my next $5 reward.
Another perk of the rewards club at Urban is that you can earn points for simply browsing their blog, entering contests, and interacting with the store on social media.
Sign up for email updates
Again, as with most popular retailers, signing up for the Urban Outfitters email newsletter is always a good idea. You'll get early access to sales and promotions, and be up to date on all the latest UO merch. You'll also get your own promo code emailed to you from time to time, just for being signed up.
At Urban, just signing up for an account on the site will opt you in to receive their email communication.
Use a student email address to get a promo code for 10% off
If you're a student (or have access to a student email address) you might be able to sign up for Unidays to receive discounts. Unidays is a site that offers discounts to college students on a number of big name retailers and restaurants.
I signed up with my old school email address, and sure enough, right on the home page:
I clicked, and it brought me to a page where I could reveal my promo code for up to 70% off.
I tried the code on the Urban Outfitters site, and it only gave me 10% off - so I can't vouch for the accuracy of Unidays. But hey, I still got that code.
Check the UO website for all current promotions & offers
If there were ever a site-wide code offered by Urban Outfitters, this is the place it would be. There are no promo codes listed on the Current Promotions page now, but this is the place you should look if you want to find offers directly from the mouth of Urban itself.
Find name brand items on other third party sites with active codes
While Urban has its own lines of clothing that they sell exclusively, they also carry a lot of brand name merchandise, like Calvin Klein and Adidas.
And although Urban might be the trendiest place to buy these brands, there might be a cheaper place out there, offering the same product for less money.
We can try this with the Anastasia Beverly Hills Glow Kit as an example. Here it is on Urban, for $40:
If there are no promo codes available for the Urban site itself, it's definitely possible that a different store is selling Anastasia Beverly Hills products, and might have a promo code.
To search for codes, I go to Dealspotr - they will have a list of 3rd party stores selling Anastasia Beverly Hills, and include any coupon codes that might be available for these stores.
A Dealspotr search for the brand will bring me to its coupon page, where I select the "3rd Party Deals" filter (in the lower left).
The code for the SkinStore catches my eye, so I click the title.
I click once to copy the code, and click again to navigate to the SkinStore website. It brings me to the Anastasia Beverly Hills product page, where I can easily find the product I'm looking for.
Here, it's on sale! And I still have my promo code to try. I add the product to my cart, and look for the promo code box.
I enter the code, and cross my fingers…
Success! I saved almost $20 on my new Glow Kit, and it only took a few extra minutes using the right tools.
Try buying name brand items directly from their own website
Even when an item isn't from a brand that you've heard of before, it's still helpful to search for that brand to see if they might have their own store, ideally with their own promo codes.
Let's take this fun shower curtain as an example:
As you can see, the item is $89 on the Urban Outfitters site. When I Google the brand, I find that it does in fact have its own site, and it's selling the shower curtain at the same price.
While I've already checked for Urban Outfitters promo codes, I haven't yet checked for Deny Designs. I use Dealspotr again to see if there might be a promo code available.
A quick search brings me to the Deny Designs coupon page:
I don't see any codes (and I've already exploited my old college email address enough), but the 10% off with email sign up intrigues me. I click, and see:
Following the "Go to Discount" link brings me to the Deny Designs home page, which now has this pop up:
Even better than advertised - 15% off with email signup! I quickly sign up, and minutes later, this appears in my inbox:
Alas, an elusive promo code. I head back to the site, and enter the promo code at checkout, to see if it works.
It does, and just like that, I've saved almost $15 on my new, trendy shower curtain.
Conclusion
So, while Urban codes can be tough to find, there are a lot of ways to get the products you've had your eye on without paying full price. All it takes is the right tools, and a little digging around.
Get each week's best deals from Dealspotr in your inbox
This guide was published on July 26, 2017
, and last modified on July 26, 2017
.