The Top 20 Fitness Micro-Influencers Making Moves on Social Media
Written by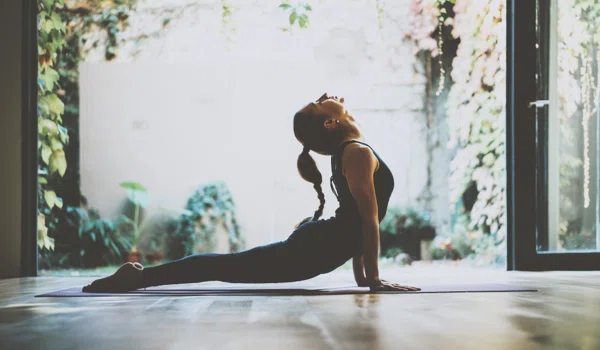 When it comes to fitness, some of the best inspiration -- whether for workouts, meals, or living healthy in general -- comes from others. Some have made it their job to share their personal fitness journey with the world over social media.
These fitness influencers help you tap into your athletic side, while also providing that extra motivation that, let's face it, we sometimes need.
While the big name influencers are great to follow, they can be less relatable than influencers with smaller followings: micro-influencers. These influencers are lifting weights, doing cardio, and even hanging off of rooftops -- all for the world to see.
We've rounded up the top 20 fitness micro-influencers who are currently changing the way we see fitness.
Inja: ShapedFit
Inja is a budding fitness blogger and influencer who aims to motivate her readers to get fit. She is a certified group fitness instructor as well as a personal trainer. She has professional training in exercise science (whoa!) and is a nutrition coach.
With this long list of impressive titles, she knows her stuff. She writes useful blogs about recovery and other general fitness information. Her bright personality carries her brand and makes readers come back again and again.
Website | Instagram | Twitter | Facebook | Pinterest | Youtube
Nick Longo
Powerlifter Nick Longo is an Instagram and Youtube star that documents his fitness journey. He offers useful how-to instructions as well as fun videos showing "epic cheat days." He has a minor degree in nutrition, so he knows how to bounce back from those awesome pizza and carb loads. Afterall, cheat days are necessary and totally acceptable as long as you stay on track!
He's into deadlifting and overall muscle tone development. His straightforward approach is great for people who want a no-frills influencer to follow for guidance. His videos get thousands of views and he's not going anywhere any time soon.
Instagram | Youtube | Twitter | Google+
Erica Madrid
If you're into parkour and wild acrobatic ability, Erica Madrid is the micro-influencer for you. This Denver, CO resident "hybrid athlete" is so talented that she was part of Cirque du Soleil Volta. Not only that, she's studied biomedical engineering and marketing. She's a smart cookie!
The motto on her website is "it's not going to be easy, but it'll be worth it." Now, that's motivating! You can watch videos of Madrid showing off her talent on Youtube and Instagram. You won't be disappointed.
Website | Instagram | Twitter | Facebook | Youtube | Google+ | Snapchat | Pinterest | LinkedIn
Sam Paparo
Do you need some coaching? You'll get some serious fitness motivation from Sam Paparo, a Los Angeles based health coach who has an ebook out called Shred With Sam. With her clients and readers, she focuses on micronutrients, cardio, and that stubborn feeling of discouragement.
Paparo works to get your mind in the right place to get the body you've always wanted. You can catch her Youtube videos as well, as she's gaining traction in that area of social media.
Website | Instagram | Twitter | Facebook | Youtube | Google+
Zach Moore
After an incredible 350 pound weight loss, Zach is now an MMA promoter and working to remove the excess skin from losing so much weight. He started at 500 pounds before he decided to make a change. He's an excellent role model for people all over the world who have a lot of weight to lose, but don't know where to start.
Moore's Instagram page is full of "befores" and "afters" as well as motivational quotes. He currently has a YouCaring page to raise money for his excess skin removal surgery. Though he doesn't use many outlets, he has a big Instagram following and was featured on Inside Edition.
Instagram | Inside Edition | YouCaring | GoFundMe
Nicole Loher
A NYC resident, triathlete Nicole Loher lets you into her world of fitness. She's had her website since she was 15 and continues to share her story. On her Instagram page, you'll see photos of her running near famous New York City landmarks and talking about what she eats in a day. She's dedicated to making her race times shorter and living longer.
Website | Instagram | Twitter | LinkedIn | Pinterest
Siobhán O'Hagan: Oh Fitness
This next fitness inspiration is all about muscle. Siobhán O'Hagan has built a brand around her own personal struggle with weight and how she was able to achieve her gorgeous bod. There are before and after photos that she posts, so you can see where she was at before she started her impressive body transformation.
O'Hagan wants to help others find their balance and take control of their own weight issues. She'll coach you personally, or you can admire from afar on social media for daily #fitspo.
Website | Instagram | Twitter | Facebook | Youtube
Paul Jordaan
The Ketogenic diet is all the rage. This diet is a high-fat, low carbohydrate diet that allows the participant to eat foods high in fat (nuts, meat, etc.). The idea is that fat is not a thing to avoid, but to invite into your everyday program. The ketosis diet also requires one to abstain from sugar.
Fitness influencer Paul Jordaan has found success in the diet and spreads awareness of his experiences primarily through his Instagram page and Youtube channel. His energetic approach to fitness is contagious for people who desire a role model who takes life by the horns.
Website | Instagram | Twitter | Facebook | Youtube
Gede Foster
Another micro-fitness influencer on the list is Gede Foster. Her Instagram following has reached a cool 11k and growing. She posts pictures of her amazing physique as well as stunning professional model photos.
Foster is also a personal trainer, so she has her hands in many different parts of the fitness industry. She doesn't have a website, but she's definitely making waves in the social sphere. Her motto is "Love your body and let it empower you." Words to live by!
Instagram | Twitter | Facebook | Youtube | LinkedIn | Model Mayhem
Mike Kalustian
Chiropractor by day, Instagram star by night. Mike Kalustian and his wife Kathryn are married chiropractors from Florida who own their own chiropractic office. They work together to treat patients while also keeping in shape themselves.
Kalustian's Instagram is full of fitness inspiration, showing off a muscular body and sharing how he got there. Most of his social media presence is dedicated to his practice, but follow his Instagram for motivation to get to the gym!
Phoebe Hagan: Just Another Fitness Blogger
Just Another Fitness Blogger is not just another fitness blog. Phoebe Hagan is a young YouTuber who makes videos for fellow fitness junkies to watch. Hagan creates videos that are educational as well as fun.
She's not just a blogger, but a trainer, bodybuilding competitor, and overall awesome go-getter. Her fun spirit keeps people tuned to what's she's got going on next. She almost has 10k followers on Instagram and plans to continue building her audience.
Website | Instagram | Twitter | Facebook | Pinterest | Youtube
Rushda Moosajee: RushTush
Another influencer contender kicking major behind is Rushda Moosajee. Her brand, RushTush is a women-only studio backed by her origin story. She once led a sedentary lifestyle of bad eating and not working out. She changed her life and is looking to change others.
Moosajee uses a modern approach to exercise and incorporates personal bodyweight and kettlebells. She founded a studio where female clients "could feel safe and secure, in an environment where like-minded women shared the same goals in a non-competitive, supportive way." What a wonderful thing for ladies!
Website | Instagram | Twitter | Facebook | Pinterest | Youtube | Google+
Supa Nova Slom
This next influencer does it all, while staying totally vegan! He's a bodybuilder, author, recording artist, holistic wellness coach, motivational speaker, and combat veteran. It's insane to think how many goals this man has achieved. It's no wonder he's a popular micro-influencer.
His Instagram is full of self-care advice and posts that will get you pumped to live healthy. This multi-talented young man is sure to be making headlines as he becomes more and more known in the music, fitness, AND vegan communities.
Website | Instagram | Twitter | Facebook | Soundcloud | Youtube | Google+
Jay Vincent
Jay Vincent is a force to be reckoned with. Vincent is a sponsored disability bodybuilder who doesn't let anything stand in his way to greatness. He was in a motorcycle accident and he suffered nerve damage to his arm which was amputated at the elbow and he also has an artificial leg.
Vincent spent three weeks in a coma and during recovery, he vowed to focus on the positives from there on out. His Instagram bio says "BIONIC BEAST," which is awesome and his attitude is infectious. If you're feeling unmotivated, visit Vincent's Instagram page and he'll whip you into shape.
Mirror Article | Instagram | Facebook
Richie Norton: The Strength Temple
This yogi is a powerful influencer who is all about movement and flexibility. He believes strength is found through mobility. He's a yoga teacher and he also eats a plant-based diet.
Norton was originally a rugby player, but after getting injured, he had to find new physical outlets. He learned a lot during his time of rehabilitation, and taught himself meditation and breathing techniques. He keeps an active Instagram page and is one to follow if you're a yoga fan.
Website | Instagram | Twitter | Facebook | Pinterest | LinkedIn | Google+
FitForceFX
FitForceFX is a popular YouTube channel run by Jay, a fitness nutrition specialist and personal trainer. Her Youtube videos rack up thousands of views, because they're professionally created and effective. Her Bikini Body Bootcamp video is one of her most popular.
Part of the reason she made our list is because she achieved such a fantastic body while in her 40's, after having had two kids. There's no doubt she's worked hard to get where she is now.
Website | Instagram | Twitter | Facebook | Pinterest | Youtube | Google+
Ellen Ector: Gymnetics Fitness
This next influencer is unreal. You will not believe your eyes when I tell you this powerful fitness hero is 65 years young. She runs Gymnetics Fitness with her daughter. The program specializes in custom fitness plans that are tailored to the individual.
Ector has 20+ years of nutrition and training experience. She's a sports lover and has run in triathlons. The state of Georgia honored her with an award for creating a weight loss walking program for adults with disabilities.
Website | Instagram | Twitter | Facebook | Youtube | Google+
Phil Graham: Diabetic Muscle and Fitness
A true inspiration is someone that can beat the odds. Phil Graham doesn't let anything stand in the way of his fitness endeavors. Despite living with Type 1 diabetes, Graham strives to be as fit as possible, running his own "information hub" for people living with diabetes who aren't sure how to handle living with the disease while keeping fit.
On the website, readers will find helpful articles about the Ketogenic diet, active insulin, and intermittent fasting. He's been featured in magazines and outlets like Men's Health, Daily Mail, and Men's Fitness.
Website | Instagram | Twitter | Facebook | Youtube | Google+
Elysa Kleidosty
If you like making excuses, then this next influencer is not for you. Elysa Kleidosty is a fitness mentor who wants to teach you how to live the best life you can. Her Instagram page is filled with motivating quotes, smoothie recipes, and reminders to keep working towards your goals.
She has personal beef with Mondays, because she doesn't believe Mondays should be inherently unpleasant. If you're living your best life, Monday should be another day you're out chasing your dreams. Kleidosty always has a smile on her face, so let her awesome attitude guide you to winning at life!
Website | Instagram | Facebook
Samantha Bowers: The Fit Brunette
Last but not least is we have Samantha Bowers. She has a blog where you can find healthy yet yummy recipes as well as various tips on how to live a healthy lifestyle.
On The Fit Brunette, you'll find info on pilates, fitness tracking, toning, and more. She specializes in satiating that sweet tooth by making healthy alternatives to everyday desserts. She devotes a part of her blog to sugar cravings in a section called "Sweets," where you can find health-conscious recipes for pumpkin pancakes, fudge, and more.
Bowers has her certificate in personal training and was Miss Missouri Teen USA in 2014. This beauty queen is determined to build her brand and be the best she can be.
Website | Instagram | Twitter | Facebook | Pinterest | Youtube | LinkedIn | BlogLovin
Live Your Fittest Life
With the help of these amazing influencers, you can get tips on how to get fit your way. Put on your workout gear, lace up those running shoes, and make that change. Discover your fitness guru!
Get each week's best deals from Dealspotr in your inbox
This guide was published on November 22, 2017
, and last modified on November 22, 2017
.