Sitting at a Desk All Day? Here's How to Burn 20% More Energy While Working.
About the Author

Partner Marketing @ Dealspotr. Bargain shopper extraordinaire. Sloth enthusiast.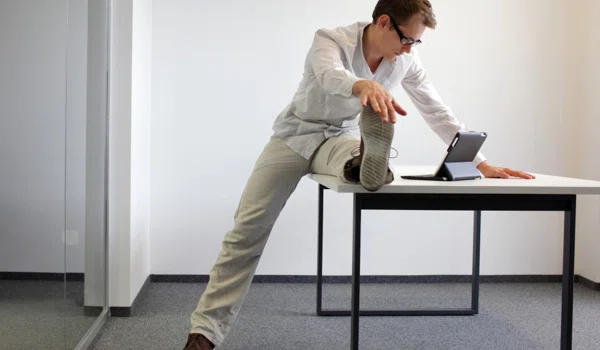 The workplace is evolving. Gone are the days of stuffy cubicles and strict dress codes. Nowadays employee health, happiness, and comfort are emphasized. 
One way companies promote employee wellness is by providing standing desks, helping counteract the detrimental health effects of sitting all day. FluidStance is taking the standing desk craze one step further with their line of balance boards. These boards, which can easily be mistaken for a piece of modern furniture, allow users to 'float' while using their standing desk.  
Adding balance to the mix
Founder and CEO Joel Heath, who previously created the GoPro Mountain Games adventure event, is on a mission to move the world. He realized that while standing desks are an improvement from sitting, they aren't perfect. Heath spent 18 months designing the first board before turning to Indiegogo, raising funds to manufacture the first batch of boards. On the crowdfunding platform, they raised 805% of their original goal for a total of $500,925. 
Over the past two years, FluidStance has expanded their line and currently offers three boards - The Original, the Level, and the Plane. The decks have the same basic design which "elicits subtle, constant movement below your feet to increase your range of motion and heart rate". For corporate buyers looking to move the office, they offer fleets of 5 boards with a convenient storage rack as well as larger bulk orders. 
Stand up for your health
Research has shown that, even with regular exercise, adults who regularly sit for long periods of time show an increased risk of premature mortality. Standing desks have grown in popularity as people try to combat the sedentary nature of their office jobs. 
Some benefits of standing desks include:
Lower risk of weight gain and obesity
Lower blood sugar levels
Improved posture
Improved mood and energy levels
Increased productivity
The FluidStance decks were tested and received NEAT certification from the Mayo Clinic. To receive NEAT certification, the board needed to increase energy expenditure by more than 10% compared to sitting. Use of FluidStance's board showed a measured increase in energy expenditure of 19.2%.  
The Heeluxe Testing Lab, a private science center for footwear research and innovation, also tested the decks. The lab concluded that, when using the boards, participants experienced a 15% increase in heart rate compared to sitting. They also had participants perform a typing test while using the board and sitting and found no significant difference in the number of errors committed.
Keeping a small footprint
 Heath recognizes the importance of being environmentally friendly and supporting the local community. The majority of the manufacturing occurs within 500 miles of the company's Santa Barbara, CA headquarters. The boards are produced with environmentally friendly materials like bamboo and recycled plastics and the metal bases are produced in zero-waste processes. The company also donates time, money, and equity to First Descents, a nonprofit dedicated to providing free adventure experiences to young adults with cancer. 
ABOUT THE DEALSPOTR MARKETPLACE
If you would like to stay connected with FluidStance, you can follow them online at Dealspotr, Facebook, Instagram, and Twitter.  
The Dealspotr Marketplace is an upcoming new platform that better connects merchants with influencers and shoppers. Are you a retailer? Claim your page on Dealspotr and start promoting exclusive deals, control your page presence, and interact socially with our shopping community.
If you would like more information on claiming your merchant page, or to how to become featured in one of our running blog series, please feel free to reach me at jimmy@zipfworks.com.
Get each week's best deals from Dealspotr in your inbox
This guide was published on September 12, 2017
, and last modified on September 12, 2017
.