Best Food Delivery Services: How to Get Your Favorite Restaurant Delivered to Your Door
About the Author

Mike is a husband and father of 2 who studies the art of never paying full price for anything.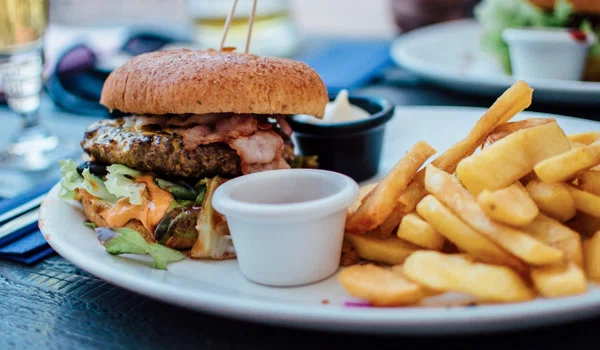 Have you ever been stranded at home with nothing to eat? It's a terrible feeling.
Maybe you just put the kids down to sleep for the night and now you can't leave, or maybe you're just getting over a bad cold and you're getting your appetite back but still don't feel like getting out.
And of course, by "nothing" to eat, I mean nothing that sounds good of course. Could you bite the bullet and eat something from a can or a box? Maybe. But you want something good, and every now and then that's okay.
The only problem is, if you want your food delivered to you, you're typically limited on what you can get. After all, not everyone delivers. And what if you just want some Taco Bell? They never deliver.
Well, there are 3 companies that set out to solve that problem for us.
Companies like GrubHub, Eat24, and Postmates will bring your food to you, even if the restaurant you want doesn't offer delivery. It's like asking your friend to pick you up some food while they're out, only they're not your friend in this case (unless you know someone who works for them, then they could actually be your friend).
So here they are, the top 3 food food delivery companies that deliver food you want right to your door.
Note: To compare prices across all three of these sites, I chose the same restaurant and the same exact meal, then looked for coupons on Dealspotr for each one to see where I could get the best deal.
GrubHub started back in 2004, and it's the largest food delivery site on this list.
Their site is clean and easy to use, while still giving you enough options to choose from. You just put in your address, choose delivery or pickup, then you can sort by cuisine, rating, price, delivery time, and more. The restaurants are easy to scan through and the delivery fees for each restaurant are front and center.
I liked that they had an option to filter by which restaurants were open right then - while I was searching. I hate getting my hopes up, thinking of one specific meal from a restaurant I love, only to find out they're closed. So that's nice of GrubHub to feel my pain and help me out there.
To start my comparison, I found a restaurant called Little Chicago, and began picking my food.
I also liked that GrubHub gives you a few "Most Popular" items before the rest of the menu items. That let's you quickly and easily pick the good stuff without staring at the menu endlessly. It's like asking "hey, what's good here" without actually having to ask.
Before I started picking food, I wanted to check Dealspotr to see what kind of GrubHub promo codes I could find. I mean, why pay full price when you don't have to, right?
I'm glad I checked, because I found a "$10 off" coupon for orders $15 or more.
Coupon code in virtual hand, I headed to GrubHub to get my food. I picked a burger, fried asparagus, and a bottle of water (I needed an item to get my order over $15 so I could get my $10 off discount), and the grand total was $22.56. That included a $1.99 delivery fee.
For me, $22.56 is outrageous for a single meal, but I had to add the asparagus in order to get my meal over the $15 and get my $10 off.
After my coupon, my total was $12.56. Not bad at all for the amount of food I was getting - an appetizer, burger, fries, and bottle of water.
As for the estimated delivery time, their website said to order around 1.5 hours in advance. Not great, but not terrible either.
Eat24 is owned by Yelp, so they have a pretty large network. Even so, they're not quite as large as GrubHub, but still larger than Postmates (below).
As you might expect, Eat24 has a very Yelp-like interface, but there's a reason for that. It's easy to use and quick to navigate through.
First things first though, I had to check on coupon codes. So I headed back to Dealspotr to see what kinds of Eat24 deals I could find, but unfortunately I couldn't find many valid codes. There were a bunch of expired coupon codes (and Dealspotr told me they were expired), so I figured why not at least try them.
However, when I headed back to Eat24, added food to my order, and went to checkout, I never saw a place to enter a promo code. Maybe I just missed it, but I searched and searched but never found a place to enter one.
Either way, their selection was nice, and the estimated delivery time was 45-60 minutes. That's faster than either of the other two on this list, although not by much.
So after adding my food, my total came out to $22.56 with the tip and $1.99 delivery fee included (same delivery fee as GrubHub).
Keep in mind though, that I only needed the fried asparagus on GrubHub to get my order over the $15 mark so I could get my $10 off discount. Without that appetizer, my total would have been more like $15 or so. That's not wonderful, but it's doable. I would miss that asparagus too.
Last on the list is Postmates. Postmates is the smallest site of the 3 on this list, and they seem to be geared more toward large cities out west than the other two. To be fair, all three of the sites on this list serve mainly large cities (in fact, I would say nearly all food delivery services cater to large cities), so if you're in a small town you'll probably dissapointed.
Of course, before starting my order, I checked Dealspotr for Postmates promo codes and was able to find a coupon that offered free delivery on my order.
Considering Postmates delivery charge was $3.99 - double what the other two sites were - that was a decent promo code to find.
So I headed back to Postmate's site, and right off the bat I wasn't a huge fan of their website's layout. It's a beautiful deaign, but for example, after you input your location, you're given a tiled "gallery-looking" layout with all the available restaurants. No list, no easily recognizable logos, nothing. You just have to scroll down and look for a restaurant you like. Worst of all, there was no way (that I could find) to sort or filter results.
User experience aside, I added my items - the same exact ones that I selected on the other two competitor sites - and headed for the checkout to apply my promo code.
My total came out to $19.02 after my coupon code. Again, for a meal and an appetizer delivered, that's not too bad.
And I didn't necessarily "need" the fried asparagus on this order like I did using GrubHub's coupon, so without that, my total would have been about $7 less - or around $12 instead of $19.
Despite the poor user experience, they had a decent estimated delivery time of 50-65 minutes.
Conclusion
In my opinion, if you want the best experience, try GrubHub first. They're well-known, have good discount codes, and the process was easy.
Of course, each one offers delivery from different restaurants, and each one has pros and cons. If you want to try something delivered a little faster (maybe), then Postmates might be worth a shot. If you're just a big fan of Yelp, or maybe you want to check out Eat24's selection, give them a try.
Me personally, I'll probably stick with GrubHub until they don't offer delivery from a restaurant I want, then I'll try the other two.
Get each week's best deals from Dealspotr in your inbox
This guide was published on October 11, 2016
, and last modified on October 11, 2016
.