13 Celebrity Sneaker Lines to Make Your Feet Feel Famous
Written by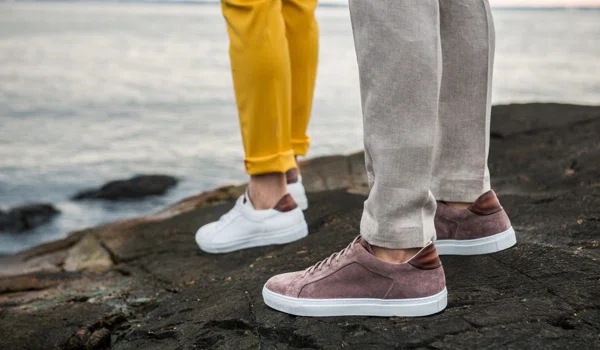 The celebrity sneaker game is out of control right now. It seems like everyone has a hot new need-to-have sneaker coming out these days. And it also seems like they are all awesome.
Rihanna, Kanye, even Kevin Hart has sneakers out now for fans to buy. Some are almost impossible to find, but we got you covered.
We've created a list of some of the most desirable celebrity sneaker lines and where you can find them.
Tyler, the Creator: Golf le Fleur
Tyler, the Creator is an American rapper known for his unique songs and bizarre music videos. He leads Odd Future, an alternative hip hop group. His work is so enthralling, you can't look away.
In 2011, he started a clothing company called Golf Wang, so he's already in touch with the apparel industry. Now, he's collaborated with Converse to create a shoe fans love.
He's officially unleashed the Golf le Fleur, a shoe that mirrors the flower imagery of his latest album Flower Boy.
Bright and colorful, you can pair them with anything you want depending on the look you're going for. Tyler is all about mixing flashy colors and wild prints, so anything goes! They can be found on the Converse website.
He recently posted on Twitter about buying his first pair of Air Jordans and the sneaker community freaked out.
Which brings us to our next sneaker line on the list.
Michael Jordan: Air Jordan
Air Jordans have been around for awhile now, but every time a new one comes out, people come running. It's hard to think of Air Jordans ever going out of style. Think about it. Michael Jordan first introduced them in 1984, that was over 30 years ago and they are still worn by celebrities and fans alike.
These Mens Air Jordan SC-3 Off-Court shoes are on sale at Finish Line right now. They're available in a bunch of different colors so you can mix and match with your outfit of the day.
Air Jordans range from easily accessible to rare depending on which style you're looking for. But one thing is for certain, you can always find a pair to pick up if you really want one!
Kevin Hart: Hustle Hart
Comedian Kevin Hart is taking a swing in the sneaker line and doing it well. He's become one of the biggest celebrities in the world, selling out arenas and starring in blockbuster films. It's amazing how far he's come and he just keeps getting bigger and bigger.
His Hustle Hart line came about when he made a deal with Nike.
This is all part of his "Run with Hart" initiative. He wants to inspire others to move their bodies and get fit. He's passionate about working out and staying healthy and he wants to spread that love for exercise to others.
Kanye: Yeezy
This might be the most popular one right now, the Yeezy line by Kanye West is still killing it as usual. They can be extremely hard to get a hold of, but when you do you have to tell Instagram about it.
If you're spotted with one of these on, you'll be the talk of your friends group. Bella Hadid definitely won't be "quiet" if you have Yeezys on.
West collaborated with Adidas to create a shoe that almost instantly became iconic. You can only find them on sneaker websites like GOAT and StockX.
We absolutely have to mention the upcoming line. We can't tell you where to find them yet because they're not out. However, High Snobbery gave us a look into what the style will be. Snobbery asked fans if they thought the shoes would be a hit or if they're just a "glorified dad shoe." Whatever they look like, everyone will be clambering for them. They're Yeezys!
Rihanna: Fenty
Puma teamed up with Rihanna to create a shoe that represents how she'd wear a sneaker. Together they created Fenty, a cool casual shoe for everyday wear.
You don't have to look high and low for these kicks. They're found at many outlets like Neiman Marcus, Nordstrom, and ASOS.
Though many of the shoes are sporty, some have a girly side with a feminine shape and ribbon detailing.
Rihanna also offers slides that are very college inspired. Wear these around the dorm or greek house and be comfy cool in no time.
Jennifer Lopez: Giuseppe Zanotti
We all know Jennifer Lopez sells j.lo jeans at departments stores all over the country and has been doing so for over a decade. Though you might not see that same "j.lo" logo anymore, Lopez still rocks the denim game.
But, did you know she also sells $800+ sneakers at Saks Fifth Avenue? Well, now you know!
They're technically wedge sneakers, but they're just as cool as regular sneakers.
These sneakers are from the Giuseppe for Jennifer Lopez collection.
The line also has pretty high heels but they're not as hip as the sneakers.
Rita Ora: Adidas
Rita Ora has sneakers, too! The British singer and actress worked with Adidas to come out with a sneaker that represented her style and look.
However, they can't be found in any stores right now. You have to go to eBay or Poshmark since she ended her partnership with Adidas.  
There are rumors she'll be collaborating with another athletic brand to create an all new shoe, but we'll have to wait and see.
Heidi Klum: New Balance
Model Heidi Klum created women's shoes that are practical and cute. Although, when you search department stores, nothing comes up except sites like eBay.
If you want Klum shoes, you have to dig! New Balance no longer offers her shoes, but you can still find pairs online if you are lucky.
Pharrell Williams:  Tennis HU
Artist Pharrell Williams came out with his Tennis HU line after collaborating with Adidas. It seems like Adidas is working with everyone!
Prices range from under $60 to over $100 depending on the look you're going for. Williams offers styles that range from clean and preppy to unique and eccentric (like the shoe below found at StockX).
Whatever shoe you choose, they sure do look comfy!
Fergie: Fergalicious
Fergie sells shoes that are, well, fergalicious!
They have that cool look of a sneaker but with a feminine flair. Fans of Fergie can grab an fashionable yet  affordable pair of shoes.
You can find them on her website as well as DSW and other stores.
Jessica Simpson
This line has been around for a long time now. It seems like you can find Jessica Simpsons shoes wherever you go. Simpson has dominated the shoe atmosphere.
You're probably used to seeing the unmistakable Jessica Simpson high heels available in all colors. Right now, you can also find her casual shoes!
Simpson offers her casual sneaker shoes at Walmart and you can buy them without splurging.
As you can see, they're simple yet chic. Simpson has an eye for that!
Katy Perry
It's time for Katy Perry to take a turn at the sneaker industry.
Katy Perry offers sneakers that are as eccentric as her outfits. They're made for everyday wear, but they definitely stand out.
You can buy them on her website, so no need to go anywhere else (unless of course, you find a good deal). She sells light-up shoes that are golden. See what we mean when we say casual but attention-grabbing?
If you're looking for something a little bit more subdued, she does offer a sneaker that blends in a little bit more.
Either way you go, you will be buying a great shoe!
Kendall and Kylie Jenner:  Kendall + Kylie
The Kardashian family can be divisive, but no matter which side you're on, it's undeniable that Kendall and Kylie Jenner make hip stuff.
Their shoe line is no different.
They offer textured platform sneakers with GOLD CHAINS across the front. It doesn't get much more hip than that.
Every pair of shoes they offer are something you're seeing in the latest magazines. They keep their fingers on the pulse of what's happening and are never behind on what's cool.
Find them on their website or regular department stores like Nordstrom and Bloomingdale's.
Grab a Pair
It's time to decide which ones are your favorite and grab a pair of new sneakers! Whether you want to look hip, girly, cool, or stand out from the crowd, celebrities are making it easy to find sneakers their fans will love.
Get each week's best deals from Dealspotr in your inbox
This guide was published on January 2, 2018
, and last modified on January 2, 2018
.
Stores related to this article:
ASOS
,
Saks Fifth Avenue
,
Famous Footwear
,
Jessica Simpson
,
Nike
,
Bloomingdale's
,
Adidas
,
Neiman Marcus
,
Walmart
,
Puma
,
Payless ShoeSource
,
DSW
,
Nordstrom
,
New Balance
,
Jennifer Lopez
,
Converse