Magic Mirror, On The Wall, Is This The Smartest Mirror Of Them All?
About the Author

Partner Marketing @ Dealspotr. Bargain shopper extraordinaire. Sloth enthusiast.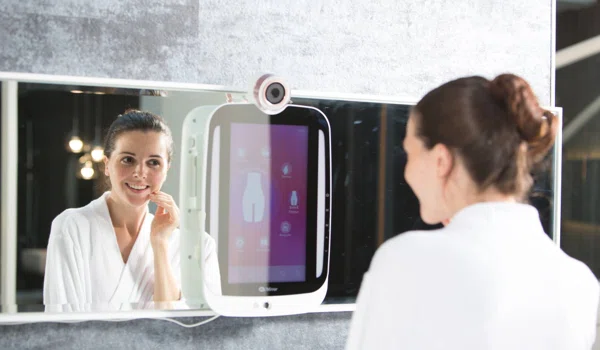 Common sense (and recent data hacks...) says that one of the last places you'd want a smart device is in your bathroom, where you're most exposed. But what if that device could track your health, helping you look and feel better overtime? 
HiMirror, a CES 2017 Honoree in the Smart Home category, is your personal magic mirror. However, unlike the Magic Mirror in Snow White, it doesn't tell you that you're the fairest one of all, but it does aim to get there. By analyzing daily routines and face scans, it provides personalized skincare analysis and consultation. 
Founding Story
Simon Shen, founder and CEO of New Kinpo Group, which owns HiMirror, came up with the idea by observing his wife's regular skin care and weight tracking routines. He noticed her spending nearly 10 minutes in front of the mirror every day, "choosing from a myriad of expensive skincare and cosmetic products".
She would also periodically use, and subsequently hide, the bathroom scale, making it difficult for her to track progress over time. He looked into creating a smart scale to help with tracking, but found many people either don't consistently keep their Bluetooth on (required for receiving the data from the scale) or simply don't bring their smartphone into the bathroom.
This led to the idea of pairing a smart body scale with a smart mirror, for an integrated system that tracks the user's skin and health routines, effectiveness, and provides valuable guidance.
More than just a mirror
The mirror packs an array of futuristic features underneath the 17-inch piece of glass. To navigate the interface and various settings, you can use gesture control, voice commands, or a handy remote.
The Skin Analysis Engine identifies and suggests treatment plans for common problems including wrinkles, dark circles, and red spots. This analysis, done by simply taking a picture of your face, takes only a few seconds to return results. It uses big data on skin conditions and products, powering personalized skincare routines.
Privacy
Even with all these high-tech features and potential health benefits, the question of privacy and security looms overhead. This is an internet connected device that can look and hear it's surroundings while tracking intimate, personal data. With a recent surge of high-profile data hacks, consumers are becoming increasingly conscious of their digital privacy. 
To (attempt to) quell your fears, HiMirror lists a number of privacy features. Your account can only be accessed by either a facial scan or voice recognition. Unless you explicitly enable access, the pictures you take will stay in your mirror and not be uploaded to the cloud. As a last line of defense, the camera also comes with a physical, removable cover.
ABOUT THE DEALSPOTR MARKETPLACE
If you would like to stay connected with HiMirror, you can follow them online at Dealspotr, Facebook, Instagram, and Twitter.  
The Dealspotr Marketplace is an upcoming new platform that better connects merchants with influencers and shoppers. Are you a retailer? Claim your page on Dealspotr and start promoting exclusive deals, control your page presence, and interact socially with our shopping community.
If you would like more information on claiming your merchant page, or to how to become featured in one of our running blog series, please feel free to reach me at jimmy@zipfworks.com.
Get each week's best deals from Dealspotr in your inbox
This guide was published on October 17, 2017
, and last modified on October 17, 2017
.
Stores related to this article:
HiMirror