Influencers: How to Earn More by Creating Gift Guides & Product Roundup Reviews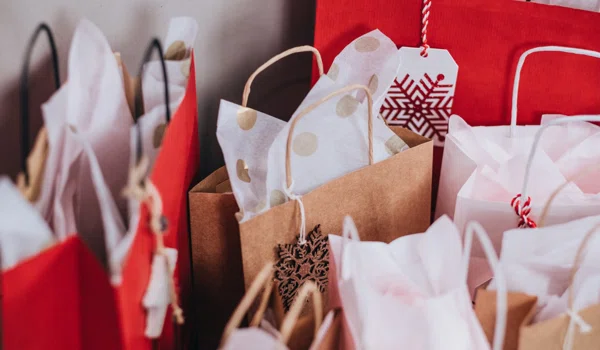 The holiday season is a big money-making time of the year for many advertisers and the influencers they work with. Come September, influencers can start to prepare for the holiday shopping season by writing gift guides and product roundup posts. Shoppers are online and ready to check out the best gifts and must-haves for Halloween, Thanksgiving, Black Friday, Cyber Monday and of course Christmas. Sharing your gift guides during this time of the year is a sure way to increase your sponsorship fees and affiilate commissions.
What's a gift guide or product roundup post?
Gift guides are blog posts where you share a list of gift suggestions to your users. The most popular kinds of gift guide posts are seasonal themed or are some type of "must haves" to share with your audience. You will typically see these blogs posted with a variation of: "X number of Y gifts for X holiday." Some examples being:
23 Thoughtful And Fun Birthday Gifts That Are All Under $20 - Buzzfeed
16 Gift Ideas For Anyone Obsessed With Star-Trek - Mashable
11 Timeless Mother's Day Gift Ideas - InStyle
These blog posts can also come in the form of must-have lists, which are oriented more to themes and hobbies rather than holidays or birthdays. Some examples of those gift guide posts are:
17 Stylish Travel Products You Need In Your Life - Buzzfeed
16 Cool Amazon Products That Will Change Your Life - All Under $30 - POPSUGAR
13 Magical Gifts For Disney Lovers Of All Ages - Travel+Leisure
All of these gift guides are themed for particular people or holidays, which make searching for the right product really easy. Although holiday gift guides and must-have gift guides are the two most common themes for these posts, there are a few versions of these guides influencers would write. These versions are:
Roundup gift guides - these blog posts feature many different products, categorized either by holiday (Christmas gifts, birthday gifts, etc.) or are targeting a particular niche of people (gifts for tech-savvy friends, gifts for Harry Potter lovers, etc.)
Product line gift guides - these guides review different products from one brand (different makeup products from CoverGirl) or compare products from two brands (comparing eyeliners from CoverGirl and MAC).
Themed grab bag guides - a themed roundup post allows you to feature multiple brands at once, both sponsors and non-sponsors alike.
Video roundup - as expected, a video roundup is like a standard roundup gift guide, but it's done on YouTube in video form. In the videos, you can actually see the products being put to use versus reading about how they work in a blog.
As you can see, there are tons of ways to write gift guides that include many different products to share with your audience. So why are gift guides so popular and attractive to shoppers?
Why are gift guides so popular?
As the holiday season approaches, many shoppers look to gift guides for recommendations on what products, toys, and appliances to get their loved ones. Merchants are also looking to rapidly promote their seasonal sales, using advertisements, email marketing, and sponsored posts. That's where influencers come in! So what makes gift guides so popular this time of year?

Shoppers are always looking for ideas, recommendations, and inspiration during gift shopping season.
Most shoppers start Christmas shopping as early as October, so merchants are always looking for influencers to promote their products early on. Unless shoppers know exactly what brand or product they're getting their loved ones, most users search for gift guides as their primary source of inspiration. Using gift guides for holiday gift shopping helps you make tough decisions on what the trendy/best products to buy are, which is what makes them so popular .
One-off reviews can seem salesy, roundups mentioning multiple products can be more trustworthy.
Since gift guide posts include multiple products and merchants, it is less likely that they will come off as a sales pitch, which in turn will help shoppers view the reviews as genuine recommendations. That is really important because shoppers have to trust that what you're reviewing is actually a good gift/product. The difference between one-off reviews and gift guides is that trust level - one-off reviews can come off as pushing a product just because an influencer was paid to do it, versus gift guides which are less sales-like, and therefore come off as more trustworthy.
Influencers can make a lot of money from writing gift guides instead of one-off product reviews.
As a merchant, getting your products in different gift guides can help more shoppers discover your brand and drive up your sales. For an influencer, writing gift guides this time of year can help increase your blog engagement, as well as make you a lot of money from merchants wanting to be included in your guide. For example, when creating sponsored content for a merchant in Dealspotr, you can see (below) that you could make $262 based on your influence score of 60 by creating one blog post for that merchant. If you write a gift guide and include 4 products from Dealspotr campaigns, however, you'd make $1,048 for that same piece of content. Easy, right?
These are what make gift guides so crucial and important - all parties benefit so greatly from them. It's a win-win-win.
What makes gift guides a better business proposition that one-off reviews?
While gift guides are clearly a huge deal this time of year, why are they so much better than one-off reviews done by influencers? Moreover, why do merchants and influencers alike enjoy gift guides more than specified reviews on just one product?

The most obvious reason is compensation. Influencers can get paid by multiple merchants all at once for creating just one piece of content. Instead of writing 10 different blog posts about products they've tested and think their viewers would enjoy, they can create a gift guide including features on all 10 products in that one blog post. Some more key reasons gift guides are beneficial for influencers are that they're unique and creative, so brands get fun content that stands out from the traditional sponsored posts, and they are efficient, so influencers are able to multiply their revenue without multiplying their time spent on writing posts. What's not to love about that?

For the merchant side, while one-off reviews focus all the attention on just your product, shoppers don't always trust these reviews because there is nothing to compare it to. If your product (let's say it's a lipstick) is featured in a gift guide post about the top 15 lipstick shades for this Fall season, your lipstick will stand out as being a top product when compared to 14 others. This helps shoppers trust the influencer's recommendation because they can compare to other examples of top lipsticks.

Given the benefits of gift guide posts, why exactly are these posts so successful, in comparison to other sponsored content? Like everything with influencer marketing, it comes down to conversions and engagement. Each brand included in the gift guide is interested in the success of the blog. This means you will have more people sharing and posting the blog in order to increase engagement. That engagement can then turn into high conversions when brands drive more traffic to your post. Since your post includes multiple products and merchants and it is less of a sales pitch, it will help shoppers view your reviews as genuine recommendations. This is also a big driver of increasing conversions.

Since gift guides seem to have so many benefits, are there tons out there? Yes. Are they all good? Not really. But here are some examples of successful gift guide posts that can give you some inspo for creating your own:
What are some examples of successful gift guide posts?
There are many sites where you can find examples of gift guide posts. Some popular ones are: Buzzfeed, Mashable, Wired, and many more. Gift guides can even be found on important news sites, such as The New York Times, Elle Magazine, and Business Insider.

Given that there are so many places to find gift guides, how do you know which ones are good? Here are some that we think stand out as being successful, and why:


Buzzfeed. A classic place to find many different themed gift guides. Why are they so successful? As you can see, this guide is targeted to those who waited too long to buy their gifts (oops) and helps users by making everything available right on Amazon! This post could fall under the roundup guide category for including different products and brands in this one post. Their recommendations specify who the gift could be for, which helps shoppers brainstorm which gifts could be great for their friends and loved ones. Links are available so shoppers can directly shop for that product on Amazon, and they know exactly how much it costs. Simple, direct, helpful.

On Mashable, this blog highlights different gifts you can give that aren't just "things" with no value or sentiment. This post could fall under the themed grab bag category, since there are a few very different gifts (and suggestions on where to find these types of gifts), and she was not sponsored by particular merchants to write this post. This helps both activity-driven companies and merchants receive a shoutout, along with a handful of ideas for users to buy as cool gifts. As the author describes, a lot of gifts end up being tossed or unused, so this gift guide has some cool ideas on what to gift your loved ones that are experiences or sentimental gestures versus just items. The guide is creative and unique, while also helping users brainstorm where to find these kinds of gifts. It does this by including website suggestions, charity links, and services to use for each gift suggestion. Cool ideas, great content, awesome post!
James Charles, a successful beauty guru and CoverGirl, make a YouTube gift guide review by comparing two different brands of makeup brushes. This video falls under both the YouTube guide category, as well as the product line roundup. His review is non sponsored, it is really honest, and doesn't try to boost up the more "brand name" product from Kylie Jenner. It reviews two brands and directly compares their usability and price. His view is helpful because you see him use the products, you see the difference (or lack of difference) between the two brands, and he is clear which brush works better. His description also lists the brushes he uses for those who are looking for an alternative to a possibly expensive brush. All in all, James' review was successful because of his honesty and candidness using each product fairly.

All of these gift guides are excellent examples of how to create unique, engaging, and helpful guides for shoppers to use as gift recommendations. They are all different in theme, technique, and category, but they all help shoppers compare products and get inspiration for holiday/birthday gifts for their loved ones. How, then, can you recreate some of these posts and make your own successful gift guide?
How can you create a successful gift guide?
There are a few things you need to keep in mind when creating a gift guide. You, of course, have to think of a captivating topic! Your audience will want content that you believe in, so that they trust your recommendations. The topic should touch a particular niche or holiday, so users know what you're getting into before seeing your product reviews. For example, "Top 10 Gifts To Get Your Techy Dad" is more specific than "10 Cool Things I Bought This Year." People are interested in things you've purchased or tried out before, so try to categorize your gift guides in such a way that captivates your target audience.

Keep in mind that not every brand wants to be part of a gift guide, so you definitely have to ask their permission before including them (if it's a sponsored post). If it's not sponsored, you can review all the brands you'd like! Once you've chosen your products and topic, you should think of the category this gift guide will be in (i.e whether it will be a YouTube gift guide, a roundup gift guide, etc). This will help classify your post and focus your reviews in a particular way.

Now that you've set up the base for your gift guide, as well as checked that each product/merchant is willing to be part of the guide, you're ready to start writing! Check out this blog post for 5 pro tips to writing an awesome gift guide. You should also read different gift guide posts online and get an understand of the different ways these posts are created.
How do you incorporate multiple Dealspotr campaigns into your gift guides?
If you're writing your gift guide and you decide you need more products to add to the review - don't worry! Dealspotr has an awesome feature that lets you browse merchants who already let you know if they're ok being included in roundup style gift guides. See below for a "how-to" on finding these merchants in Dealspotr:

First - head to the Marketplace and click "Browse Campaigns" to see all of the open merchant campaigns we currently have open. We have over 250 campaigns currently live!
Next, you'll want to filter the live campaigns to only show merchants who allow roundup posts! Click "Allows Roundups" on the left side of the screen and you'll be able to see each live campaign that will allow you to use them within a roundup gift guide post.
You can also filter these campaigns by category, so you can be sure to find the best products to add to your gift guides.
Once you've found the products you'd be interested in reviewing, you just have to click "View Details" on the campaign, and then click "Apply to run this promotion" to submit your application. Voila!

You can use these Dealspotr campaigns within your gift guides in two different ways. First, you can use approved campaigns as additional products to add to a gift guide you've already crafted, or alternatively, you can apply to different campaigns within Dealspotr that all go along with your chosen topic, and you can write a gift guide solely using Dealspotr sponsored products. The choice is yours! Either way you choose to go, Dealspotr is a great resource when creating gift guides to add new, sponsored content to your blog.

Once you publish your gift guide, make sure to let the merchants know! They can help promote and share the post, which will increase your engagement as well as help drive sales. If you included brands that did not sponsor your post, you can still let them know you included them in the gift guide, because they will likely still take interest in sharing the post, and might even ask you to do a sponsored review in the future.

Now that you know how to find new products to add to your gift guide blog posts, you should be all set to create thorough, creative, awesome gift guides for this holiday season!
Get influencer marketing insights from Dealspotr in your inbox.
This guide was published on October 2, 2018
, and last modified on October 2, 2018
.