How to Go to Disney World Without Spending a Fortune
About the Author

Mike is a husband and father of 2 who studies the art of never paying full price for anything.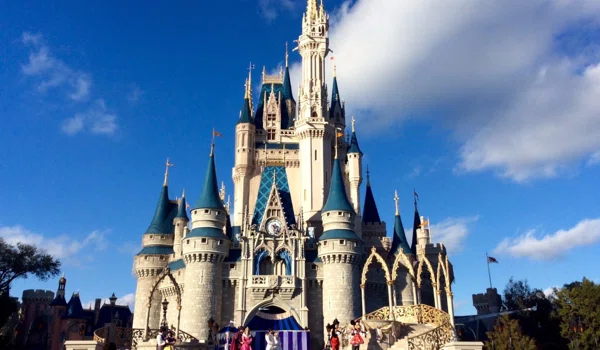 Want to know how to be Parent of the Year in your child's eyes?
There's a 1-step process: Take them to Disney World.
If you're thinking, "But Disney World is crazy expensive," you'd be right. But there's a way around that little roadblock.
See, Mickey doesn't want you to know, but you don't have to take out a second mortgage to go see him. No sir.
If you want to know how to take a trip to Disney World and be your kid's hero without ruining yourself financially, here are a few tips to help you:
Plan Far in Advance
Taking a trip to Disney World is a big deal. For most American families, taking a trip to Disney World isn't like taking a trip to the beach or the mountains for a weekend.
There are tons of factors when planning a Disney trip. Here's a quick overview of what you'll need to know before going to Disney World:
First you have to know when to go - what time of year, etc.

Then you have to find and book a hotel

Then you have to either book a flight or plan your driving route (including food, hotels along the way, etc.)

Then of course you'll need to get park tickets

Then you'll need to budget for food, souvenirs, and miscellaneous money while you're there
With all of that to think about, it's best to plan way ahead so you can pay for your trip in stages.
Planning far in advance ensures you won't be rushed to figure everything out at once, and you'll also spread out the financial blow so it doesn't hit your checkbook all at once.
Now that you know preparation is the key to a successful Disney World trip, it's time to take a closer look at a few ways you can save on your trip to Disney.
Know when to go
This might be one of the biggest factors when it comes to saving money on your Disney World trip. If you want to save money (and patience), stay away from Disney World during peak times of the year.
Pretty much any time schools are out, you can just about bet Disney World will be packed. That means higher prices, longer lines, and less fun for your family.
If you just absolutely can't bail the kids out of school, try looking at going around the end of summer as sources say mid July is when value season starts.
According to Smarter Travel, "value season" is the season when the least amount of visitors are at Disney World. Value season is typically:
January 1 to February 11 (during the lull after holiday travel)

August 29 to September 29 for Value and Moderate Resorts or July 5 to September 29 for all other resort types (coinciding with hurricane season)

and October 31 to December 19 (during the lull before holiday travel)
Yourfirstvisit.net backs that up by saying that first time visitors should go in mid to late October, most of November (other than the first full week and Thanksgiving week), and up until a week before Christmas in December.
They also say January and February are great times to go, aside from the week of New Year's, President's Day, Martin Luther King Day, and Marathon weekend.
It might not be as appealing to go in October, November, or March, but you'll be much better off doing so.
Here's a great guide on the best times to go to Disney World:
Best weeks to visit Disney World (Yourfirstvisit.net)
As for how early you should start planning, DelightfullyDisney.com says, "When you are 180 days out from your check in date you may book your dining reservations".
Keep that in mind when thinking about when you want to make your trip. Now it's time to start looking at how to save on flights to Disney World.
Plan your driving trip
Driving to Orlando with kids can be a ton of fun...or it can be a complete nightmare. Depends on how prepared you are. You'll need to plan for snacks, movies, games, potty breaks, and anything else that might even possibly happen.
If you want to know how much gas will cost you, here's an awesome little tool from Fueleconomy.gov that will give you an exactly how much gas money your trip will require. I wouldn't budget to the penny based on that, but it looks pretty accurate.
You can also check out GasBuddy to see where to cheapest gas is along the way, and you can even try a road trip planner called Furkot to map out your entire trip (or just use Google Maps).
Airfare can be a killer on your budget, unless you know what you're doing.
To find the cheapest flight available, try starting your search at Cheapflights.com. You'll enter your destination and travel dates, and they'll give you links to the most popular sites to compare airfare.
This may seem like an unneeded middle-step, but it enables you to not put in your trip information on 4 or 5 different sites. Just put your information in once, and you'll be able to check prices at Hipmunk, Priceline, Expedia, Orbitz, and more.
I found that Priceline had the best deal for a flight to Orlando, and you can use Dealspotr to find additional Priceline deals and promos to stack on top of your savings.
You'll basically have 2 options when it comes to hotels: to stay onsite in a Disney resort, or offsite in a hotel.
Staying onsite has its advantages, one of which is getting the full experience of Disney. Some people call this being in the "Disney bubble", and it's a valid excuse to spend a little extra money to stay in a resort onsite.
If you want to save money on an onsite resort, start by checking out Hotels.com or Priceline, and search for hotels near Disney World.
(Don't forget to check Dealspotr for deals at Hotels.com and Priceline before you visit each site.)
Most of the onsite resorts will obviously have "Disney" or "Resort" somewhere in their name, plus you can typically tell which ones are onsite by looking at the distance from Disney World. Here's a full list of the resorts at Disney World so you know which ones to look for.
After you look at resorts and their prices on Hotels.com and Priceline, you'll want to check Disney's site for specials offers. Surprisingly, thanks to a 15% off deal I found on Disney's special offers page, and was actually able to find a better deal through Disney's website than through other deal sites.
Save on your Disney World tickets
Disney World tickets aren't where you'll save the bulk of your money, but it is possible to save a little if you know where to look.
The best place I found to start looking for discounted tickets is actually through Disney themselves, believe it or not. If you find a good deal through Disney's website (see above), then you'll want to see if there's a package deal available so you can get your tickets at a discount as well.
For example, I was able to find a holiday season special offer on hotels. With the offer I could get 5 days in the Coronado Springs Resort for around $182/night, for a total of about $1,000.
Now, they also had a holiday season offer for a hotel/tickets package. With the package, I could get the same room plus tickets for all 5 days for a total of around $2,000. So that's $1,000 for tickets.
Now compare that to buying tickets on your own, without a package deal.
Through Undercovertourist.com, I was able to find similar tickets (single park per day tickets) for around $1,300. That's a savings of about $50 off the normal price, but you can see in this case it's a much better deal to go with the special offer package through Disney.
If you want to go it alone and see where you can find the best deals on Disney World tickets, this article is a great resource to help show you where to (and where not to) buy Disney World tickets.
Use Discounted Disney Gift Cards
Never have discounted gift cards been so valuable than when you're making a big purchase at a place like Disney World.
If you purchase your tickets, hotel, food, or anything else through Disney's website, they let you pay with a Disney gift card. That's great news because you can get Disney gift cards at a discount.
It's simple to do, and you should be able to save at least a couple hundred dollars on your Disney trip. That's a big deal!
Here's how to do it:
One way to do this is to go to Raise.com or GiftCardGranny.com and search for "Disney", then click the Disney gift card logo. You should see a list of marked-down Disney gift cards, typically averaging from 1-10% off.
That may not seem like a lot, but considering a Disney trip will cost at least a couple thousand dollars, 10% means you're saving $200-300.
Now, the downside to using these sites to find discounted gift cards is they don't always have more than one of each card available, so you may have to buy a bunch of individual cards to get the amount you need for your trip.
If that seems like too much of a hassle, or if you're just not fond of buying used gift cards through a website you're not familiar with, there's another option.
Target sells Disney gift cards, either in store or online. Target also offers a 5% discount on all purchases with a Target REDcard.
That means you can get 5% off your trip to Disney if you're paying through Disney's website.
5% off a $3,000 trip is a savings of $150. I'll take that all day.
Buying a ton of gift cards through Target makes things a little bit easier, and if you buy them online it eliminates the hassle of having to go to the store and buy out the entire rack.
Bring everything you can
One of the best ways to save money once you're at Disney World is to bring your own...well, everything.
I'm not suggesting you deprive your children of souvenirs and knick-knacks, but if you don't keep it in check they can end up taking a big chunk of your budget.
Here are a few items you should consider packing or mailing to your hotel ahead of time:
There's a premium on all of that stuff once you're there, so planning ahead and buying all of these things at a store like Target or Walmart can save yourself a small fortune.
Check here to see what you can and can't bring into the Disney World parks.
Know what to expect
Before going out to do your researching and budgeting, know how much to expect to spend on a decent trip to Disney World. The total price range can vary from a couple thousand dollars to $10,000+ easily.
Understanding what a deal is and what it isn't is a big part of saving money, and the same goes for a Disney World vacation.
I encourage you to check out this article from WDWPrepSchool.com. It includes sample trips with budgets from $2,000 - $10,000, and there are tons of great resources in that article as well.
Get each week's best deals from Dealspotr in your inbox
This guide was published on September 7, 2016
, and last modified on September 7, 2016
.