80+ Tips, Resources, and Discounts for Senior-Proofing Your Home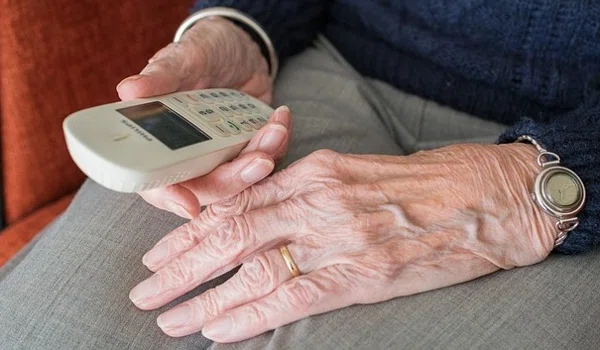 For a variety of reasons, our elders often move in with us or need help making their own homes safer as they grow older. In either case, there are numerous ways we can ensure their safety in the home. This guide will discuss these ways in a few general categories:
How to make entryways safer for elders to pass through.

How to ensure the interior rooms and hallways of the home are safe for elders.

How to take proper precautions to ensure your elder is safe when you aren't home or if they live alone.
To start, we'll go into ways we can make the entrance and exit to our homes safer.
How to senior-proof your entryway
In addition to several places in the home's interior, walkways into and out of the home present a daily challenge to some elders.
The Centers for Disease Control and Prevention has stated that one in four adults over the age of 65 fall each year, and over 22,000 seniors died from unintentional injuries caused by falls in 2011.
It's clear that the issue of preventing falls is paramount to elder safety - and entryways top the list of spots to address with safety precautions.
The entryways to our homes are usually designed and warmly decorated to welcome the person entering. Let's also welcome our elder guests by preventing their tripping, slipping, and potentially falling with a few simple tricks!
Make the inside of you entryway fall-proof
Designate a place for mail, packages, and any other type of delivery item
This place should be off to the side, allowing guests to remain hands-free and focused on walking - not stepping over or slipping on mail or bending over to move packages. Many people use a small entryway table or storage bench/chest for unopened mail and packages to wait for their intended recipient.
Keeps shoes off to the side
If your family typically removes shoes or other footwear upon entering the home, designate a space off to the side for this as well. A shoe rack or shoe-drying mat may come in handy for this.
Remove area rugs from entryways
This goes for any other areas of your home through which your elder will be walking as well. They may look lovely, but they pose enough of a hazard to simply be removed at this time. For those who cannot part with them, at least tape them to the floor.
Other ideas
Add non-slip flooring to the entryway both in front and back of the house.
Brighten up entryways by adding additional lighting or motion-sensor lights.
Make the outside of you entryway fall-proof
Pave sidewalks and driveways smoothly
Make sure sidewalks are paved smoothly (but not so smooth they become slippery) and free of cracks or uneven pavement. Some prefer to use non-slip strips to ensure the walkway outside is not too slick for elders to safely walk on.
Have mail delivered elsewhere
Some have posted signs on our near their front door asking for all packages to be left on their back porch instead, or vice versa, depending upon which entrance your guests and elders more often use
Create a ramp
If you can, create a ramp instead of steps for the smoothest entrance.
If you must keep steps, be sure there are sufficient hand rails available on both sides of the staircase - at least 1 1/2 inch in diameter.
Place contrast strips (like these, for example) on the side and upper surface of steps to make them more visible.
Keep the area well-lit
Be sure door locks are well-lit and visible so those entering don't have to fumble with their keys to get inside.
Discounts and resources for elder-proofing your entryways
Once you've gotten the entryways safe, then it's time to move into the rest of the rooms in the house your elder will need to use. Let's start with the hallways.
How to senior-proof your hallways
To start, there are a few things you should keep in mind when senior-proofing any hallways in your home.
Keep all hallways clear of toys, books, shoes, and any other type of clutter or objects.
Light them up with brighter bulbs or motion-sensor lighting.
Have night lights in place along hallways in case your elder needs to leave their room at night to use the bathroom, etc.
Install banisters or hand rails whenever possible, especially if it's a long way for your elder to walk.
Discounts and resources for elder-proofing your hallways
How to senior-proof your kitchen
Be safe while cooking
When cooking, encourage everyone (not just elders) to wear clothing without loose, dangling sleeves that can catch fire.
Check smoke detectors often
Be sure smoke detectors near the kitchen (and throughout the home) are in good working order and replace their batteries twice per year. If anyone forgets their lunch is simmering on the stove, this is the best way to alert them that it's been heated past its prime and avoid a fire!
If you can get a fire extinguisher to keep in the home, that would be ideal as well. (Make sure your elder knows where it is and how to use it, especially if they live alone in the home - and be clear that if they can't get to it or forget how to use it, that's okay - Getting themselves outside safely and calling 911 in case of fire is most important!)
Make medications easy to access
Create medication dispensers with clear labels. The kitchen is usually the best place to dispense meds since most are given at or near mealtimes.
If your elder needs meds at certain times daily and you can't always be there to remind them, consider getting a handy medication dispenser with assistive technology. These can fit on the counter (about the size of a blender) and can be programmed to deliver the correct amount of each medication at the correct time.
If this type of dispenser isn't possible, ask pharmacists to use large-print labels on your elder's medications so they can easily read them.
Other Ideas
Be sure the kitchen is very well-lit for both cooking and easily reading medication bottles.
Prevent scalding by setting your hot water heater to 120 degrees. Also, cover any exposed hot water pipes with insulation and, if possible, install pressure-balanced valves to maintain steady water temperatures.
Make sure you don't plug too many electrical cords into one socket or extension cord, and replace any appliances with worn or damaged cords.
If possible, switch to appliances with large-print, easy-to-read controls, and large on/off buttons.
Glass cabinet doors can help elders find what they're looking for with minimal effort.
Discounts and resources for elder-proofing your kitchen
How to elder-proof your bathroom
Make sure the bathroom is well-lit
Add extra lighting so elders can easily see their way around the bathroom - including the faucets, hand grips, bottom and edges of the sink and shower or tub.
Consider these changes for the tub / shower
For elders who have trouble climbing into the tub, a walk-in tub or shower may be in order. Consider the pros and cons of these before deciding on a purchase.
Install grab bars both beside the toilet and in the shower so your elder can steady themselves. Be sure these and all grab bars are sufficient to support the weight of the person grabbing them.
Rubber bath mats inside the shower and mats/rugs with non-skid backing for the bathroom floor are great to help prevent slipping while getting into and out of the tub or shower. Try them out to be sure they are slip-resistant before allowing your elder to use them. Some cheaper versions aren't slip-resistant enough and wear out easily, posing a fall hazard to your loved one. Go for the sturdy, well-made mats, even if they cost a few more dollars.
Get a shower chair in case your elder has trouble standing long enough to shower or is at risk of falling. These allow them to remain seated while showering. Make certain the feet of the chairs are slip-resistant.

Install adjustable-height shower heads with detachable hand-held parts and a long hose so your elder can direct the water stream as they wash.

Pressure-balanced valves are a plus in the bathroom to keep water temperatures steady.
Other ideas
Buy a raised toilet seat for your elder to allow them to easily seat themselves. These can be found affordably at neighborhood department stores for $20 or $30.
Keep a telephone in the bathroom or have a waterproof medical alert system handy for your loved one in case of falls while in the bathroom.
If possible, have your bathroom door swing outward instead of inward. This helps emergency personnel get into the bathroom if your elder has fallen near or against the door.
Keep bathroom surfaces clean and free of slippery soap scum, etc.
Place non-slip adhesive strips around sink edges or other areas your elder may grab onto for support while in the bathroom.
Discounts and resources for elder-proofing your bathroom
How to senior-proof your bedroom
De-clutter and minimize risk
In any room your elder needs to enter, precautions should be taken to minimize their risk of injury. This means everybody must get into the habit of keeping clutter and belongings off the floor, and there are plenty of grab rails around or non-slip adhesives on furniture in case your elder loses their balance.
Get brighter lighting installed
Mood and soft lighting can be lovely for parties or movie-watching time, but for everyday use, it's best to keep things bright for your elder.
Be sure there are nightlights within easy reach (or motion-sensored) for the times when your elder needs to navigate the bedroom in the dark.
Discounts and resources for elder-proofing your bedrooms
Senior-proofing best practices
Tell your elder: Don't worry about rushing to answer the phone when it rings
Emphasize to your elder that phone calls can go to voicemail. If they aren't near their phone when it rings, there is no rush to answer it. Like we've always said in our home, "If it's important, they'll call back!" - or they'll at least leave a message. And if they do neither, we have caller ID to return the call when we can. No phone call is worth tripping, falling, or risking injury.
Get proper footwear
Get your elder safe footwear for around the house, such as slippers with non-slip soles.
Safety-proofing when an elder lives alone
Keep windows and doors locked
Be sure to keep windows and doors locked, especially when they are not in the room. Locks should be easy for them to use while also secure enough to keep out crafty intruders.
Install a security system
Install a security system if possible to alert the authorities in case of intruders.
If this is not possible, try installing door and window alarms like this for your elder. (Please note: the batteries should last around a year according to our assessment, but yours may need to be checked more often. While these alarms do not alert the authorities, they are a noisy deterrent and also alert your elder that an intruder is present and gives them a chance to get to safety and/or contact the authorities themselves)
Pre-program a phone with 911
Encourage your elder to keep a phone on their bedside table with 911 pre-programmed into it so that all they have to do is press a single button in case of emergency.
Also, they may wish to keep a can of pepper spray or long-distance insect spray on their bedside as well. Some even contain a marking dye to easily identify assailants. In lieu of a firearm (which many elders are hesitant to use), this can keep a distance between your elder and a surprise intruder long enough for them to call 911 or attempt to get to safety.
Beware of strangers, in-person and via phone
Be certain your elder does not allow strangers entry to their home for any reason. If someone dressed as a worker from the utility company comes by, for example, have a relative contact the utility company to make sure the person is authorized to enter.
Review the latest updates on scams being used to con elders out of their money and/or valuables.
If someone contacts your elder on the phone or internet regarding any type of sales, encourage them to discuss it with a relative or trusted friend before disclosing any credit card numbers or other financial information - or verbally agreeing to anything.
Encourage your elder to ask for everything in writing before accepting monetary awards, "prizes," or anything similar. If such awards are announced over email, let your elder know it's best not to respond at all until the legitimacy of the award can be confirmed.
Be sure they understand that people can wait and it isn't rude to respond later to inquiries of any kind. Let your elder know that you don't mind intervening on matters related to purchases, contracts, or charity donations when they have questions or feel unsure about certain people or organizations.
Heating & Carbon Monoxide Detectors
Be sure your elder knows never to heat their home with the stove or oven (get them utility assistance if the expense is a burden by contacting their utility company for contact information and helping them complete the necessary forms).
Also, carbon monoxide detectors should be installed near each bedroom if possible, with batteries replaced as necessary (probably twice per year).
If space heaters are used in the home, ensure they are always at least 3 feet away from furniture, curtains, or other objects that can burn.
Discounts and resources for elder-proofing when your elder lives alone
While it may seem like a lot to consider, the aforementioned steps are easily done and can mean great peace of mind when caring for your elder.
Just as these must be completed, keep in mind that things change and require updating often - so consider doing a walk-through of your home every few weeks to make sure something isn't missing or in need of changing (i.e. bath mats wear out, batteries need replacing, etc.)
It's simple to do and you can involve other family members to confirm you didn't miss anything. After all, your beloved elder is counting on you now to be forward-thinking and keep them safe - and they are worth it!
Get each week's best deals from Dealspotr in your inbox
This guide was published on April 16, 2018
, and last modified on April 16, 2018
.
Stores related to this article:
CableWholesale
,
Bellacor
,
Kirkland's
,
Sears
,
Amazon
,
Walgreens
,
Sabre
,
VTech
,
Menards
,
Medical Alert Systems
,
e-pill
,
Lorex Technology
,
Medcenter
,
Walmart
,
TheBathOutlet
,
Overstock
,
Mr Beams
,
Amertac
,
firstSTREET
,
Pegasus Lighting
,
Kmart
,
SlipX Solutions