How to Use Instagram Hashtags (Without Being Spammy)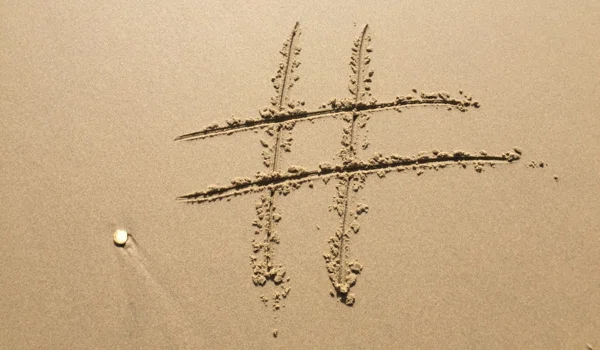 /hash-tag/ - a word or phrase preceded by a hash or pound sign (#) and used to identify messages on a specific topic
Instagram users include hashtags on their posts for a number of reasons. The main two being:
To label and categorize your photos with locations, ideas, names, etc.
To make your post visible in a hashtag search
Instagram hashtags are awesome. They're fun to follow, and they're a great way to both promote your content and see what other creative content is out there. BUT - using too many hashtags on your posts (especially when they don't relate to the content you're posting) can be seen as "spammy." When your followers see you using blocks of irrelevant hashtags, they assume you're just trying to increase post engagement… which is likely true.

How can you increase your engagement then, without coming off as spammy on Instagram?
Instagram's 30 hashtag limit per post, what it means for you
Instagram wants to make sure hashtags are used properly, so that people aren't overusing them to increase post engagement. That means hashtags have to be relevant to your content. In order to control some of the spam people are posting, Instagram has now limited the number of hashtags you can use to 30 tags per post. If you try to include more than 30, your content will post without the caption you took the time to write out — yikes!

This 30 hashtag limit is what users should assume is the optimal number of hashtags to use on one post. While you can't use more than 30 hashtags, Instagram is setting a standard for users trying to increase engagement by saying: 30 hashtags is the best way to gain likes and views without spamming tags that aren't relevant to their posts.

Many users write out long and thoughtful messages on Instagram captions. To avoid your whole comment deleting after putting in all of that work, make sure you 1) copy your entire caption before posting in case it's removed, and 2) double check that you don't have over 30 hashtags!

If you use relevant hashtags, your posts will see more engagement from users not following you, due to your posts' visibility in open hashtag searches. If you want to see how helpful your hashtags have been (or compare which hashtags help you the most!) you can see the number of impressions you received from the hashtags under "view insights" on your posts.
Consolidate your hashtags in one block, and hide it below the "see more" link in your captions
While hashtags help Instagram users and influencers to get more views and engagement, using too many has become taboo in the Instagram world. No one wants to come off as too 'desperate' for likes that they use paragraphs of hashtags in order to be seen.

To avoid this issue, I recommend adding your hashtags underneath a set of bullet points (typically 5) so that they don't stand out and distract from your caption. By adding bullet points, your caption adds a "see more" option for users to click if they want to drop down and see what hashtags you've used. This has become somewhat of a standard practice among influencers on Instagram, so it's likely not considered spammy and is a great way to gain additional exposure without cluttering your post visually (see below).

This tactic is useful when you want to have your followers see your caption, but not immediately see all of the tags you've added to your post. As long as the tags you use are relevant to your post, your users will rarely take the time to scan your entire post for your hidden hashtags.
Instagram's new community policing features means hashtag spammers may get shadow-banned
Instagram users now have the ability to report posts that are not relevant to particular hashtags. People will definitely use this feature for the hashtags they follow, so we have to be careful and selective with the hashtags we are using. If your posts show up in a hashtag search that has nothing to do with the actual hashtag topic, users just have to click "Don't Show For This Hashtag" on your post, and your photo or video will be removed from that tag search (see below). If that happens too many times (i.e your post is not relevant to the tag) your content will likely not show up as often — or at all — since it flags your posts as irrelevant/spammy. This can mean you will be shadow banned.

What really is an Instagram shadow ban? Essentially, if your account has a shadow ban, your posts and stories will not be visible to anyone but your current followers. Shadow bans can occur when you use broken hashtag links, or overuse the same hashtags.

You can increase visibility and engagement by adding hashtags to your posts, but shadow banning makes your hashtags irrelevant due to your posts no longer showing up in users' tag searches. Moreover, if someone searches one of those hashtags, your post will not show up in their feed. This makes it hard to grow a bigger following since you aren't visible to outside users. You have to be conscious of which hashtags you use, otherwise your posts won't get the engagement you're looking for.

There are different ways to get shadow banned, as well as various ways to remove a shadow ban. You can read more here on specifics relating to Instagram shadow bans and learn how to avoid them completely!
How to follow your favorite hashtags and what this means for spammy posts
Instagram also added a feature that allows you to follow your favorite hashtags on Instagram. This makes it easier to search for content you like and see new posts that use those tags. Your posts can get more visibility and engagement when using tags, but it also puts your posts at risk of being marked as spam if you use irrelevant tags.

To get started, here's how to follow topics you are interested in. (See video for how-to).

Step 1: Go to the search tab in Instagram and click the "Tags" header
Step 2: Type in any topic you'd like
Step 3: Pick your favorite tag from the list of suggested hashtags on that topic
Step 4: Follow!

Once you've followed your favorite hashtags, you will see some top posts on your Instagram feed, as well as in your stories bar. To view the tags you currently follow, just go to your profile, click "following" and see both people and hashtags that you follow. You may unfollow tags at any time.
How to use multiple hashtags in Instagram Stories without cluttering your Story
You aren't limited to only using hashtags in your photo captions. In fact, maybe users are now using hashtags in their Stories! Doing so will make your Story appear in the global story for the hashtags you add. One drawback to adding multiple hashtags is they will add visual clutter to your Story. Here's a hack to adding multiple hashtags to your Stories, without the visual clutter. (See video for how-to).

Step 1: Make an Instagram story (photo or video)
Step 2: Add hashtags you want your content to be searched in
Step 3: Make the text small by pinching your fingers together around the text
Step 3: Culminate the hashtags in one area on the photo/video
Step 4: Choose a sticker or GIF to hide the hashtags, and voila!

Although you've now hidden the hashtags from your story's viewers, the story itself is still linked with those tags, so the content will be searchable within those hashtag queries. You can add up to 10 hashtags in each story without creating any hashtag-clouded content.

KEEP IN MIND: Your stories or posts will only be visible in hashtag searches if your Instagram account is NOT set to private.
Don't copy and paste the same hashtags for every post
Many people copy and paste the same (30 max) hashtags on every post they make in order to increase engagement and use popular tags for visibility. There are even apps that help you automate tagging your posts with popular tags, however this is an example of how you can be flagged as spam and get shadow banned.

To avoid this, it's recommended that you only use related hashtags to your post, and make the tags relevant and unique to each photo or video. Using a mix of both popular and less used hashtags is the best way to go about diversifying your content. Keep reading to find out which hashtags to use, and how to find them.
Use smaller, specific, niche hashtags to gain more visibility without looking spammy
When searching for hashtags on Instagram, you can see how popular a term is by viewing how many photos are tagged with that word/words. For instance, if you search "food," Instagram shows the top tags with that word in it, and also shows that there are 294 million posts that used #food in their caption.
Popular hashtags like #food are good for users who want other people to view their posts and engage with their photos and videos. Using popular hashtags means your post will be in the mix with millions of others in that same category. Using these hashtags, however, should be done only to relevant content that perfectly fits the topic.

Right now, the top 50 Instagram hashtags are the following:

#love #instagood #photooftheday #fashion #beautiful #happy #cute #tbt #like4like #followme #picoftheday #follow #me #selfie #summer #art #instadaily #friends #repost #nature #girl #fun #style #smile #food #instalike #family #travel #likeforlike #fitness #follow4follow #igers #tagsforlikes #nofilter #life #beauty #amazing #instagram #photography #photo #vscocam #sun #music #followforfollow #beach #ootd #bestoftheday #sunset #dog #sky

The issue with popular hashtags, however, is that since there are so many posts in each tag, your content may get lost in a sea of other #food photos. Users also overuse popular hashtags on irrelevant posts so that they can get more engagement from the millions of people viewing those tags. The key here is to use popular terms that other users may search, but not use only top hashtags that may not get your content seen. Finding a happy medium in mid-sized hashtags is likely your best bet to reaching a lot of users, but not having millions of posts hide your content.
How to find smaller, specific hashtags
To find these happy medium hashtags, you have to look beyond the most obvious and popular searches. For instance, when you click on the search #food, Instagram suggests "related" hashtags that are similar to #food which may be of interest to you.


These suggestions are where you may find smaller niche tags that are still relevant to your post, and still popular enough to get your content in front of a wide audience. A suggestion for #food, for example, was #foodsnap. Many people use this tag when referring to a photo they snapped of their meal. As you can see below, #foodsnap has 171 thousand posts (which is significantly less than 294 million) which makes it a popular but smaller tag to use when posting a photo of your meals and food to Instagram.


Playing around with different hashtags to get increased engagement is the best way to find what kind of tags work best, as well as to make sure you aren't overusing the same popular hashtags that get repeat-offenders shadow banned from Instagram. If you don't know what tags to use for your posts, I would recommend looking at some of your favorite influencers on Instagram and analyzing their hashtags. If growing influencers are using particular tags, it may be a good idea to try those out as well to get more visibility. To get started, here are some more ideas for #food alternatives you should try!

#foodstyling #hautecuisines #wellpreneur #iamwellandgood #bonapetitemag #foodsnap #foodstory #foodhub #foodnation #chefmode #foodphotography #eeeats #igfoodie #yumyumyum #eatgood
Produce great content and avoid the spam
At the end of the day, hashtags are great for labeling your content with relevant topics, as well as getting other Instagram users to see your posts. As a growing influencer on Instagram, you have to focus on your content itself. Adding 30 hashtags to every post you make won't do you much good if your posts are not interesting, thoughtful, and visually striking. You should first focus on creating content that people will love, and then use hashtags thoughtfully to get that great content in front of more people. Just remember that the best practice for avoiding being spammy is to simply remain #relevant.
Get influencer marketing insights from Dealspotr in your inbox.
This guide was published on September 18, 2018
, and last modified on September 18, 2018
.