20 Interior Design Micro-Influencers that Put Your Pinterest Boards to Shame
Written by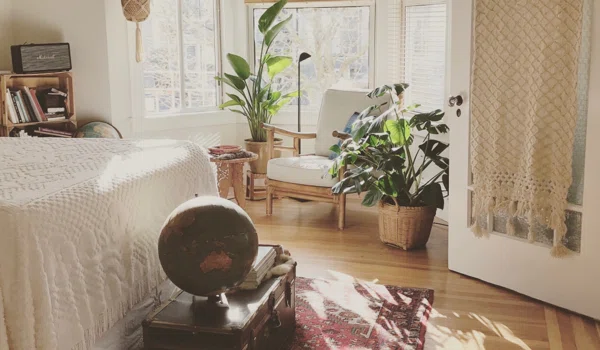 Interior design is a time consuming yet necessary challenge to conquer. Creating a beautiful living space is fun, but it doesn't come without a learning curve.
There are so many ways to make a home look great. You can go with mid-century, provincial, and even minimalism has its own stake in the industry these days.
Sometimes, it can be overwhelming figuring out where to get the perfect lamp that matches with the couch. It's easy to have a clear vision but then end up with mismatched knick-knacks and colors. Good intentions in interior design are often not rewarded.
Make your home exactly what you want by following people that know what they're doing. Pick your favorites and let them teach you how it's done. Here are the top 20 interior design micro-influencers for home decor inspiration.
Niki Brantmark: My Scandinavian Home
Blogger Niki Brantmark created My Scandinavian Home, a place where people looking for home decor inspiration can come and check out her awesome digs.
Brantmark started in 2011 and wanted to create a haven for those that love Scandinavian style with a vintage touch.
Scandinavian style is often loved by American culture in its simplicity and timeless design. Brantmark provides a good destination for those who want to create a home interior based on Scandinavian taste.
Website | Instagram | Facebook | Bloglovin
Tamara Matthews: Nest by Tamara
Tamara Matthews writes Nest by Tamara, where you enter her world of interior design and impeccable taste. She has two homes, one being in the "bustling city" and the other a laid back beach cottage in the Hamptons.
This is fabulous, because with Matthews, you get two home decor projects in one micro-influencer. Her style is "sophisticated" while collecting antiques and vintage items all creating an aesthetic that matches her personality.
In her free time, she's also a freelance writer and product designer for home fabrics for Root Cellar Designs.
Website | Instagram | Twitter | Facebook | Pinterest | YouTube | Google+ | Linkedin
Jacquelyn Clark: Lark & Linen
Interior designer Jacquelyn Clark wanted to start her own interior design business after leaving Style Me Pretty Living. She took her experience from SMP and brought it to her own brand.
This passion project of hers grew into a full time job quickly. She provides design tips and tricks as well as plenty of visual inspiration.
Through Lark & Linen, Clark will give you advice on how to spruce up a condo, $3 nightstands, and where to find the best home accessories.
Website | Instagram | Twitter | Facebook | Pinterest
Natasha Rocca Devine: The Interiors NRD
Natasha Rocca Devine created the YouTube following called The Interiors NRD where she shares her videos on interior design advice.
Devine interviews designers, goes over different brand products, and takes you on tours of different places.
Her videos pop and her taste shines through. She's on the up-and-up and continues to be one of the top interior design micro-influencers for home decor.
Website | Instagram | Twitter | Facebook | YouTube
Maria Killam
No one understands the importance of color more than Maria Killam. Her entire influence is based on how she understands color and how it needs to be used correctly.
Killam will actually train you on how to best use the color scheme in your home. She's been in the color and design industry for almost 20 years. In 2007, she taught color theory to interior design students. It's safe to say Killam knows her stuff.
Browse her Instagram and you'll find jaw-dropping photos of her work as well as style inspiration for her viewers.
Website | Instagram | Twitter | Facebook | Pinterest | YouTube
Kristin Forgala: REKREATED DESIGN
REKREATED DESIGN was created by Kristin Forgala, a highly motivated woman in the Greater Montreal Area of Quebec, Canada.
Though she studied commerce, she's back in school studying what she is passionate about - interior design. Check out her portfolio on her website and you'll see her knack for interiors. She recently revamped her own master bedroom and discusses how it all went down.
Follow her Instagram and you'll not only get interior designs and lifestyle photos, but amazing looking recipes as well.
Website | Instagram | Twitter | Facebook | Pinterest
Sarah: Thrifty Decor Chick
On a budget? Look no further than Thrifty Decor Chick by Sarah. She writes about making your home look champagne classy on a beer budget.
She decorates "on the cheap" and finding inspiration to make expensive looking things inexpensively. She takes a $200 piece and makes her own for less than $20. She has taste but doesn't believe in spending an arm and a leg for nice things.
You can make your home feel professionally designed if you just know how to do it. Let Sarah teach you how to design without the price tag.
Website | Instagram | Twitter | Facebook | Pinterest | YouTube | Google+
Bita: Bita Bella
Bita Bella is a fashion, beauty, lifestyle, and interior design blog full of gorgeous photos and helpful advice written by a blogger named Bita.
Bita is a full time project manager as well as a freelance writer. She's also a marketing consultant for Batch, a San Francisco based interior design showroom for home furnishing and lifestyle brands.
She is immersed in all things beautiful and wants to share it with her readers!
Website | Instagram | Twitter | Facebook
Igor Josif: Happy Interior Blog
Igor Josif is a popular interior design micro-influencer for home decor who started in 2011. His mission was to bring happiness into the homes and lives of the people reading his blog. He believes in the "power of happiness brought to us through a beautiful and personal home."
Josif describes the home as a "visual identity of ourselves" and should be prioritized. His focus on happiness as a goal for interior design shapes the way we look at interiors. It's not just about the home looking pretty.
His blog often features plants and how to incorporate them into the home stylishly.
Website | Instagram | Twitter | Facebook | Pinterest | Google+
Sarah Akwisombe
For a more hip and modern look, check out Sarah Akwisombe. She is a very influential home decor expert who will show you how to stay up-to-date on the latest in home design.
Akwisombe got started by getting fired from her 9-5 office job and "take the plunge" and try to get into interiors.
Akwisombe keeps it cool and takes trendy photos of interiors and shows you how to get the look. She wants you to achieve the home that reflects your unique personality. She uses words like "empower" and "confidently" to guide you in finding a home that's truly yours.
Website | Instagram | Twitter | Facebook
Krista Aasen: Happy Housie
This next interior design micro-influencer is pure bliss. Happy Housie is 100% interior design and features fantastic visuals as well as usable advice.
Krista Aasen has gained a notably large following by keeping up on every social media outlet. She regularly posts beautiful pastel colors photos of furnishings, cute items, and products she recommends.
It gets crafty on this blog, so get ready to grab your scissors and start getting to work.
Website | Instagram | Twitter | Facebook | Pinterest | Google+
Erin Hiemstra: Apartment 34
Working with an apartment or condo space? Apartment 34 has your back. Erin Hiemstra wants you to "elevate daily life" by reading her tips on home decor.
Though Apartment 34 has grown a lot from its humble beginnings, you'll still find useful information on how to make life sweeter by treating your home like your own little palace, no matter where you live.
Hiemstra has partnered with Anthropologie, Nordstrom, Kate Spade Home, and other huge brands that trust in her work. Dive into her life and find your elevation.
Website | Instagram | Twitter | Facebook | Pinterest
Ariel GH: PMQ for Two
This next interior design micro-influencer is a very interesting one. Ariel GH shares interior design tips from her private military quarters in Canada.
This is a unique micro-influencer because she's living in military quarters, yet is decorating it so beautifully. It's not the military quarters you normally think of!
Find ways to make your home pop with colors that go well together. Learn what patterns go with what furniture and how to make your home look as marvelous as the examples you'll see on PMQ for Two.
Website | Instagram | Twitter | Facebook
Stacey Clarke: Good Morning Loretta
Good Morning Loretta is a blogger who devotes half of her articles to writing about interior design. Stacey Clarke writes from the deep south and it shows in her classic design.
With plenty of DIY projects to try, Clarke will guide you to the fun world of making your own home. Using wood and other materials, you can make your house look Pinterest ready by following along with Good Morning Loretta.
Website | Instagram | Twitter | Facebook | YouTube
Coco: Cococozy
Coco of Cococozy is obsessed with interior design. She specifically loves furnishings like luxury pillows, throws, and bedding. She loves it so much so that she created her own furnishing line.
Her influence has grown because her drive shows through her work. She started blogging in 2008 with the idea to create design and style inspo with a dash of humor. Katy Perry has even named her as one of her favorite interior design blogs in InStyle magazine.
An executive by day and an interior design blogger by night, she balances life by continuing toward her passion.
Website | Instagram | Twitter | Pinterest | YouTube | Google+
Lynn Woods: Back to the South
If you're into southern style, Back to the South is the blog for you! Blogger Lynn Woods puts together a wonderful website and social media pages that inspire the southerner in you. She'll teach you how to create your own coffee bar, shelves, and more.
Find tutorials as well as cute products and holiday treats.
A traditional southern home is full of beauty and family, and that's exactly what you'll get here on Back to the South.
Website | Instagram | Twitter | Facebook | Pinterest
Cassandra Lavalle: coco+kelley
Cassandra Lavalle runs coco+kelley, her brand that explores the lovely in interior design. Based in Seattle and founded in 2007, Lavalle curates ideas for the "well-styled life" and how to live in "effortless sophistication."
Not only does she create stunning content, her website is designed nicely as well. Overall, following Cassandra Lavalle is following one of the top interior design micro-influencers for home decor that you can find.
Website | Instagram | Twitter | Facebook | Pinterest | Bloglovin
Dabito: Old Brand New
Cacti, fun prints, and hot weather is what Old Brand New is all about. Dabito is a blogger who put together his portfolio of deserty photos for home decor inspiration.
He is based out of New Orleans and majored in Fine Arts with a focus on printmaking and photography at UC Santa Cruz. After college, he began blogging about his "thrifty adventures" and the rest is history.
His clients include eBay, Google, Samsung, Warby Parker, and more.
Website | Instagram | Twitter | Facebook | Pinterest
Jen Bishop: Interiors Addict
Meet a fellow fan of interior design, Jen Bishop. She's an amazingly easy going blogger who shares her love for interior design through her blog and social media pages.
Bishop posts photos and articles about her life and how it incorporates interior design. As you get to know Bishop and her family, you'll feel like you made a new friend.
Her design and renovation photos are inspirational because she makes it look easy. Find out how to get the bedroom, kitchen, bathroom, or entire house of your dreams.
Website | Instagram | Facebook | Pinterest
Sophie Robinson
You might recognize this next interior design micro-influencer from BBC's The Great Interior Design Challenge. Well, Sophie Robinson is on the way to creating her own brand.
Robinson is an interior designer, stylist, YouTuber, blogger, and TV guest interior design expert.
Her YouTube videos are full of style inspiration, color help, and the nitty gritty like electrical layout work. She covers every aspect of interior design from the fun to the tedious. Every detail counts when it comes to her craft.
Website | Instagram | Twitter | Facebook | YouTube
Find Interior Peace
From pretty pastels to finding deep happiness through home decor, interior design has proven to be more than meets the eye. Whether you want visual design inspo or devote serious time into making your home your temple, you'll find what you need in this list of the top interior design micro-influencers.
Get each week's best deals from Dealspotr in your inbox
This guide was published on March 12, 2018
, and last modified on March 12, 2018
.