Leggings are a useful and comfortable piece of clothing. They can take you from the gym right through to dressier occasions.  There are lots of basic leggings available for purchase, but you can also get a whole lot more out of a legging. For example, there are now shape wear style leggings designed to make you look slimmer and smoother as soon as you put them on.
Some advantages shape wear leggings offer:
They reduce the amount of jiggle when you perform physical activity.
They provide a physical reduction in your lower stomach, hips and thigh measurements. In many instances these key measurements are reduced by a ½ inch through to 2 inches.
A smoother looking silhouette-they help to reduce the appearance of bulges.
An example of a good shape wear legging to consider is the Flexees Fat Free Dressing Legging sold at Maidenform. The style shown below slims, shapes and smooth all in secret.  They come in up to a size 2XL and offer firm control. They are made from nylon and elastane, but possess a 100% cotton gusset for breathability.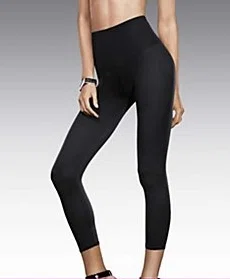 This is a style that has been recommended on Glamour.com.
They retail for $32, but at times are marked down. Maidenform is also currently offering 10% off site wide, use coupon code: THANKYOU10 (http://dealspotr.com/coupon/57050892/)
Get each week's best deals from Dealspotr in your inbox
This guide was published on February 28, 2013
, and last modified on February 28, 2013
.