Top 20 Menswear Micro-Influencers Every Dapper Guy Should Know
Written by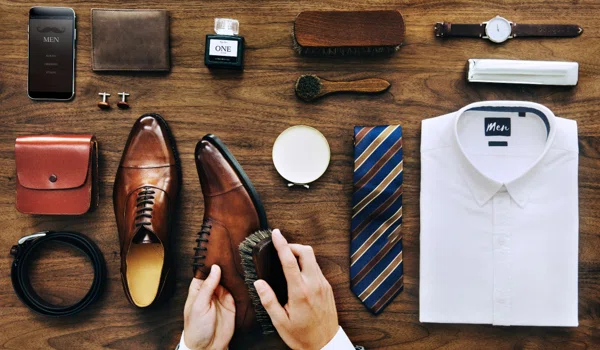 There are a ton of female fashion bloggers and womenswear influencers around today. So many, that it might seem like there are no resources for men looking for a little style inspiration. Which begs the question:
Where are all the influencers dedicated to men's fashion?
Well, we've found them! These chic individuals show you how to look dapper in the hottest men's fashion. You'll learn what shoes to wear with which pants, how to style a blazer, and learn how to make a casual outfit look flawless.
We've racked up 20 of the best menswear micro-influencers that you should be following. Each has their own unique niche, so you're bound to find one that suits your style and taste.
Alan Leyva: Simple Guy Style
Alan Leyva's brand is simple: curated menswear posts and articles. Leyva is all about menswear and loves it so much, he writes about it on his blog, Simple Guy Style.
He posts on Instagram as well, documenting his travels and adventures along the way.
This blogger also often tweets about up and coming stuff going on in the fashion world as well as controversial takes on brands and trends.
Website | Instagram | Twitter | Facebook | Apple Music
Parker York Smith
Need help finding your own style? It can be confusing with so many choices out there.
Parker York Smith is a micro-influencer that will help you find your own personal style through his YouTube videos and social media following.
Learn how to buy trendy clothes on a budget, what sneakers to wear, and even how to roll up your sleeves properly. It's all in the details and this influencer knows it.
Leo Chan: Levitate Style
Immerse yourself in the luxurious world of Leo Chan. His brand, Levitate Style, will whisk you away on adventures all over the world - and he'll show you how to do it while looking sharp.
Chan's website gets thousands of hits a month, and he frequently collaborates with big brands like Stella Artois.
His travel/menswear fashion blog shows you how to appear comfortable and laid back in a totally well put together outfit.
Website | Instagram | Facebook | Twitter
Ryan M. Kolton
Through his website, Twitter, and Instagram, Ryan M. Kolton has created a brand that revolves around, in his words, "Life. Lifestyle. Style."
Kolton aims to "turn negativity into positivity" and to inspire others to follow their dreams. His brand isn't just about clothing and a dreamy lifestyle, but it's also built to motivate his fans to face challenges head on.
He shows off outfits he wears from New York Fashion Week to Coachella. His street style is often casual, sometimes formal, and always chic.
Website | Instagram | Twitter | YouTube
Diego León: Dandy in the Bronx
Diego León is a micro-influencer and GQ insider. Raised in the Bronx, his obsession with menswear began when he was a teacher. He taught preschool and dressed well so that his students would feel comfortable in the school uniforms they had to wear to class.
Seeing the positive impact it had on his students, León became further interested in what it means to dress well. Thus, he started Dandy in the Bronx.
He wears and photographs himself in suits for social media, and on his website he talks about food and men's grooming.
Website | Instagram | Twitter | YouTube | Facebook
David Grr
David Grr runs more than just a fashion blog, but the blog is one of the best parts of his brand. His beautiful images and insider scoop on the trends of right now is what keeps his followers coming back.
Grr is his own brand -- and why bother creating a brand name when your own name is already so cool? On his website, you'll find info on the latest white sneakers, skin care products, the lowdown on the best Herschel gear, and more.
While he posts amazing fashion shots, he also does photography and social media content. He's a pro at the influencer thing!
Website | Instagram | Twitter | Facebook | LinkedIn
Anthony Mastracci: The Next Gentleman
Anthony Mastracci spells it out for you. "Beards. Style. Fun stuff." With 12.5K followers on Instagram, Mastracci is growing a following (as well as his beard) for The Next Gentleman.
His classy style that revolves around his hefty beard is a go-to for more burly men who want some style inspiration. During college, he learned that telling stories was his strength and fell in love with journalism and started creating his brand.
He posts photos on Instagram of him living it up in the most handsome clothing. He also posts what he's eating that day along with photos with friends.
Website | Instagram | Twitter | YouTube
David Lezcano: Keys to Style
This next micro-influencer is interesting in that he has combined his impeccable sense of style with the fact that he's a musician.
David Lezcano plays the piano - and looks good while doing it. In his own musical way, Lezcano says "there are different combinations that create the right tune when it comes to putting an outfit together. Fashion has always struck a chord with me and now I'm interlocking my love for music with my love for fashion."
On his Instagram, you'll see professional style photos of himself in beautifully put together outfits, while on Twitter you'll get that and a bit more music content.
Website | Instagram | Twitter | YouTube
Rainier John: The Dressed Chest
Probably the most consistent style icon on the list is The Dressed Chest, run by Rainier John. Each day, John takes a photo of his chest to show off his outfit of the day. He posts these photos on Instagram where he's gained thousands of followers.
It's not hard to admit these photos are dapper and do provide fashion inspiration.
His blog offers a bit more information on what he's wearing and where to find each item. It's rare to find a photo of his face, but it does exist on his blog.
Website | Instagram | Twitter | Facebook
Erik Parapar: The Dapper Method
For men that want to look dapper, The Dapper Method is a great option. Erik Parapar is another GQ insider on our list and he looks the part.
Parapar grew up in Miami, FL, but once he moved to NYC, it ignited his interest in fashion... and pizza!
His Instagram is full of moody style shots and plenty of great outfits. Follow him if you enjoy the romantic aspect of men's fashion and lifestyle.
Website | Instagram | Twitter | LinkedIn
Tshepang Thapelo Makinane: K9WearsIt
Makinane is a Johannesburg-based menswear micro-influencer, making a name for himself in the menswear game.
He posts his latest fashion photos of his outfits of the day as well as grooming tips and products. Along with his personal brand, he's a freelance photographer, personal shopper, stylist, and men's style image consultant.
His charming personality carries his brand and there's no doubt he'll go far.
Website | Instagram | Facebook | Snapchat | Twitter
Joe Gooding: the BEAU
Joe Gooding does it all. He's a musician, Social Media Manager at Starbucks, and Editor In Chief for his own lifestyle and fashion brand, the BEAU.
On his YouTube page, you'll find his music. On his Instagram you'll see his lifestyle and fashion videos. His Twitter is full of funny gifs and posts. But his website is where you'll get his fashion inspiration.
He's a pro after all, so he knows how to spread his content and personal brand in a curated and captivating way.
Website | Instagram | Twitter | Snapchat | YouTube | Facebook
Devin McGovern: Outline Cloth
With the help of his wife Marlene, Devin McGovern runs a fashion and lifestyle brand called Outline Cloth.
McGovern is also a TV Producer and GQ Insider, but it doesn't interfere with his ability to produce amazing eye-catching content on his social media pages as well as his website.
Not only does he write about how to put together a handsome outfit, but his blog also features how to make your home look great.
Website | Instagram | Twitter | Facebook | YouTube | LinkedIn | Pinterest
Gemaén Jordan Taylor: It Is Taylor Made
Gemaén Jordan Taylor has created a brand through his website called It Is Taylor Made as a play on his own name.
He is enthralled with youth lifestyle, entertainment, music, parties, events, fashion, and lifestyle and writes about it on his blog. He also keeps a pretty popular social media following and shares outfits among other fashion topics.
Taylor is also a TV Host and Producer, so he keeps very busy building his brand and career.
Website | Instagram | Twitter | Facebook
John Robertson: The Everyday Man
John Robertson has created a brand for the everyday man. His focus is to offer men beautifully curated images of menswear along with fitness.
With The EveryDay Man, Robertson collaborates with brands like Johnny Walker and produces content that motivates men to look their best.
Described as a "magazine blog," Robertson features in his writing honest product reviews as well as insider information on upcoming product launches.
Website | Instagram | Twitter | Facebook | Google+
Jonathan Acosta: Jonny on the Go
Jonathan Acosta heads Jonny on the Go, a blog with a plus size focus on the fashion world.
When he's not working on his own growing brand, he is a fashion photographer for events as well as a product photographer. Acosta also does marketing and public relations advisory, content creation, social media analysis, modeling advising, photo-posing training, and blogging training. Acosta will help you get your social media influence going while he continues to build his own.
He not only covers menswear, but makeup, grooming, and DIY stuff, too. Follow Acosta as he travels to different places and events in the fashion world.
Website | Instagram | Twitter | Facebook | YouTube
Ryoma Martin
Ryoma Martin is a lifestyle and menswear blogger who writes The Soul's Garment. His goal is to make fashion more accessible for men and inspire men to become better versions of themselves.
He also considers himself a "shopping blogger" as he reviews brands and different clothing items.
His cool images and trendy reviews along with his fashion tips help the reader discover their own unique identity in fashion.
Website | Instagram | Twitter | Pinterest
Tommy Lei: MYBELONGING
Tommy Lei is the head of MYBELONGING, a blog that celebrates high fashion, footwear, and culinary experiences.
After graduating from Cornell, Lei created MYBELONGING. He loves androgynous clothing and unisex style menswear that "cause[s] a bit of commotion and controversy."
Lei has been featured on Buzzfeed, Refinery29, WhoWhatWear, and GQ Thailand. His love for fashion is obvious and you'll feel it to when you follow him on social media and read his articles.
Website | Instagram | Twitter | Pinterest | YouTube
Kelvin Davis: Notoriously Dapper
Meet Kelvin Davis of Notoriously Dapper, a man who supports the body positive movement.
This fashion blog is dedicated to achieving body positivity for men and inspiring "all men to embrace who they are." After one bad shopping trip filled with insecurity and shame for his larger size, Davis "vowed to never feel that insecure or ashamed of my size again!" His empowered writing and fashionable photos are a wonderful treat for fans.
Davis is also an author, writing a book that you can purchase on Amazon about how to bring out your most dapper self.
Website | Instagram | Twitter | Facebook | Amazon | Bloglovin | Pinterest | Google+
Vlad Vaida
Vlad Vaida is a Huffington Post contributor and menswear enthusiast. He writes all about enjoying life, feeling blessed, and living well as it revolves around looking great.
He teaches his audience how to take great photos without a photographer and how to shop for men when it comes to the holidays. He also posts his travel adventures with videos and photos.
This go-getter is definitely one to follow.
Website | Instagram | Twitter | YouTube
Conclusion
If you need a little help with your daily outfits or if you want to keep in touch with the latest trends, follow these talented menswear micro-influencers!
Get each week's best deals from Dealspotr in your inbox
This guide was published on January 30, 2018
, and last modified on January 30, 2018
.
Stores related to this article:
Herschel Supply Co.
,
Ralph Lauren
,
Hugo Boss
,
Levi's
,
Nike
,
Calvin Klein
,
Puma
,
Jockey
,
Adidas
,
Mens Magazine
,
Macy's
,
Kenneth Cole
,
Tommy Hilfiger