Natural Deodorant is Making a Comeback. But Does It Actually Work?
About the Author

Hello there! I'm a Marketing Coordinator here at dealspotr. I love dogs, books, fashion, travel and, of course, a good deal!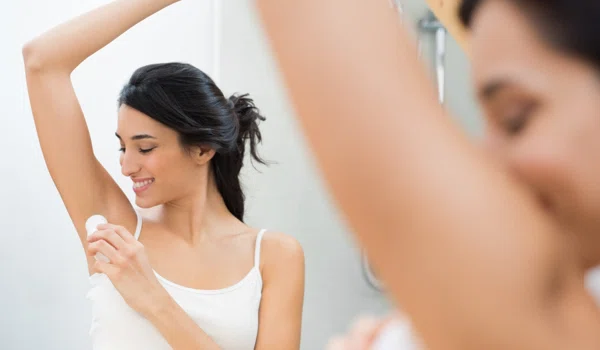 Natural deodorant is trending -- again.
I say "again," because natural deodorant has trended before. I tried it myself, back in 2010. At that time there were only about two large brands that I was able to find at the supermarket. I walked out of the store with both of them in my hands. 
I was so enthused to try something that would be 'better' for me. Though those natural deodorants at the time didn't smell particularly enticing, they certainly smelled just fine. But, after putting them on and going about my daily life -- well, let's just say, I didn't exactly smell just fine. "Nope," I decided, "back to regular deodorant for me."
Until now.
Natural deodorant is making a comeback. The past two years have seen the term "natural deodorant" double in search popularity, hitting its highest ever peak in July 2017.  
Natural Deodorant brands are exploding. Schmidt's, based in Portland, Oregon, says "We heard natural deodorant never works, so we made one that does." LaVanila organics concurs, proclaiming, "Finally, a natural deodorant that works." Perhaps this time natural deodorant is here to stay? 
For the past decade, consumers' deepening interest in their health and wellbeing has been transforming the consumer goods and beauty industry. When it comes to natural deodorant, it seems product development has finally caught up, as many emerging natural deodorant brands are now claiming they "actually work" due to an improvement in effectiveness and formula quality of natural deodorant. 
So what was so wrong with natural deodorant before? 
I recall a great article from 2010, titled My Quiet, Mostly Disgusting Adventures With Natural Deodorant by Edith Zimmerman, that very humorously hits the nail on the head with what exactly was wrong with natural deodorant: everything. Natural deodorant just didn't work. At all. Not even sort of. Not even kind of. Not even a little. You sweated, you smelled, you stank. If you had very sensitive skin, you could have even gotten a rash from the baking soda -- which was often a highly active ingredient in almost all natural deodorants. And who knows what even caused those mysterious yellow underarm stains on your clothes? Natural deodorant just wasn't as dependable as conventional deodorant. 
What are the downsides of conventional deodorant?
If conventional deodorant works so well and tends to be much cheaper than natural deodorant, why make the trade? 
Here are the largest problematic side-effects of conventional deodorant:
It should be said that for some of the speculated effects, such as breast cancer, a few studies failed to find a link to conventional deodorant. Now, I'm not here to dispute whether or not any of the side-effects are true, but the reasons above are what had me (and many, many others) running to the store to hunt for natural deodorant. 
How well do the new natural deodorants work?
The popular emerging natural deodorant brands take the following approaches to achieve their odor-fighting properties:
Using natural antibacterials to kill bacteria
Using natural scents to fight the smell
Using natural products that absorb sweat
Using natural mineral salts, like potassium alum and ammonium alum, to create an invisible layer that protects against odor-causing bacteria, without blocking your pores or being absorbed into your bloodstream
The result? I have been glancing through hundreds of reviews for a multitude of growing natural deodorant brands. Whether it's on the brands' own websites, forums, or Amazon, almost all that I've seen have incredibly high ratings. From the solid crystal natural deodorant forms, to the sticks, cream tubs, powders and liquid sprays, consumers and critics alike are shocked and delighted that natural deodorant actually works! They smell great. The consistency is great. They are easy on sensitive skin. And, crucially, I have not seen anyone mention any encounters with the evil clothes-destroying white deodorant marks-of-doom (you know what I'm talking about)...yet.
The natural and organic beauty industry is continuing to grow, largely fueled by the health-conscious shopping habits of millennials, and is estimated to hit $13 billion dollars by 2018. This growth also tells us one important thing: millennials are willing to pay more for the safer option, if it works! As the natural beauty industry grows, I predict that natural deodorant, too, will continue to grow, and will not disappear as a quick fad anytime soon.
The new natural deodorant brands
Interested, but don't know where to start? Here are the big players and innovators in the natural deodorant market:
Native
With over 3,500 reviews on their own website, Native ranked #1 in  natural deodorant by Women's Daily Lives website. How does it work? According to their website: "We use baking soda to neutralize odors, arrowroot powder to absorb moisture and acidophilus to eliminate odor-causing fungi, yeast, and bacteria." Native has women's and men's options, with scents like eucalyptus & mint and seasonal fragrances like rose & magnolia. Native costs $12 per stick, with free shipping and returns. You can also find deals and coupons for Native on Dealspotr.
Schmidt's 
From the many articles I've read, blogs I've seen, and forums I've happened upon, Schmidt's definitely seems to be the natural deodorant brand that is arguably creating the most buzz. Their founder, Jaime Schmidt, pictured below, was awarded Ernst and Young's 2017 Entrepreneur of the Year for the Pacific Northwest. Schmidt's doesn't segment its deodorant by 'women's' or 'men's', but by Signature Stick Formula, Sensitive Stick Formula, and & Signature Jar Formula. Individual deodorants range from $8.99-$10.99 per stick, with scents like geranium and charcoal & magnesium. Browse some of the great Schmidt's deals on Dealspotr.
LaVanila's The Healthy Deodorant
LaVanila's natural deodorant brands itself more as beauty product than as a hygiene staple. You can find the deodorant on the shelves of chic stores like Urban Outfitters and Sephora. Like its all-natural vanilla based perfumes, LaVanila's Healthy Deodorant scents are vanilla based, and most of the scents are even made to match the perfumes. The full sized single deodorants range from $14-$18, with minis at around $8. Scents include vanilla coconut and the high-performance Sport Luxe vanilla breeze. Follow LaVanila on Dealspotr. 
Primal Pit Paste
Primal Pit Paste, "Deodorant that Actually Works," has over 5,000 combined product reviews on Amazon and 107,000 likes on Facebook. Dealspotr users gave Primal Pit Paste 4.8 stars out of 5. The deodorant comes in jars, sticks, minis, sensitive skin and detox, and the brand has now even grown to offer other all-natural and cruelty free products such as lip balm, gum serum and tooth powder. Full size individual deodorant prices range from $6.71- $10.95. Scents include lavender to coconut lime. Check out Primal Pit Paste on Dealspotr to find out what deals are awaiting you.
Meow Meow Tweet
Meow Meow, what? Meow Meow Tweet!  Meow Meow Tweet is a brand focusing on "positively natural vegan skincare, made with spirit." MMT has been mentioned in over 25 different magazines and newsletter-based websites, like Refinery 29 and Vogue. Meow Meow Tweet is known for its deodorants, which come in stick and cream form, and have baking soda free options. MMT even carries an underarm primer, which is meant to help with the transition to natural deodorant. Full-sizes range from $14-$20, with scents like tea tree and lavender bergamot. Head to their Dealspotr page to find out how much you can save by signing up with your email at Meow Meow Tweet.
Soapwalla
Soapwalla's deodorant is organic, cruelty free and vegan. Products are created in small batches, all by hand. Soapwalla came to existence in the founder's kitchen when she grew desperate for products that wouldn't worsen her skin issues caused by lupus. Soapwalla has been catching the attention of many beauty gurus interested in the natural deodorant movement. At $14, Soapwalla's natural deodorants only come in cream-jar forms, with two scents: regular and citrus. Soapwalla also does not contain arrowroot powder, a common ingredient in other natural deodorants, that some users say can irritate sensitive skin. Keep up to date with Soapwalla on Dealspotr.
KAIA Naturals
KAIA Naturals is a natural deodorant brand that was selected by Sephora as the next generation beauty industry leader. Vegan, all-natural and cruelty free, KAIA brands itself as a detoxifying and cleansing aid, made for the busy woman. KAIA's bamboo black charcoal deodorant collection is called the Takesumi Detox. For $21, you can have your own in scents like juicy bamboo and lime mint. Click here to follow KAIA Naturals on Dealspotr.
NASANTA Magnesium Deodorant
Two things make Nasanta deodorant unique: 1) it is the only natural deodorant that has been called "the ultimate deodorant for a Tri-Athlete" by Triathlon and Multi-Sport Magazine, and 2) its successful formula is based on a magnesium-powder in roll-on form. This uni-sex, fragrance-free deodorant has a masculine aesthetic. You can find the two forms on Amazon for $14.90, which should last you up to three months! Follow Nasanta on Dealspotr.
While researching this piece, I became convinced to try natural deodorant again. I was very keen to get my hands on one of the fastest growing natural deodorant brands. 
I'm writing this on the first day in a very long time of me wearing natural deodorant: Schmidt's Lavender and Sage, which I bought at Target. 
I'm also excited to get my hands on the many other natural deodorant brands and fragrances out there, like LaVanila's luxe scented and luxe packaged pure vanilla deodorant. Another improvement I've noticed, is how much more enticing and fun the packaging and fragrances now are compared to the natural deodorant I shopped for all those years ago. Schmidt's and Native even release seasonal deodorant fragrances, which encourage a fashion-collector shopping mentality...for deodorant!
It's only been a few hours of being on the natural-deodorant bandwagon again, but so far so good. I've seen some users say they experienced a "detox" when their body was adapting to natural deodorant. LaVanila and KAIA even dedicate sections on their websites explaining this supposed four-week detox process, and what to expect from your underarms throughout it all. During these four weeks, your body begins to detox and rid itself of the toxin build up. Week one feels perfectly normal. Week two and three see "breakthrough" odors and an increase in sweating. By the end of week four, you should be fully transitioned.
I would rather not experience the detox myself. But if I do, hopefully I'll come out of it as pleased as most of the other users of these brands seem to be. 
If natural deodorant proves to be the final solution to forever end the white deodorant marks-of-doom once and for all, then I will call that the biggest win. 
Get each week's best deals from Dealspotr in your inbox
This guide was published on August 14, 2017
, and last modified on August 14, 2017
.